Celebrating Women's History Month: Kathy McCann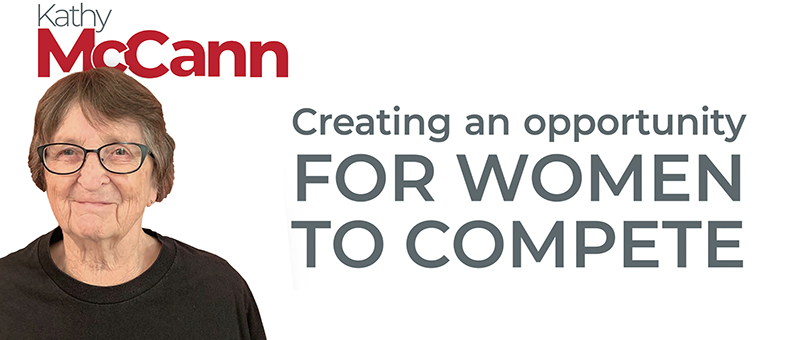 Minot State University is celebrating Women's History Month throughout the month of March. MSU is recognizing the outstanding contributions women have made and continue to make at Minot State with stories gathered from the archive of our Alumni and Development Foundation magazine Connections. Each Friday, University Communications will highlight, and reprint it in its entirety, a story showcasing an individual who has made an impact at MSU, the greater Minot and Northwest North Dakota region, and on countless students' lives.
This week, we are celebrating Kathy McCann. Every female student-athlete owes a small debt of gratitude to McCann as she trailblazed women's sports at Minot State, coaching nearly every sport offered at MSU at one time.  
The article appeared in the Spring 2019 edition of Connections and was written by former Connections writer and former MSU professor Nicole Thom-Arens. Check out our online ARCHIVE of Connections for more stories and features.
Creating an opportunity for women to compete
Kathy McCann
Before Minot State had organized women's basketball, a group of women, all students at the University, bought t-shirts from the bookstore, painted numbers on them, and drove to Bismarck to play Bismarck State College.
As Sheryl Solberg '73 tells it, the administration at Minot State were not supposed to find out about the game.
"We wanted to start basketball, and actually we were told that we could probably just leave that as just kind of an activity for our WRA (Women's Recreation Association)," Solberg recalled. "I don't remember if we won or lost — that doesn't really matter. Our problem was that the score got called in by Bismarck State, so it was in the newspaper. We were kind of in a little bit of trouble, but the next year, we had basketball."
It's an origin story made for Hollywood, and the leading lady was real-life pioneer of women's athletics at Minot State, Kathleen (Kathy)  McCann '60. As fate would have it, McCann almost never made it to Minot State as an educator. She was in negotiations with administrators at North Dakota State University when she heard from her sister, Marge, that Minot State was looking to hire and hoping she would apply.
"The truth was, I had just been talking to NDSU about a position when my sister, Marge, called and told me about the opportunity at Minot State. I always loved Minot State and I was happy to get the chance to return. It also worked great since Marge was teaching in Minot at the time," McCann said.
During her tenure at Minot State, McCann started and coached the women's basketball, volleyball, and softball programs at the University. She also coached women's golf, tennis, and track & field.
"I have to admit it was frustrating," McCann said of getting women's programs started. "At first, I even had girls say, 'Do you think I could try out for the men's tennis team?'  I said, 'Well you could, but that won't help women's athletics if you do.' It was just frustrating not to have anything."
McCann never had the opportunity to compete in high school or college athletics, which inspired her to single-handedly take on the fight to place women on the field and on the court at Minot State.
"There were a lot of women there like me and my sister that didn't have the opportunity, so I guess we just thought we'd do it," McCann said. "Almost right away, I started that softball team because I knew I had some really good kids. They were good athletes and good, honest kids. Those young women put as much into it as anybody could. They just were so devoted to it, and they worked hard."
Softball was perhaps the easiest team to start because there were other teams to play. Many women of McCann's generation and the one to follow, did play organized softball during the summer. In fact, McCann and her older sister, Madaline, are both in the North Dakota Softball Hall of Fame.
"I had taught at Valley City State, so I was familiar with the schools, coaches, and teams in the eastern part of the state. I knew we could find softball teams to play against," McCann said. During the team's first two seasons, they traveled to Omaha, Nebraska to play in the College Softball World Series — during their second appearance, Japan sent a team to the tournament.
Nadene Johnson '72 was one of McCann's first softball players.
"It was great fun (playing in the College World Series)," Johnson recalled. "But, we only probably played three, four games before we went down there, and some of them (the other teams) had already played 30 games, so we didn't have the experience that they did, but we sure gave it a try."
McCann's persistence in establishing women's athletics at Minot State led to lifelong friendships and, in some circumstances, changed lives. Solberg had left Minot State short of completing a two-year business degree. The opportunity to play softball brought her back to the University where she found new inspiration.
"I was kind of a college dropout," Solberg said candidly. "I really disliked school. And when I came back, I was around people that wanted to not only be involved in athletics, but they were good students and they wanted to be teachers and coaches. I kind of caught that disease, so I ended up being a teacher and a coach, which being a teacher was one of the furthest things from my mind when I graduated from high school. Being around my teammates, my fellow students in the physical education department, and mostly McCann and Nadene (Johnson) it just kind of gave me a whole new perspective on life. I, to this day, am very grateful."
Solberg graduated from Minot State and went to teach at Mayville-Portland where she established the women's basketball team and coached the team to a state tournament championship victory in the team's second year. She went on to have a 34-year career with the North Dakota High School Activities Association.
Both Solberg and Johnson, who went on to coach golf and volleyball at Minot High School, hold high praise for McCann and the opportunities she worked to provide for young women in the late 1960s and early 1970s — years before Congress would pass Title IX.
"The most incredible part of this, in my opinion, was that we had a member of the Minot State staff that just went ahead and did this. And, Kathy was not getting paid, you know that, but what she did was she answered the wish of a bunch of women that wanted to be involved in sports. It was as important for her as it was for us to actually become involved in athletics. We wanted the opportunity, and she helped manufacture it, just the plain truth," Solberg said.
Even in 2019, it's difficult to imagine how one woman could have the tenacity to continue driving progress. For McCann, an athlete who won all of the championships in her high school intramural sports competitions, motivation came from an upbringing of equality.
"Our dad was so fair. He had six boys and four girls, but we were all treated the same way. Boys did dishes like we did. We were just used to everything being pretty fair. Then you get into women's athletics and you find out, 'Oops, this isn't fair.' That was part of the driving force," McCann said.
McCann left Minot State in the early 1980s. She earned a doctorate in administration from the University of North Texas. As fate would have it, when McCann graduated and looked to move back to North Dakota, the University of North Dakota was hiring in its athletics department. McCann applied, got an interview, and got the job working as the intramural director, facilities coordinator, and coordinator of women's athletics. In 1991, she was named an assistant athletic director and retired from that position in 2003. McCann was inducted into Minot State's Hall of Fame in 1995.
"I had a great time," McCann said. "I've had a great life."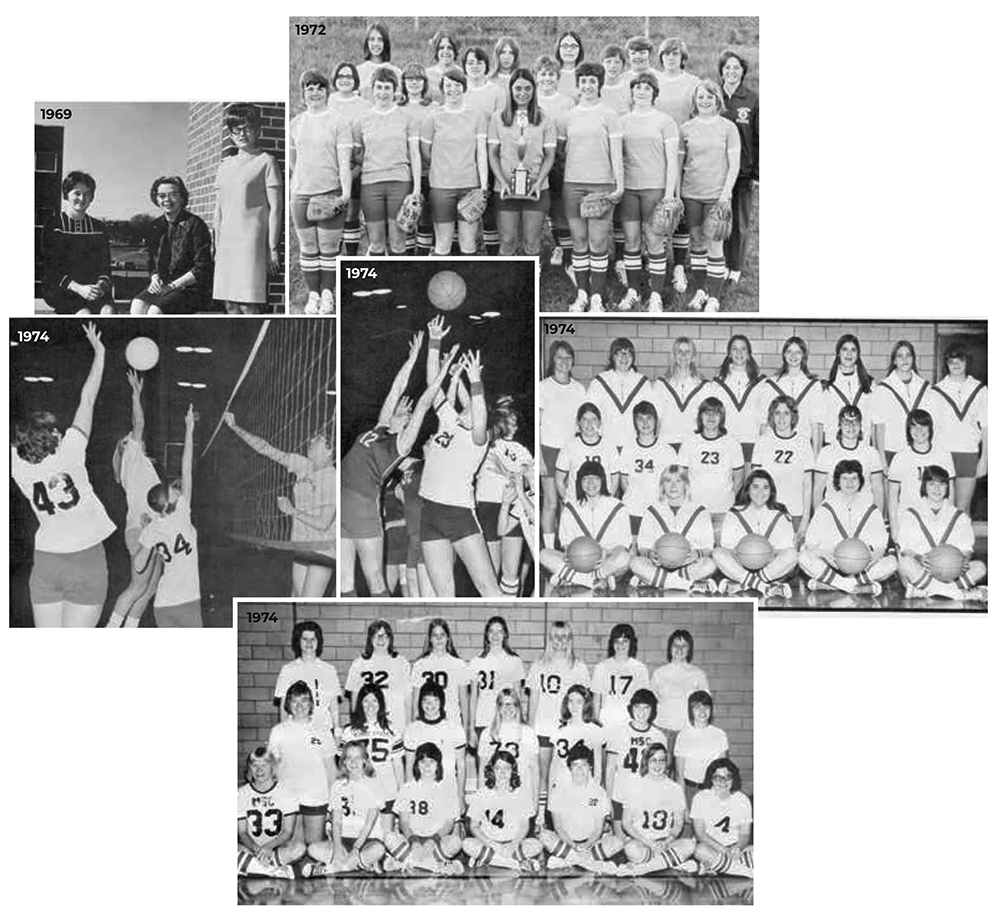 About Minot State University
Minot State University is a public university dedicated to excellence in education, scholarship, and community engagement achieved through rigorous academic experiences, active learning environments, commitment to public service, and a vibrant campus life.
---