Minot State earns mental health services grant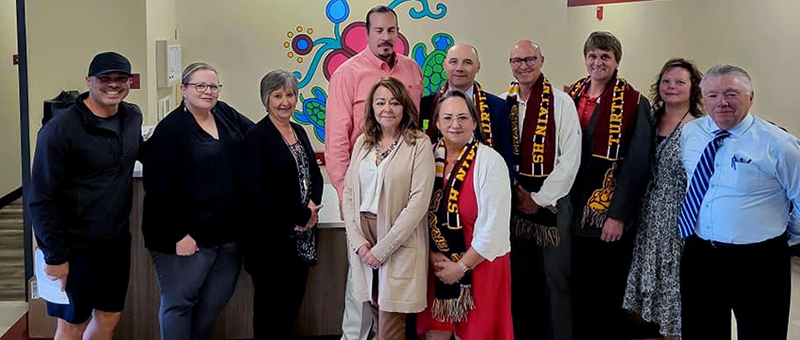 MINOT, N.D. – Minot State University's Department of Addiction Studies, Psychology, and Social Work has been selected to receive $4,355,179 over five years from the U.S. Department of Education under the Mental Health Service Professionals Demonstration Program.
The North Dakota School Psychology Service Professional Demonstration Grant (ND SP Service Grant) began on Jan. 1 and provides funding for the support of 28 graduate students.
"This grant will provide meaningful opportunities for MSU graduate students pursuing their degrees in the important field of school psychology," Minot State President Steven Shirley said. "MSU is a leader in school psychology, and we are so grateful for the support and partnership with our friends in the Turtle Mountain Chippewa community — we had a great visit there last fall and look forward to working together with them and their K-12 students over the next five years."
"There is a nationwide critical shortage of mental health professionals with the applicable training and credentials to provide mental health assessment and service the needs of the U.S. school-aged population," said Minot State Director of School Psychology and project director Penny Craven. "The shortage and its impact have significantly and disproportionately affected K-12 students in rural areas and those who reside on American Indian reservations."
Minot State's K-12 partner on the grant is the Bureau of Indian Education-Turtle Mountain Schools (BIE-TMAS). Craven praised the work of BIE-TMAS in the process, including Education Program Administrator Casey Sovo, along with outreach by MSU, specifically president Shirley; MSU vice presidents Kevin Harmon and Jacek Mrozik; Annette Mennem, director of MSU's Native American Cultural Center; and Amy Armstrong, director of MSU's Office of Sponsored Programs.
"Casey Sovo contacted Dr. Shirley and requested we work together on this project after MSU administrators visited their community (in September 2022)," Craven said. "Other North Dakota institutions were interested in partnering, but he chose to work with MSU in part because of the outreach efforts. Amy helped immensely with the budget and other logistical aspects of this grant."
The partnership with BIE-TMAS will establish a field-based training site for MSU school psychology graduate students. The ND SP Service Grant will seek to recruit and train graduate students from diverse and high-need local educational agency (LEA) communities.
"The Bureau of Indian Education funded schools serving the Turtle Mountain Band of Chippewa Indians are excited to partner with Minot State University to increase the number of school psychologists being trained and prepared to work in Indian Country and rural North Dakota," Sovo said. "This partnership serves a critical need in school professional workforce development and will prepare our school systems to meet the ever-increasing need for more academic, social emotional, and behavioral interventions that are being identified and implemented through our multi-tiered systems of support throughout our K-12 campuses.
"We look forward to working with the school psychologist interns from MSU knowing that their coursework, faculty, and practicing experiences will improve the school experience for many children in North Dakota."
Craven believes school psychologists are uniquely qualified to address the educational and mental health needs of students enrolled in K-12 schools.
"They receive training in assessment, counseling, trauma-informed care, consultation, and behavioral and social interventions," she said. "Upon graduation, they have the knowledge and skill base to provide quality mental health services to K-12 students and support to families and school-based personnel."
The partnership will also build the North Dakota state capacity of school psychologists, increasing the available mental health providers trained to serve K-12. The service component of the grant will increase the number of school psychologists serving in North Dakota's high-need LEAs, while providing support to BIE-TMAS through graduate students completing field-based experiences and a pool of school psychologists experienced in working with American Indian school-aged children.
"This project addresses a significant nationwide and statewide shortage of K-12 mental health professionals and lack of individuals from diverse and low-income backgrounds pursuing careers in K-12 mental health fields," Craven said. "The State of Mental Health in America reports North Dakota as 38th in state mental health provider ratios in 2020, 2021, and 2022. Considering these numbers and the staggering nationwide and statewide shortages, there is a pressing need for North Dakota to train and retain qualified school psychologists to serve the K-12 students."
For more information on the Minot State Department of Addiction Studies, Psychology, and Social Work, visit the department's WEBSITE.
About Minot State University
Minot State University is a public university dedicated to excellence in education, scholarship, and community engagement achieved through rigorous academic experiences, active learning environments, commitment to public service, and a vibrant campus life.
---