Minot State Development Foundation announces Minot Eagles Scholarship Endowment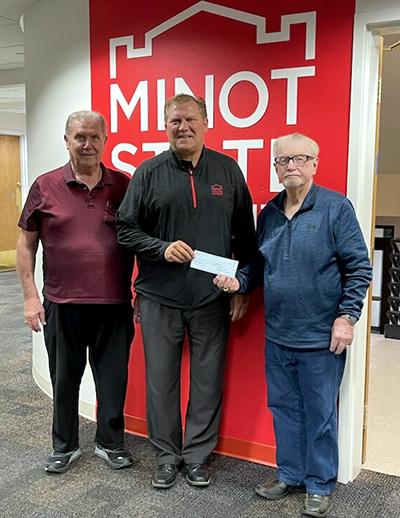 Minot State University Vice President for Advancement / MSU Development Foundation Executive Director Rick Hedberg (middle) accepts a check from Minot Eagles Aerie 2376 members Leon Wedar (left) and Roger Wahus (right) for a scholarship endowment created for the MSU College of Education and Health Sciences.
MINOT, N.D. – The Minot State University Development Foundation is pleased to announce a new scholarship endowment of $100,000 has been created for MSU College of Education and Health Science students thanks to the generosity of the Minot Eagles Aerie 2376.
"We are grateful to the Minot Eagles Aerie 2376 for all that they have done in creating this scholarship," said Rick Hedberg, MSU Development Foundation executive director. "The Minot Eagles have supported our community for so many years and this endowment will continue that legacy in perpetuity. We can't thank them enough."
The Minot Eagles Aerie 2376 Scholarship Endowment Fund will be awarded to sophomore, junior, senior, or graduate students studying in the College of Education and Health Sciences, who possess a 3.5 or greater GPA.
"As an organization, we thought it might keep the Eagle's name alive as our motto is 'People helping People.'" said Eagles member Leon Wedar. "For me, the main reason I supported donating to MSU is both of my children are in the medical field, my son is a physical therapist at Trinity Health and my daughter is an RN at Sanford in Bismarck, and they have shared with me about the shortage in the medical field. Giving to someone who otherwise might not be able to go into medicine a boost with a scholarship is a good thing, and I think the education field goes right along with that; we need more teachers also."
In 2022, the Minot Eagles Aerie 2376 surrendered their charter, thus creating the scholarship endowment.
"The Eagles is a charitable organization and through the years, the Minot Eagles has donated over $2 million to the local community," said Eagles member Roger Wahus. "We wanted to continue this legacy after we disbanded and gave up the charter in October 2022. The best way to accomplish this was a final donation to MSU in the form of a scholarship endowment to benefit students for their educational expenses for years to come."
The Fraternal Order of Eagles was founded in Seattle in 1898 by six competitive theater owners who gathered to solve a common problem. Having solved their problem, their competitiveness changed to camaraderie and eventually gave birth to the Fraternal Order of Eagles. The international, non-profit organization unites fraternally in the spirit of liberty, truth, justice, and equality, to make human life more desirable by lessening its ills and by promoting peace, prosperity, gladness, and hope.
To apply for the scholarship, fill out the MSU scholarship application available on the Minot State financial aid WEBSITE. Scholarship applications are open with a priority deadline of Feb. 15, 2023. For more information on this and other scholarship opportunities at MSU, see the Minot State ACADEMIC CATALOG.
About Minot State University
Minot State University is a public university dedicated to excellence in education, scholarship, and community engagement achieved through rigorous academic experiences, active learning environments, commitment to public service, and a vibrant campus life.
---