Chen honored with NASPSPA's President's Award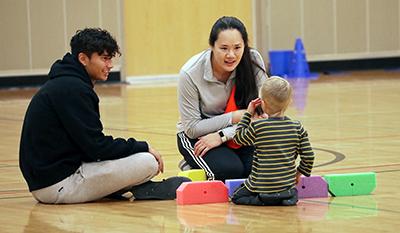 MINOT, N.D. – There was a sense of validation for Yung-Ju "Ruth" Chen when she first heard she was being honored with the President's Award from the North American Society for the Psychology of Sport and Physical Activity (NASPSPA).
Both for her and for members of the NASPSPA Equity, Diversity and Inclusion (EDI) Task Force.
"It was such an honor. I am very grateful for the recognition," Chen said. "The EDI task force was formed in 2020 with the goal of improving the equality, diversity, and inclusion of NASPSPA. As a task force, we have made a lot of progress within a short period of time. There was a lot of hard work and time to make good changes happen. We feel happy about the progress and changes we have made and really appreciate NASPSPA validating what we have been doing."
Chen, originally from Kaohsiung, Taiwan, has been an assistant professor in MSU's teacher education and kinesiology (TEK) department since 2020. She initially joined NASPSPA as a doctoral student at Ohio State University, using the organization to connect with scholars in motor behavior and sport psychology.
"As a student-friendly organization, NASPSPA really invests in the development of future scholars by providing professional and social support for student members," she said. "I was able to meet, learn from, and even work with many established scholars in our discipline through NASPSPA. It has a very welcoming and supportive culture. NASPSPA has become one of my home professional organizations."
While at Ohio State, she was a graduate teaching assistant in the physical education program, teaching many of the same course she presently does for Minot State, along with mentoring high school and undergraduate research projects. Before coming to the United States, Chen tutored at middle schools, instructed multiple types of group fitness classes, coordinated and operated community-based adapted physical activity programs, and interned at a special education school for students with multiple and severe disabilities.
"Although I used to study adapted physical education, I chose to study physical education teacher education for my doctoral degree because I believe all physical educators should have the knowledge and skills to adapt their teaching to all students," Chen said.

She and colleague Kelsey Higginson earned doctorates at Ohio State and started at Minot together in 2020.
"I chose Minot State over other offers as I knew Dr. Higginson and I would be given good autonomy and support to run the physical education program," she said. "As a new faculty member, I truly appreciate the opportunity Minot State has offered and all the supportive colleagues who have supported and mentored me."
Her duties in MSU's TEK program include multiple classes for all kinesiology majors, K-5 physical education teacher education courses for physical education majors, as well as a graduate capstone experience course.
"Teaching is very rewarding," she said. "Especially when students show learning and improvement. The best thing about being a physical education teacher educator at Minot State is that there are so many wonderful and effective physical educators who are willing to work with us to provide our students with authentic teaching experiences in schools. Minot State also has so many educators who care about teaching and their students, therefore, are willing to sit together to have hour-long professional conversations on teaching. That makes teaching a group effort and very enjoyable."
Along with teaching, Chen is passionate about research, specifically on topics of children's physical activity and motor development.
"My long-term goal is to create effective school-based interventions for promoting children's physical activity and motor development" she said. "I am currently running a research lab for children between ages 3 to 5 to explore the minimum dose of intervention needed for improving children's fundamental movement competence. While many are studying how to set kids up for academic success, I want to learn more about how to set them up for a physically active lifestyle."
Although Minot State is traditionally a teaching-focused institution, the University has supported her research, which, Chen believes, will only serve to help future MSU students.
"Eventually, I want my research lab to serve for multiple purposes, including provide direct learning and health benefits to the children, provide undergraduate research experience to MSU students, and provide MSU students experience interacting with preschool-aged children in an instructional context," she said. "I am always looking for volunteer research assistants, collaborators, donors, and child participants. I travel to state, national, and international conferences every year to share my work and interchange ideas with scholars from all over the world.
"We are doing a lot of good work here.  I want Minot and Minot State to be seen through my teaching, research, and service."
About Minot State University
Minot State University is a public university dedicated to excellence in education, scholarship, and community engagement achieved through rigorous academic experiences, active learning environments, commitment to public service, and a vibrant campus life.
---