Todd's song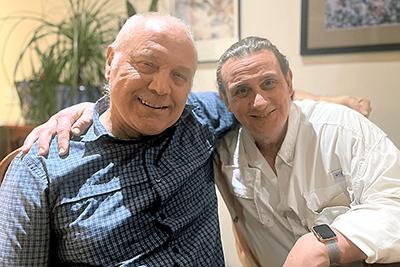 MINOT, N.D. – When Emerson Eads first heard there would be a fundraiser for the Western Plains Opera involving his skill as a songwriter, he wasn't sure what to think.
"You know, I thought, maybe this will go for $500, it's a fundraiser and all," said Minot State's director of choral activities. "But as the bidding process finished where it did, I knew it had to be good, it had to be meaningful. Not that things I've written for less weren't good, I'm very proud of ones I've written for a friend for a beer or two.
"But for this song, it was such an honor being able to be a part of it."
In the end, it turned out beyond what Minot State alumnus Todd Mathistad could have imagined.
"A dream come true," he said. "When I won the bid to have Emerson do this, I had no idea it would come together like it has. But, together it came. I'm very happy, and I really hope it spreads into the choral community, whether it be high school, college, or community choirs. It's a song that deserves to be heard."

Mathistad, who is retired along with his wife, Janet, is a 1987 graduate in business finance who was active in the arts at Minot State, including theater productions in Aleshire Theater and Summer Theater along with MSU concert choir under the direction of Gary Walth.
While bidding at the fundraiser for the commission for "Todd's Song" was a spur-of-the-moment event for Mathistad, the inspiration for it is a culmination of a lifetime.
"We were in all definitions a poor farm family, but we were rich in love," Mathistad said of growing up. "The song is a tribute to the old American hymn 'Come and Dine,' a song about a mother and father and the love they demonstrated under a struggling farm economy. It seemed like the hailstorm were attracted to our crops whenever it looked like a good harvest."
While Eads hasn't had the song in his head since childhood, once he and Mathistad completed the lyrics, he felt the connection to the story.
"You don't have to have his life experience to connect with the idea that we are all the same at the end of the day. We all go to a table and talk together, eat together," he said. "There is that realization that in the end, there's more that connects us than divides us."
After the auction, Eads approached friend and veteran performer David Cangelosi, who was in Minot to help fundraise for the Western Plains Opera and the production of "Die Fledermaus," to be the voice of the piece.
"After the auction, Dr. Eads asked if he wrote the song with my voice in mind, would I consider singing it when I returned to Minot to rehearse for 'Die Fledermaus.' I said I would be happy to, anything to help out," Cangelosi said. "Well, he wrote one of the most beautiful songs I've heard in years."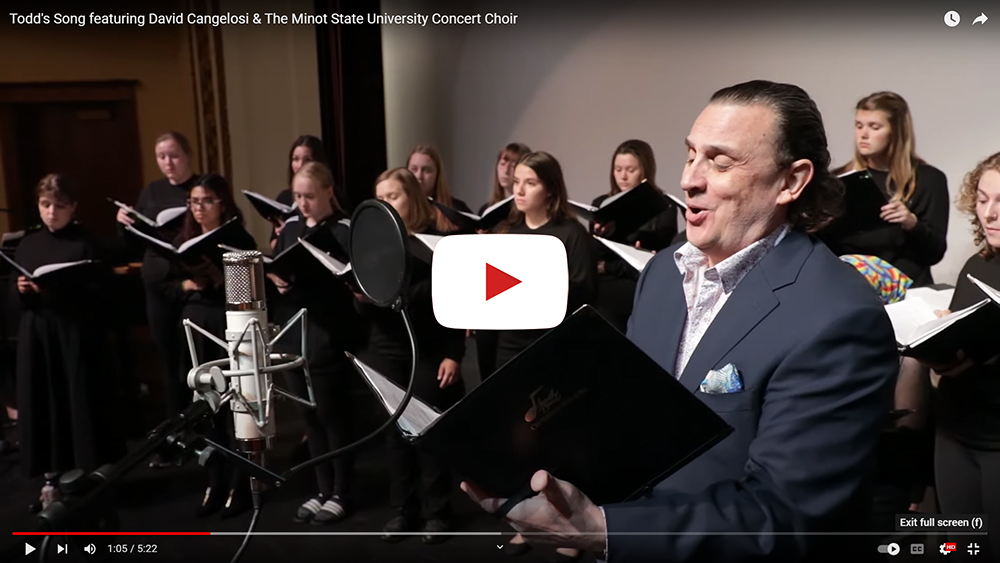 Eads and Cangelosi then further refined the song and, on Cangelosi's suggestion, added the choir arrangement to accompany voice. The trio — Eads, Cangelosi, and the Minot State choir — came together for a final recording and a music video on the stage in Ann Nicole Nelson Hall in September.
"I suggested reworking it to add choir," he said. "It's really amazing to work with (the MSU choir). I've been working for almost 50 years in the highest levels of showbusiness from the Metropolitan Opera to the Paris Opera, London, Vianna, Luxemburg, you name it, right down to the smallest places in rural parts of the country. The best time of my year is when I get to work with — and hopefully inspire — younger students to perpetuate this wonderful art form. It really is the best time of my year because I get a lot from them, a lot of energy, and I try to give it back."
"The truth is, having someone like David signing something you wrote, with all the artistry they have at their disposal, is so much better than you could ever imagine in your head," Eads said. "He's an international opera star and here he is, putting his heart into something — he doesn't know Todd — but he's singing it as a family member. It's so moving. And, the sound of the choir, such a warm, vibrant sound with the choir, it was great atmosphere."
Mathistad was in the audience during the taping and agreed the final product was something special.
"It was pure joy," he said. "I totally trusted Emerson and his talent for putting words into song. I have heard many of his earlier writings and knew I was in good hands. To have someone with the quality of voice like David is icing on the cake. What a voice! He really identified with the family behind the song and totally understood how to interpret it. I thank him with all my heart."
The song was published by North Star Music, available HERE, and can be streamed on SPOTIFY and APPLE MUSIC. Eads and Minot State collaborated for the music video, available on Eads's WEBSITE.
For Eads, the ultimate value of the song is in its subject.
"It's really a record of a man's life," he said. "It encapsulates who Todd is as a person and to the people of the region, their generosity and spirit, a gentle, humble connection to people here in Western North Dakota."
About Minot State University
Minot State University is a public university dedicated to excellence in education, scholarship, and community engagement achieved through rigorous academic experiences, active learning environments, commitment to public service, and a vibrant campus life.
---