Take a Hike: MSU First Year Experience Trip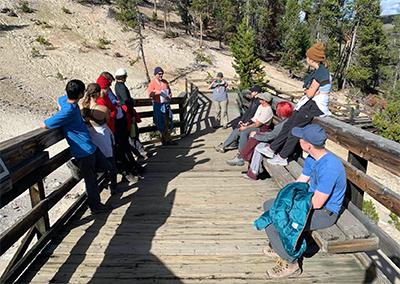 Talking about mud volcanoes and other things.
The following is provided by Minot State Professor John Webster and the MSU First Year Experience (FYE) class. The group is making a trip with the Minot State geology department to Glacier National Park and Yellowstone National Park. The team will send notes from the road.
Day 8: Take a Hike! FYE Heads West
Friday, Oct. 7, 2022
Fossil Hunting and Coming Home
Day 8 was the last day of our Take a Hike! FYE trip. As usual, we got going about 8 a.m., and we were quite happy that we weren't packing up wet tents in the cold. From the hotel in Powell, Wyoming we headed north back into Montana. We got on I-90 at Laurel, drove east, and east of Billings got on I-94. It was foggy for some time on I-94; we didn't have much scenery for a while, but it cleared up by the time we got to Miles City.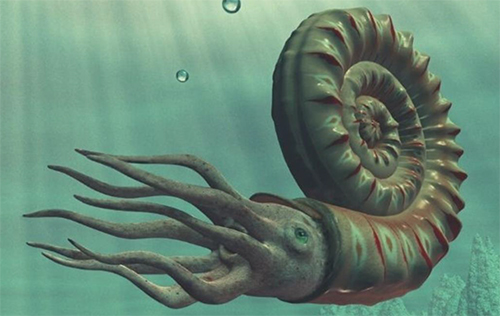 When we reached Glendive, we headed to a fossil collecting site about 15 miles south along a gravel road.Students dug for fossils from the Pierre Shale, and we ate lunch along the road –– doing on the last day something similar to what we did on the first day of the trip. We were at the site for a couple hours, and students found some very nice specimens of ammonites and some other, smaller invertebrates.
It was about 3:30 p.m. when we finished hunting fossils and eating lunch, and it was time to head for home. We got back to the MSU campus at 10 p.m. Everyone pitched in and we got the vehicles and the trailer emptied pretty quickly, and the group gear carried into Cyril Moore.

I think everyone was happy to be back, but everyone seemed to enjoy the trip very much. MANY THANKS to Dr. Joe Collette for organizing a fantastic trip!

Day 7: Hot Springs, Bison Jam, and the Last Hike
Thursday, Oct. 6, 2022, 10:30 p.m.
Day 7 was the last day in Yellowstone National Park. It started again with a chilly morning, but this time having to pack up frosty and wet tents. Still, we got going by 8 a.m. We had about an hour drive to Mammoth Hot Springs. We walked around the Lower Terrace area and looked at some spectacular travertine terraces and hot springs.

From there we headed east toward today's hiking area, but we didn't get far. Just before the bridge across the Gardner River, we were stopped by a bison jam––not a traffic jam caused by those viewing bison, nor something you spread on your morning toast––this was a jam caused by a herd of bison blocking the road.

Other students continued on to a ford that crosses the Hellroaring Creek. There were a couple of bison along trail, but a large herd was seen when reaching Hellroaring Creek. This was a more natural setting for a herd of bison than our earlier encounter.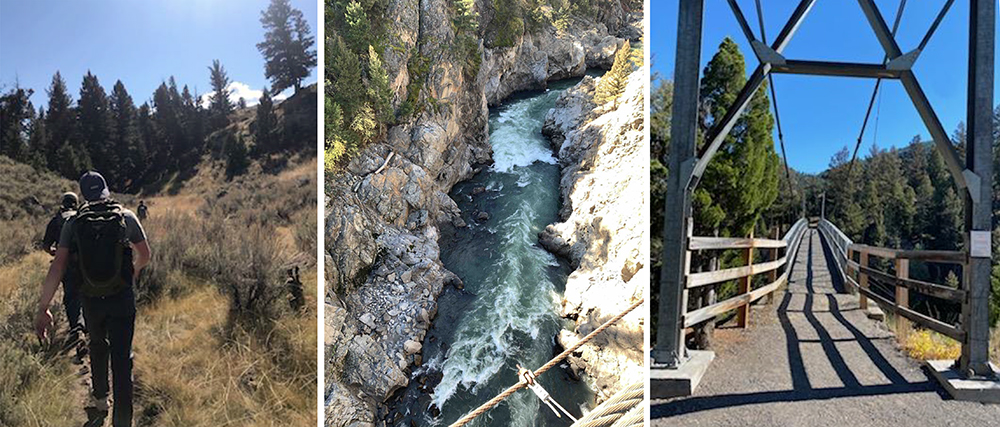 By about 3:00 everyone was back. It seemed that most were happy that the hiking was done. After relaxing a bit, we headed on to Fishing Bridge and then east out the east park entrance. After leaving the park it was a little more than an hour to Cody, Wyoming where we had dinner at Buffalo Bill's Irma Hotel & Restaurant. It was a unique place to eat. After a good meal, it was about half an hour drive to Powell, Wyoming and our stay at a hotel.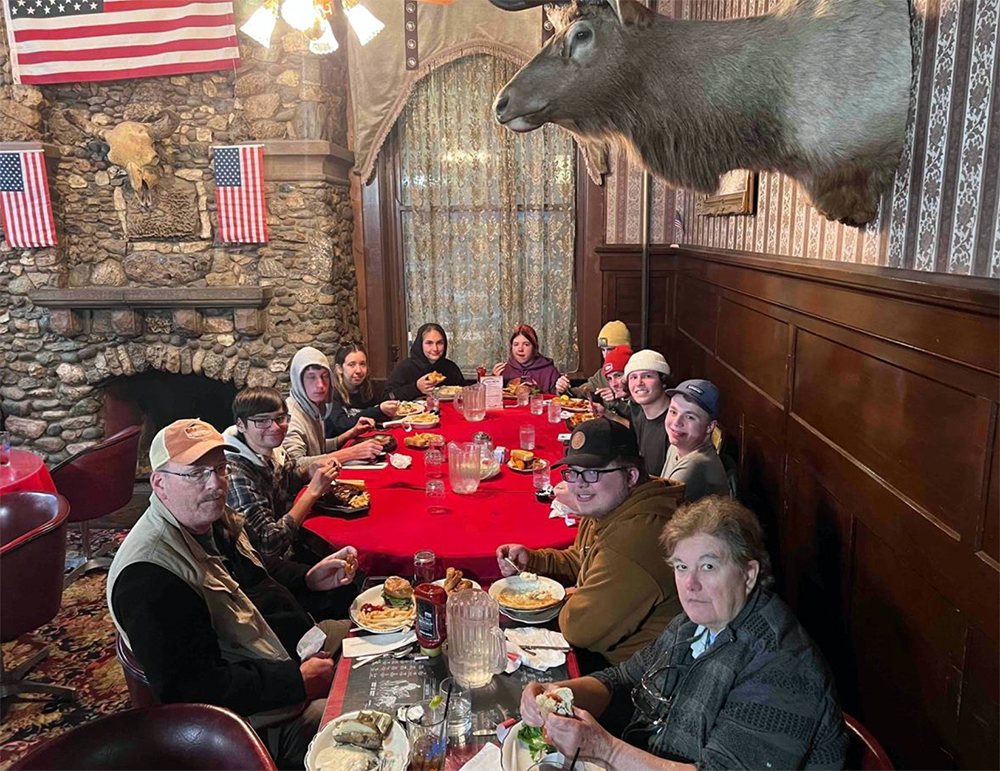 Day 6
Wednesday, Oct. 5, 2022, 7 p.m.
The second day in Yellowstone National Park, was a good mix of some hiking and some free time. The day started off very cold –– frost on everything in the morning, and it was quite foggy and cloudy. We first drove south to the trailhead area for a Daisy Falls hike in the Midway Geyser Basin. We got our things together, talked about what we were going to do, and then checked out the trail map at the trailhead.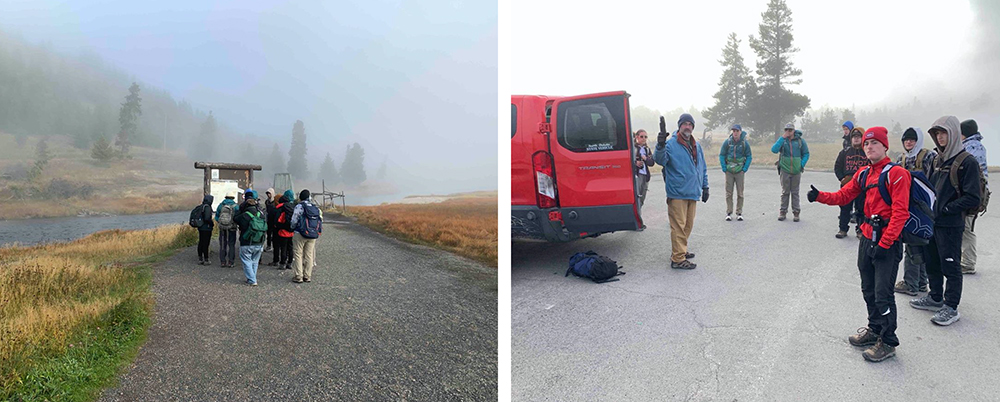 During the first part of the hike it was still quite cloudy and foggy, but it did gradually dissipate. The first mile of the hike was a very wide trail––a road really. Then we got to the side trail to Daisy Falls and it was another 1.5 miles along a forested trail, but with only about 100 feet of elevation gain. So, it was a nice relaxing hike. Daisy Falls was awesome. One student, and I won't mention Nikita's name, took a quick dip in the pool at the bottom of the falls.
On the trail back down from the falls, we were told there was a mama Grizzly with two cubs down near the intersection with the other trail. Unfortunately, they were nowhere to be seen when we got there. Along the main trail was a side trail that went up to an overlook for the Grand Prismatic Spring. It was a fantastic view from up there.
From the overlook it was an easy hike the rest of the way back to the vehicles. Everyone appreciated a 5-mile hike with little elevation gain! Back at the vehicles we drove to the Midway Geyser Basin to walk around the geysers and springs there. The view of Grand Prismatic Spring was not very good from ground level––too much steam obscuring the view. There were some other nice geyser and pool features though.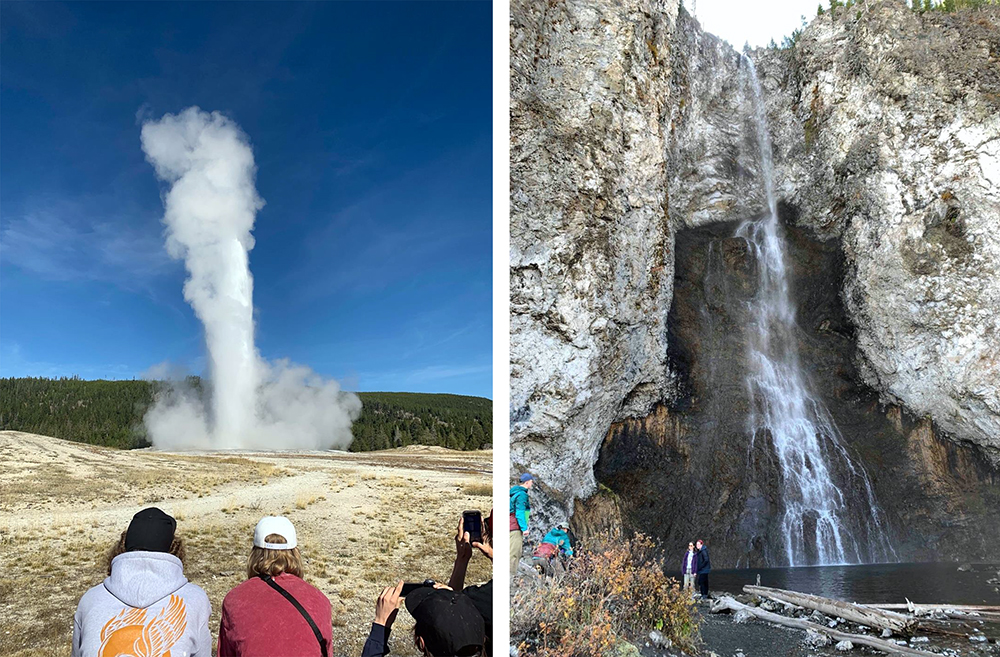 It was a fairly quick tour around the Midway Geyser Basin boardwalk, so we got to our next stop at Old Faithful a little ahead of schedule, about 1:15 p.m. Everyone was turned loose to do what they wanted; most went out to the Old Faithful viewing area for a projected 2:13 p.m. eruption. It was late, but spectacular as always.

After shopping for souvenirs and taking showers at the Inn, we left Old Faithful at 4:30 p.m. We drove to West Yellowstone for some grocery shopping and gas, then it was back to the campground by 6 p.m. Shortly after getting back, a modest herd of Bison walked through the campground––at a very safe distance! Tacos for dinner tonight.
Day 5
Tuesday, Oct. 4, 2022, 7 p.m.
Most of us started getting up about 7:00. We had some lite breakfast foods and worked on packing lunches for the day. The group campsite at Madison Campground (really three regular sites in a row). We headed out from camp about 8:15 a.m., heading toward the Canyon area of the park. Along the way we encountered a bison, which can drive on whatever side of the road they want.

We parked at the Brink of Lower Falls. After talking about some things, students scattered in groups to do some light hiking to the various overlooks of the Lower Falls and Upper Falls of the Yellowstone River. The platform overlook of the Lower Falls gave a very good view down the "Grand Canyon" of the Yellowstone.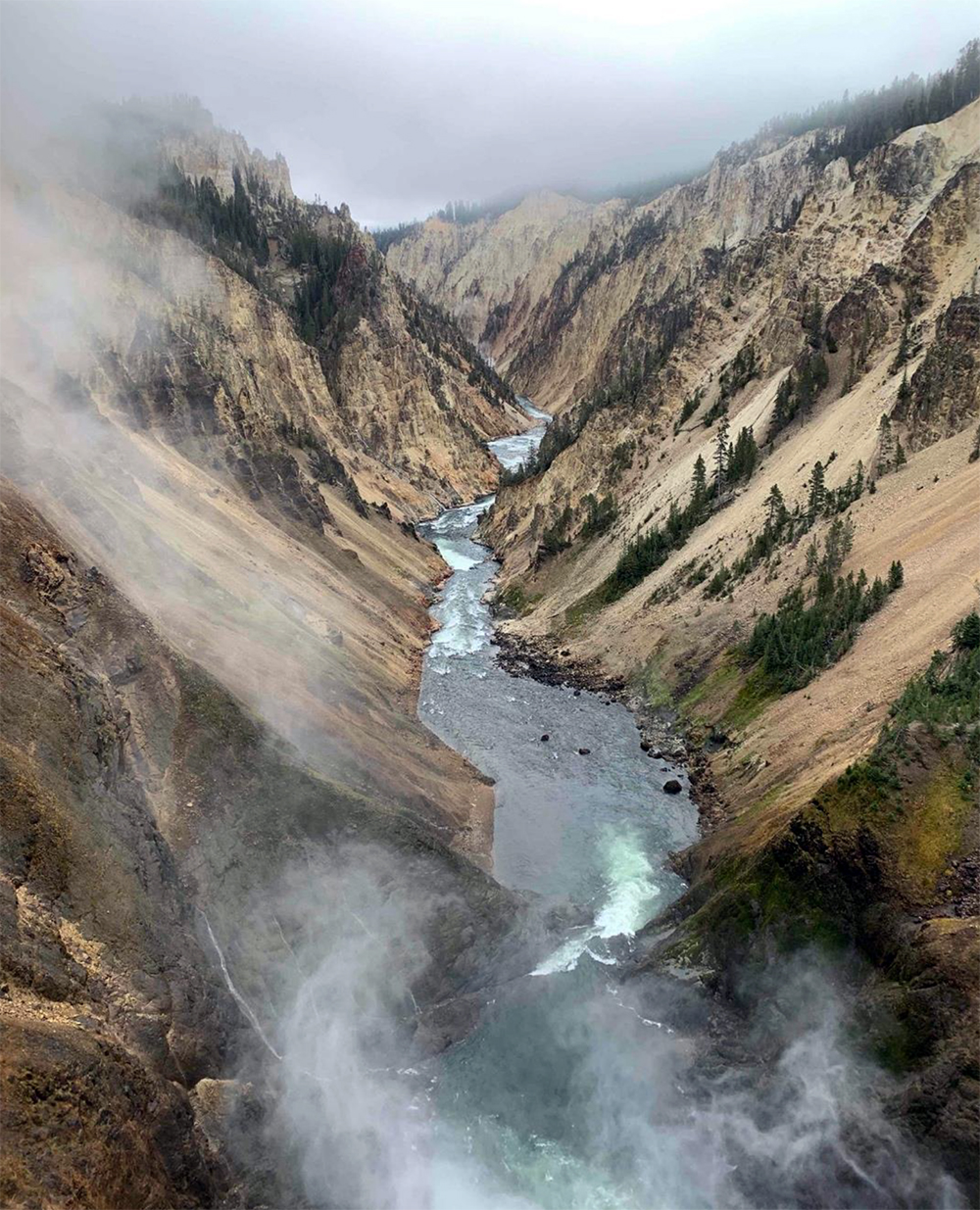 We were done hiking in the Canyon area about 1:15 p.m. We then headed to the Canyon Village area where there was a general store with food and souvenirs. From there it was on to the Mud Volcano area. We spent some time at Sulphur Caldron, which smelled like rotten eggs because of the hydrogen sulfide. Then just down and across the road was the Mud Volcano area with a 0.6-mile loop trail taking us to several mud volcano and related features, which were quite stinky as well.
From the Mud Volcano site we continued south and eventually drove for a while along Yellowstone Lake on our way to West Thumb Geyser Basin. We did a little loop walk around the geyser basin, but the geyser there was not spouting, and we didn't know when it would. There were a number of hot, gurgling springs though, with Yellowstone Lake as a backdrop.

From there we continued the big loop driving past the Old Faithful area and back to Madison Campground. We got back to camp about 6:00 or so. Dr. Collette started getting some dinner ready, and we may run into West Yellowstone after dinner to give everyone a chance to shower––no shower facilities at Madison Campground.
Day 4: Done with Ice - On to Fire
Monday, Oct. 3, 2022, late
Once again, I am writing in my tent. It's midnight and we just finished setting up camp. I will try to keep this rather short. We woke up to a very nice morning; a bit chilly, but the beautiful view made up for it. We left Two Medicine Lake Campground just after 8 am and headed south toward Helena and then Butte. Along most of the early part of the drive we could see the mountains to our west––good for a photo opp.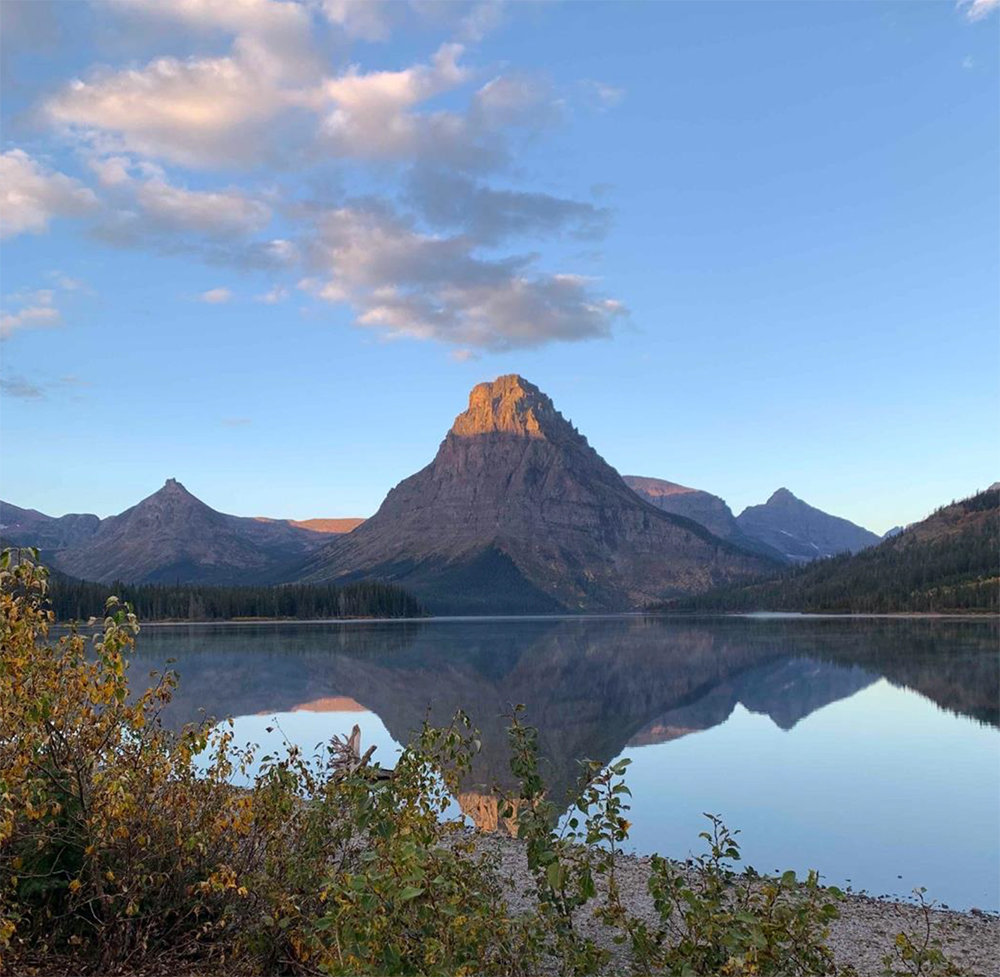 We arrive in Butte about 1:30 and went straight to the World Museum of Mining, right near the Montana Tech campus. They were done with their underground tours, but were gracious enough to take us on one anyway. It was an interesting tour––cool, and wet, and dark down in. We learned a lot about the mining history of the area, and that mine in particular, especially how things were early on––it was a tough gig! The deepest level we were taken to was 100 feet below the surface.

A short distance east of Butte we got off the interstate to see the Ringing Rocks. It was quite a bit more off the beaten path than we thought. We had to hike up the last bit, a little less than a mile. I guess we were a bit premature in the "no hiking today" claim. It was worth it. Many of the rocks really did ring when hit with a hammer.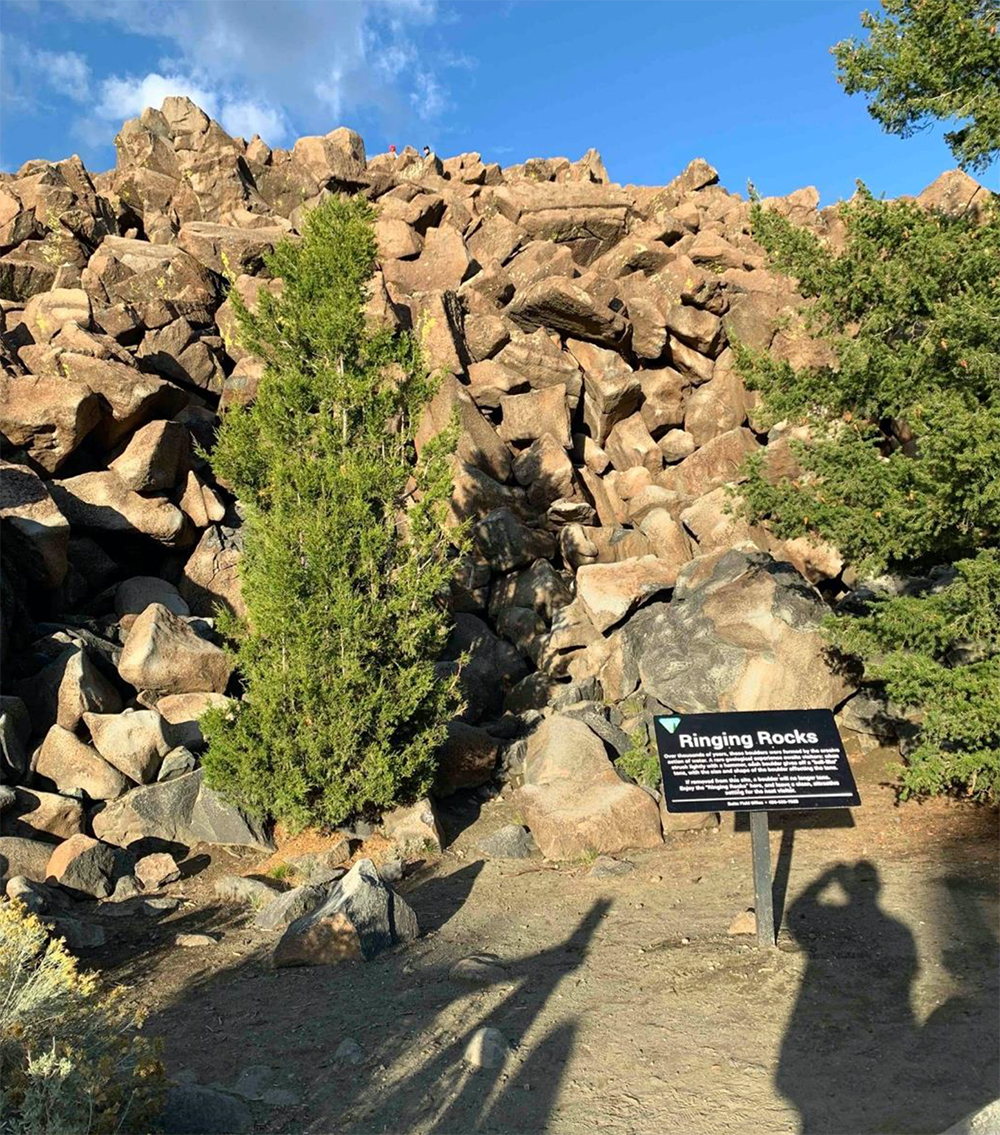 From the Ringing Rocks it was on to West Yellowstone. We arrived about 9 p.m. and enjoyed a late dinner. It was worth the wait––the food was excellent. From West Yellowstone we drove into Yellowstone National Park, to the Madison Campground. We pulled in a little before 11:00 pm and set up on wet ground. There was obviously rain today at some point.

Day 3
Sunday, Oct. 2, 2022, 9 p.m., I am writing this update in a tent (might be a little shorter); we are camping at Two Medicine Lake Campground in Glacier National Park. We left the hotel at 8 a.m. this morning. We got gas and then headed back to Glacier National Park after taking a group photo by the giant penguin across the street. We drove to East Glacier, and then into the park to the Two Medicine Lake Campground. This was a first-come-first-serve campground. Fortunately some spots had already been cleared out. We had to be a number of individual sites because there was no group site open. We managed to find enough sites and everyone got their tents set up. It was noon when we started to make lunch, so we decided to just eat lunch at the campground before heading out on a hike.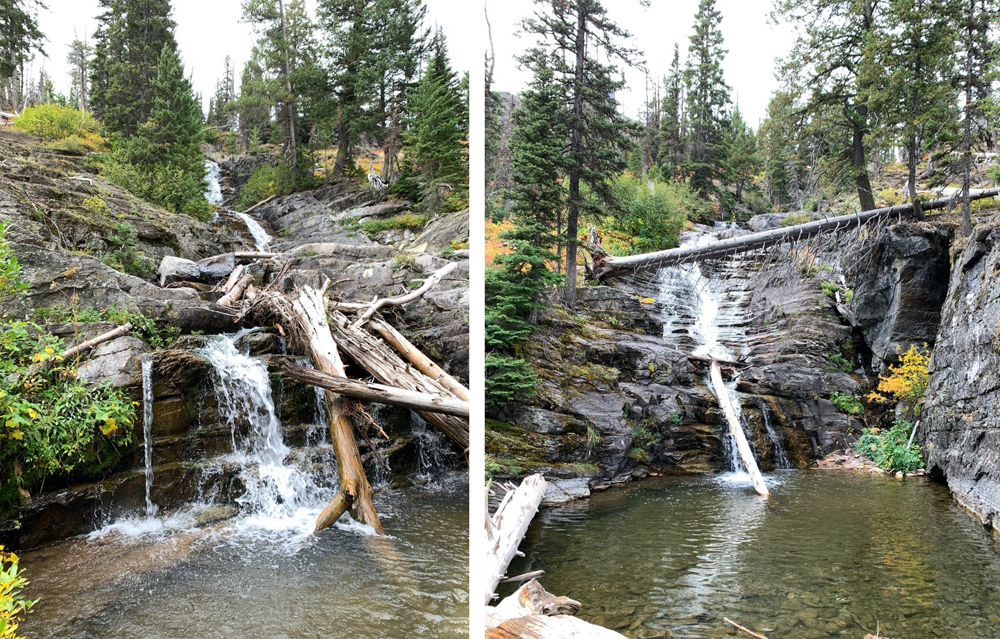 The hike today was to Twin Falls. This was a pair of waterfalls located above the west end of Two Medicine Lake. The campground is on the east end, so the trail we hiked went along the full distance of the lake through forested slopes on the north side of the lake. We were once again wowed by the spectacular mountains and gorgeous colors. 
It was 3.5 miles from the trailhead to Twin Falls, probably about 3.8 miles from our campsites. So, round trip we hiked about 7.6 miles––shorter than yesterday, and will less elevation gain. There were four students who hiked a different way and ended up hiking about 13 miles. The falls was a nice place to hang out and climb around for a while.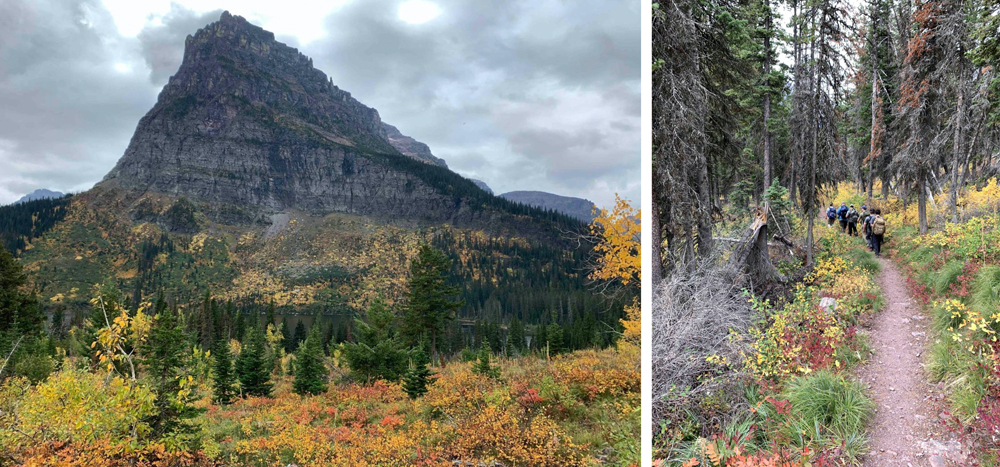 Everyone was back to camp by about 5:30. Dr. Collette cooked up a fantastic pasta meal that hit the spot with the hungry hikers. 
The plan for tomorrow (Monday) is to travel to Yellowstone National Park, going through Butte and West Yellowstone, and making a couple stops along the way. It seems students are quite happy to not be hiking tomorrow! 
Day 2
Saturday, Oct. 1, 2022, 10:32 p.m.: Day two started with preparation for the day's hike. Before leaving the hotel we packed some lunches for the hike. It was a cool morning, but we begged to differ with the claim made by the big penguin… Whynot Minot?… Freezin's the Reason. You don't need a penguin to know that.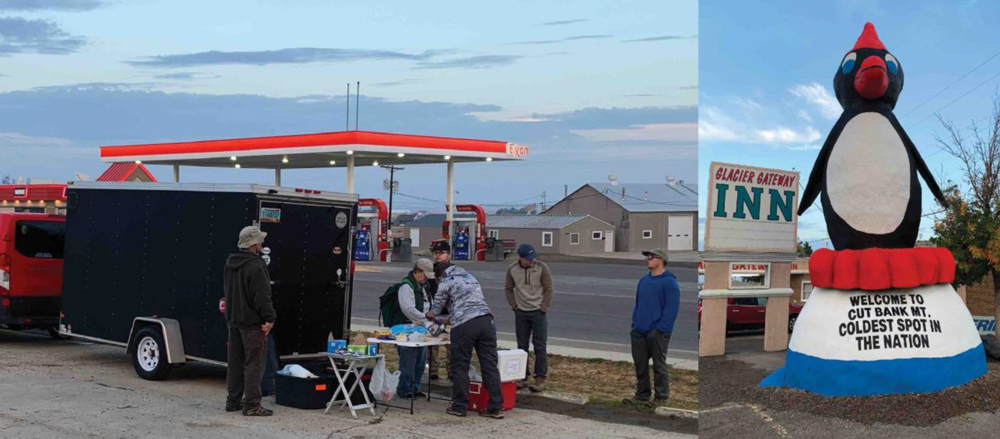 We had a little more than an hour drive to get to the Grinnell Glacier trailhead in the Many Glacier area of Glacier National Park. We hit the trail at 9:40 for the hike up to the glacier and back, about 11 miles round trip. There were stops along the way to rest, adjust layered clothes, and to take in the gorgeous scenery. In the morning, clouds were hanging around rather low, providing some interesting views. The sun poked out more in the afternoon. 

The trail paralleled Lake Josephine for quite a ways, then started to climb more. After another half mile or so, Lower Grinnell Lake came into view along with the waterfalls along the stream that drains Upper Grinnell Lake. 

From there, the ascent became more dramatic as the trail climbed up to the Grinnell Glacier. Overall, there was a net climb of 1,580 feet elevation. Groups hiked at different speeds, but those that made it up were at the Grinnell Glacier by about 2:00.  
A few of us did modified hikes, but everyone accomplished some significant hiking––and everyone was safe. Everyone was back at the trailhead by 5:30. After relaxing a bit, we headed back to Cut Bank for a well-earned dinner. 
Day 1
Friday, Sept. 30, 2022, 10 p.m.: Day one was a lot of traveling. We left MSU a few minutes after 9 am after loading up the trailer. There are 15 of us in all. Ten were riding in a van pulling the Geology trailer, and five were in an SUV. We traveled about 575 miles getting to Cut Bank, Montana.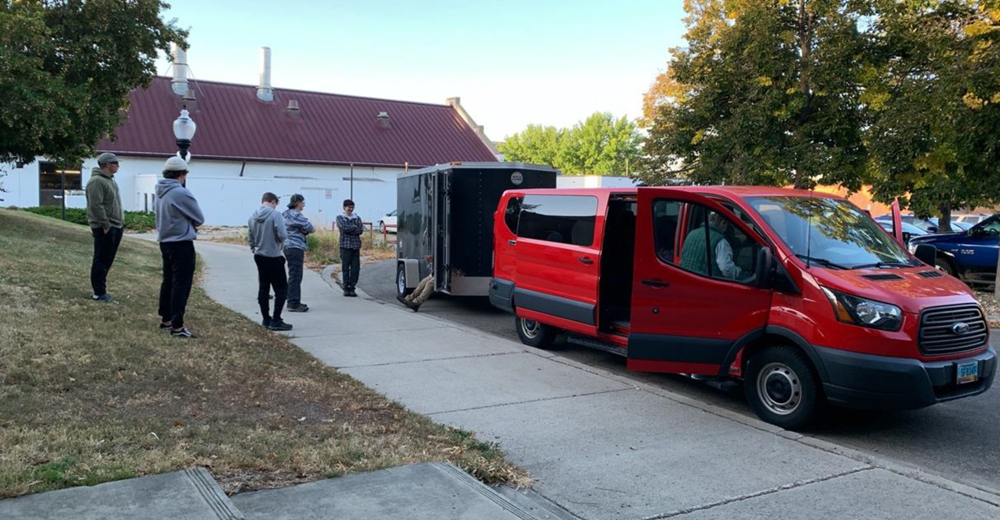 Although we didn't have a lot of time for geology along the way, we did make a stop at the Lewis and Clark Overlook at Fort Peck Dam, which is the largest earthen dam in North America - yes, bigger than Garrison Dam.

From the overlook, we drove southeast a few miles for a late lunch and geology stop along the road. Students enjoyed spending time looking at exposed sandstone from the Fort Union Formation that showed some great differential weathering. There were also abundant spherical concretions that were weathering out of the sandstone. 
Then it was back on the road for another long stretch until we arrived in Cut Bank a little after 8 p.m. (MDT), so it was just about a 12-hour trip altogether. We gobbled up a lot of pizza at the Pizza Hut, then made our way to the motel where we will be spending the first two nights. Tonight, everyone is getting ready for our first hike - probably our biggest hike - to the Grinnell Glacier in Glacier National Park.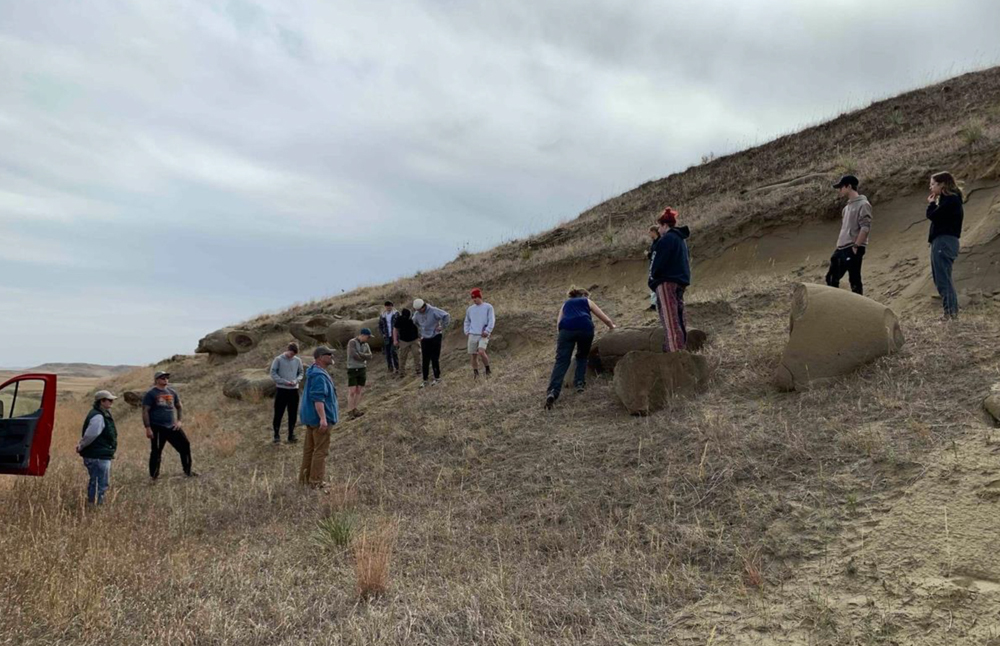 About Minot State University
Minot State University is a public university dedicated to excellence in education, scholarship, and community engagement achieved through rigorous academic experiences, active learning environments, commitment to public service, and a vibrant campus life.
---