Community development keeps Schilken on his toes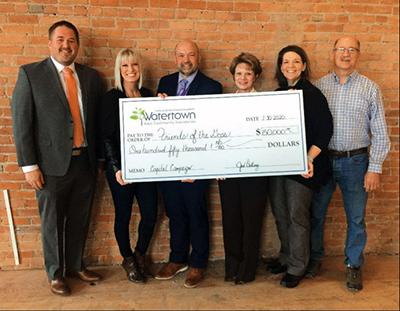 WATERTOWN, S.D. - Chris Schilken '05 has been helping build communities since he graduated from Minot State.
Inspired by his great uncle Orlin Backes, mayor of Minot from 1996-1998 and creator of The Minot Area Growth through Investment and Cooperation (MAGIC) Fund, the management graduate partook in creating The Original Bar and Nightclub near campus in 2002. 
Since graduating, though, Schilken has worked in economic development in two cities — Devils Lake and Watertown, South Dakota.
"It's fun to be a part of that change and help cities grow and see their vision come to life," he said. "But within that, though, you get to help the businesses too, small businesses and large businesses. It's a mix of all the things, and not one day is the same. The phone rings, or I get an email, and it's exciting to see what's on the other end. You get to meet a lot of great people, work on a lot of cool projects, and then also see the change and impact you have on cities over the years, and that's fun to look back to."
Today, Schilken has broadened his scope to include the whole state of South Dakota as both the Director of Business Development and the Deputy Commissioner in the Governor's Office of Economic Development in Watertown.
"Over the years, I've worked closely with the Governor's Office of Economic Development. When I was with Watertown Development Company, I got to know the staff and the people and bounced ideas off of them. I think they saw value in that," he said. "There was a spot that came open, and we started having some conversations, and one thing led to another. It's been a great career opportunity, a once in a lifetime opportunity.
"I mean, it's not often you get the chance to work for the Governor's Office, so I'm very, very thankful and appreciative of that opportunity. The most exciting thing is getting to work statewide, so I'm helping cities grow, but helping the whole state grow through all the cities growing and helping them achieve their goals as well."
Working in a public body, like for the state of South Dakota, had always been a position Schilken could see himself pursuing thanks to his familial roots and education at Minot State.
"With one great-uncle being mayor of Minot, and having another great-uncle who served in the North Dakota legislature, I could see where that was a good career path, not necessarily being involved directly in politics, but because cities are going to continue to grow," he said. "Businesses need to grow, and it helps to be connected to local politics and statewide politics.
"I found it is kind of a niche thing. I know a little about a lot and not a lot about a little, so it kind of fits my personality. Being involved in different things and different groups, the one thing that is always fun is to get to meet a diverse group of people, and of course Minot State helped. You deal with professors and students all across the board, so I found that to really meet my personality."
On top of a variety of business partners, Schilken dabbles in a variety of projects on a day-to-day basis.
"There's no routine. Staying kind of ever-changing is always good and keeps you on your toes, keeps you ready for change," he said. "Everything's always changing. There's really not one specific routine other than that it's probably going to be busy. There are a lot of good things happening in South Dakota. Right now, our office is extremely busy. We're working on over 200 projects, so there are a lot of moving pieces and a lot of calls about people wanting to expand their businesses in South Dakota, relocating to South Dakota."
Even throughout all of the projects and changes to his new community in Watertown, Schilken has continued to build the Minot State community from afar.
"It's fun to wear my Minot State gear down in South Dakota, very interesting," he said. "There's a lot of connections to sports back to the NAIA (National Association of Intercollegiate Athletics) days and also now to the conferences that they play in. It's fun to run across people I recognize or who have even gone to Minot State and are now in South Dakota as well. That's a fun networking part."
About Minot State University
Minot State University is a public university dedicated to excellence in education, scholarship, and community engagement achieved through rigorous academic experiences, active learning environments, commitment to public service, and a vibrant campus life.
---