Minot State Esports Club reaches GGLeagues playoffs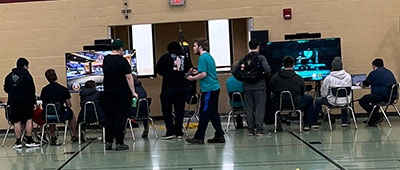 MINOT, N.D. – Minot State's Esports Club's "League of Legends" team has completed an undefeated regular season in Division C of the GGLeagues Summer 2022 season and will play in the semi-finals on Wednesday, July 20.
Launched in January, the club has already created a winning formula for competition.
"The team has put in a lot of work over the spring semester and during the summer," said Ethan Valentine, club advisor and Minot State assistant professor of psychology. "This summer, the team has been practicing every Monday and Tuesday for two to three hours, in addition to discussing strategies and reviewing the teams they're playing against next.
"On top of those scheduled practice times, the team has been meeting after every league match to review footage and discuss ways to improve going forward. In that way, their preparation is pretty similar to what we would see in traditional sports — reviewing film, talking about ways to improve, and implementing those discussions in practice matches."
The team's started include team captain Branden Pelzer, Emily Couse, Tam Vu, Clay Mantz, and Brendon Watson with Reid Tarbox and Sawyer Goodwin serving as substitutes.
The team's first-place seed gave them automatic entry into the semifinals. The match will begin at 8:30 p.m. on the club's Twitch channel @msesportsclub. Finals will be held the following Wednesday, July 27 at 7 p.m.
"Our students know that they'll face one or two teams in the semifinals, but they won't know specifically who until a few minutes before the match begins because of how the scheduling works out," said Valentine. "During the semifinal match, teams will play in a best of three format — if our MSU team wins two rounds, they'll go to the finals on July 27. The finals will be best of five, so the teams will have a longer, toucher match that time around.
"The MSU team has previously played against — and beaten — most of the teams in the playoffs but that doesn't guarantee that the other teams will be pushovers. Our students are still practicing this week and next to be ready for whoever they're up against!"
For more information, the Minot State Esports Club can be reached at esports@minotstateu.edu or via the club's Discord server.
About Minot State University
Minot State University is a public university dedicated to excellence in education, scholarship, and community engagement achieved through rigorous academic experiences, active learning environments, commitment to public service, and a vibrant campus life.
---