Mayer named partner at Integrity Outdoor Living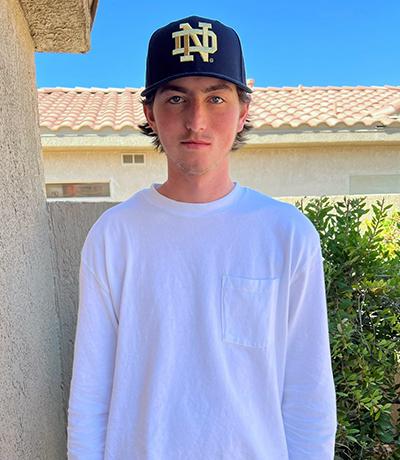 MINOT, N.D. – Dylan Mayer, a Minot State sophomore majoring in finance, was recently named partner at Integrity Outdoor Living. With this respectable achievement, Mayer continues to find educational value at the University.
A Minotian, Mayer attended Minot Public Schools and came to MSU in Fall 2020. He worked for Integrity Outdoor Living for six years before he bought into the company Jan. 1, 2022.
"Most of the work is outside, and I enjoy being outside. There's a lot of freedom to it," Mayer said. "Previously, I would just do general landscaping. Currently, I'm in charge of installing and servicing sprinkler systems."
Integrity Outdoor Living is a local and premier landscaping contractor. They don't measure landscaping as being cheap or expensive; they believe landscaping is an investment in your property. Mayer supports the company's mission to improve the quality of its customers' outdoor living experiences while also promoting and integrating eco-conscience landscaping practices.
"We wanted to do sprinkler systems, and you need somebody within your company to take in a lot more responsibility," he said. "The bosses looked at me and thought that maybe I'd be the guy for it, and they asked me if I wanted to do it. I agreed, and that's kind of how it started." 

As a finance student at MSU, Mayer thought about starting his own landscaping company, but this recent promotion changed his plans.
"I kind of kicked the idea of starting my own landscaping company around, but it never really formed. I would have never started a company, I don't think," he said. "My dad's also a part of this company, too, so I have the family tie to it, and that helped me. It persuaded me to stay within the company."
Regarding the completion of a college degree despite his long-term plans to stick with the company, Mayer sees his time at Minot State as a reinforcement of his good business character.
"Some people go to college to get a job. I am going to college to learn. My situation is having this job and then getting an education at Minot State," he said. "I do my homework at night and work during the day, and that's just how I've always done it, and it worked for me. It made me manage my time better, I would say." 
About Minot State University
Minot State University is a public university dedicated to excellence in education, scholarship, and community engagement achieved through rigorous academic experiences, active learning environments, commitment to public service, and a vibrant campus life.
---