SENIOR SPOTLIGHT: Nelson finds her fit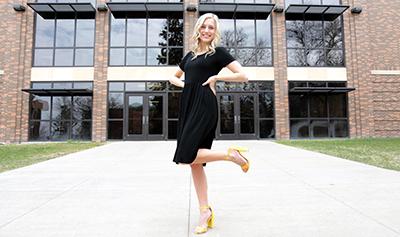 MINOT, N.D. – When Sydney Nelson enrolled at Minot State, she didn't know what she was going to major in. But she did know one thing: whatever it was, it was going to revolve around children.
"I knew I wanted to work with kids because my life has revolved around them," the Minot High graduate said. "I wasn't sure if I wanted to be doing something one-on-one, like counseling or social work, or something else.
"Then I started working as a CLC aide for the before and after school program at McKinley Elementary and realized, oh, I really like having 20 kids in a classroom that depend on you and look up to you as a role model and caregiver."
Being a role model and caregiver comes to naturally to Nelson. She grew up babysitting for families and has spent the last five summers as a nanny. Add in the CLC program and volunteering at her church nursery, and it's no surprise her trajectory led her to elementary education.
She credits her extensive resume and Minot State coursework for mutually preparing her for student teaching.
"Everything was brand new as a student and then by the time I got into student teaching, I had all this background knowledge from my other experiences that I got to add to it," she said. "It was nice having all these different ideas and techniques and to put that into the classroom to see what worked."

"With the profession I'm going into, you get a lot of clinical experience at Minot State. That was my favorite part about my education — going out, seeing different districts, meeting new teachers, learning new ideas, and then working with a bunch of different kids."
Her coursework also enabled Nelson to hone another passion.
"My favorite classes were in my reading concentration. I read all the time and to see kids that struggle, that's hard. Doing the reading clinic and working with struggling readers was probably my favorite thing," she said. "I've learned a lot about the components of reading and strategies and such. If I can help kids when they're in like second grade, it's only going to help them more and more throughout their life."
About Minot State University
Minot State University is a public university dedicated to excellence in education, scholarship, and community engagement achieved through rigorous academic experiences, active learning environments, commitment to public service, and a vibrant campus life.
---