SENIOR SPOTLIGHT: Kellen Peat earns research assistantship at Texas A&M University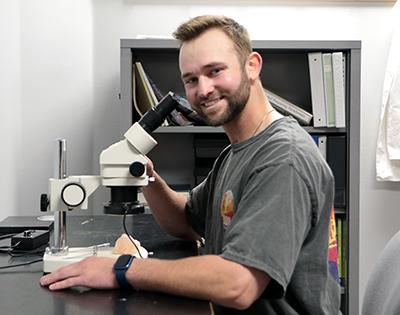 From Parker, Colorado, Kellen Peat came to Minot State in 2018 on athletic and academic scholarships.
He is a baseball player, and he majored in geology after nurturing a curiosity for the natural world and the great outdoors of his hometown.
"Rocks and geology, in general, have always intrigued me, and I've always wanted to learn more about what makes this happen or what's the cause of this and how can we use geology to answer some of the natural world's problems in today's society.
"I've always loved the outdoors, and being from Colorado, there is a lot of geology there, especially with the Rocky Mountains and all the different landforms," Peat said.
He brought over this curiosity to Minot State, where he has enjoyed experiencing a new region of the United States.

"Before I came here, I'd never heard of Minot. I didn't even know it existed," he said. "I came here on a scholarship for baseball, so that's kind of how I first heard of it. Having never experienced the Midwest, I wanted to come up to Minot and experience what it had to offer and what life was like here."
Peat will be moving to College Station, Texas, to attend Texas A&M University. He will work as a research assistant there, hoping to complete his master's in geology. Peat is thankful for what Minot State offered him over the past four years.
"The most memorable part about being in Minot has been the sense of community. It's a small school, and those small classes and groups allow for stronger relationships that I'll remember for life. I've met so many people from around the country and around the world, and that's going to help me as I go into the next chapter of my life."
About Minot State University
Minot State University is a public university dedicated to excellence in education, scholarship, and community engagement achieved through rigorous academic experiences, active learning environments, commitment to public service, and a vibrant campus life.
---