SENIOR SPOTLIGHT: Gulka strives to change lives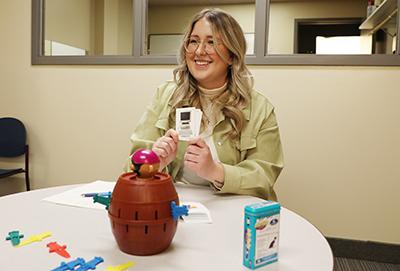 MINOT, N.D. – Scrolling on social media, oftentimes one may see a viral video of a child trying on hearing aids and grinning when they hear their parent's voice for the first time.
Madisyn Gulka, president of the Minot State chapter of the National Student Speech Language Hearing Association (NSSLHA), wants to make that experience part of her career. 
Minot State's Communication Sciences and Disorders Program produces excellent speech-language pathologists who change lives around the world. However, its undergraduate degree also provides the foundation for another track: audiology. This field is where Gulka found her passion. 
"I originally was going to do speech-language pathology (SLP), and I knew in communication disorders you could go either SLP or audiology, but I was always like, 'I'll just go SLP, and we have the master's program, so I could stay here if I wanted to,'" she said. "But I realized my friends and other classmates were super passionate towards doing SLP. It is interesting to me, and I do like it, but I took ASL (American Sign Language) classes, speech and hearing science, and introduction to audiology, and I was finally passionate and realized I found something I really liked." 
On top of her major in communication sciences and disorders, Gulka will graduate this semester with a minor in deaf and hard of hearing education and a concentration in deaf studies. NSSLHA has been a part of her education since the beginning. 
"I remember in my first-year experience class, we had to do three things to show that we were getting involved on campus," she said. "So I went to the first NSSLHA meeting. I was like, 'I might as well. It's all communication disorders majors, meet new people.' It seemed interesting." 
Since then, Gulka sat as NSSLHA secretary her junior year and now is president of the club for her senior year. The club participates in many events, recently hosting their annual conference — with attendees from Montana, South Dakota, Minnesota, Saskatchewan, and Manitoba — after a two-year hiatus. They featured several speakers, including Minot State Adjunct Professor Amanda Blackwell who lives in Guatemala and was the first to offer speech language pathology services in the country. 

The club's service projects are what Gulka enjoys most. 
"We've gone to schools and read books, we've done backpack buddies a few times where we bring food to a school and they send it home with the kids. We went to, it's called Second Story. It's for adults with intellectual disabilities and we helped with a fundraiser," she said. "There's a mix of things for volunteering and social events we do once a month. We've made keychains, put together clinic bags for the clients. Every year we do Miles for Smiles, a charity walk for Operation Smile, and we raise money for children with cleft lips and palates. 
"I know it's super important to be involved. Growing up my parents always were big on being involved in the community, having that sense that you're like helping people out," she said. "There are those videos of audiologists turning on hearing aids for the first time. I haven't done that yet." 
Once she finishes graduate school, she will get to experience that moment on a regular basis. From Saskatchewan, Gulka applied for five graduate schools in both Canada and the U.S. She has been accepted into all five and plans on attending the Dalhousie University in Nova Scotia for her Master of Science in Audiology. 
Mary Huston, the chair of Communication Sciences and Disorders, has seen Gulka grow throughout her undergraduate education and looks forward to seeing her continue to do so. 
"I am confident in Maddie's ability to not only succeed but excel in graduate school," Huston said. "She is both intelligent and passionate with a commitment to making a difference. All these traits are seen in her actions in her undergraduate career and as NSSLHA President. I look forward to hearing about her success not only in graduate school, but in her chosen career field as well. She will definitely change people's lives for the better." 
"You really do change someone's life," Gulka said. "SLP and audiology help someone learn to speak again, help someone hear for the first time, get their hearing back. You really do just have a big impact on their life, and that feels good inside to do." 
About Minot State University
Minot State University is a public university dedicated to excellence in education, scholarship, and community engagement achieved through rigorous academic experiences, active learning environments, commitment to public service, and a vibrant campus life.
---