Under 40: Geer fills community need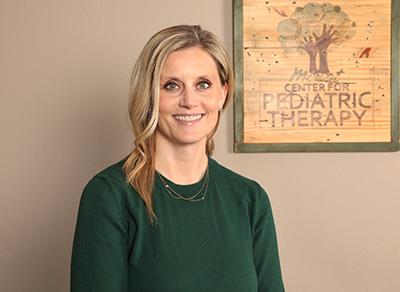 MINOT, N.D. — At Minot Center for Pediatric Therapy, there is a wall of Minot State University diplomas.
"We have seven MSU alumni working at our clinic and one of our office assistants is currently enrolled there," said owner and speech-language pathologist Kylee (Olson) Geer '05/'07. "MSU has an incredible communication disorders program that we've been lucky to benefit from. "The graduates from this program learn from the best and are prepared to start working right out of graduation. It wasn't necessarily intentional to hire so many MSU alumni, but I know our team is successful because of the strong education they have all received at Minot State."
Belonging to a family of University alumni, attending Minot State was an easy choice following Geer's graduation from Minot Public Schools. It was inquisitiveness that led her to the Department of Communication Sciences and Disorders.
"I was initially interested in speech-language pathology because I was curious about working with children with hearing loss," she said. "Once I started taking classes, I learned about the broad scope of practice for SLPs. I enjoyed working with children with disabilities and finding ways for everyone to feel included."
That desire for inclusiveness led to the founding of Minot Center for Pediatric Therapy in August 2012.
"I saw the need for additional services in our community, and my dad (Richard Olson '74) was business-minded and I think I inherited some of his ambition and work ethic," she said. "Our staff and clinic space have grown over the years, but more importantly, our understanding of how to better support children with special needs and their families has grown the most."

Geer's venture began as a solo private practice and grew to include occupational therapy and additional therapists over the years. Today, the center includes a team of six speech[1]language pathologists, two occupational therapists, and two office assistants, with plans for a mental health counselor to be added in the near future.
"It has been so rewarding to be trusted to work with children and help them learn new ways of communicating, playing, and interacting with their family," she said. "During my practicum, the brilliant speech-language pathologist Rachel Stotts, from Moorhead, Minnesota, inspired me to gain more knowledge in the area of autism and find the strengths and gifts that each child has, regardless of their diagnosis."
Many of the youth, ranging in ages from birth to 21, Geer's clinic works with have medical diagnoses, which has prompted her to help the community beyond the center's physical walls.
"We've done this by supporting local programs and fundraisers and creating events such as the Minot Walk for Autism and our annual event, Bloom, a night which brings mothers of individuals with disabilities together," she said. "I also speak to students at Minot High School and local support groups regarding shaken baby syndrome.
"It's been wonderful to see the programs that Minot continues to create that allow for all children to participate. When families feel like they are seen and included, they may feel more at ease participating in community events and seeking out other services our area offers. I'm proud to be a part of that."
About Minot State University
Minot State University is a public university dedicated to excellence in education, scholarship, and community engagement achieved through rigorous academic experiences, active learning environments, commitment to public service, and a vibrant campus life.
---