White Coat Ceremony at Minot State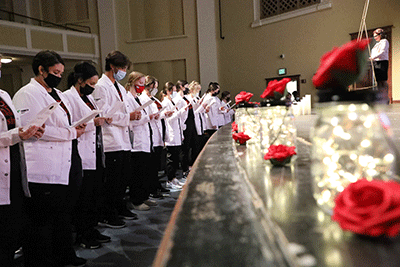 MINOT, N.D. – The Minot State University Department of Nursing, in partnership with Trinity Health, will hold its White Coat Ceremony for incoming Spring 2022 students.
The White Coat Ceremony, scheduled for Tuesday, Jan. 11 at 3 p.m. in Ann Nicole Nelson Hall, is a rite of passage to emphasize the importance of compassionate patient care at the very start of training.
"The White Coat Ceremony is a wonderful opportunity to formally welcome our incoming nursing students to the nursing profession while also providing a unique opportunity to further exemplify our commitment in providing an education experience that is founded upon compassionate and patient-centered care," April Warren, Minot State University nursing department chair. "The White Coat Ceremony highlights the importance of 'Keeping HealthCare Human,' in which holistic and high-quality nursing care is at the center of all patient care experiences. Each of these unique opportunities continues to foster our commitment to meet the needs of our ever-changing health care environment, while also graduating nurses who are caring, compassionate, and well qualified to transition into nursing practice."
The University held its inaugural White Coat Ceremony for incoming Fall 2021 students. In conjunction with the Arnold P Gold Foundation/AACN grant, Trinity Health has sponsored the two ceremonies, covering the cost of the white coat for each nursing student.
"A white coat ceremony is symbolic of a transition or commitment to the nursing profession. It is a rite of passage — a visual reminder of a commitment to hold the nursing profession in high regard, a student's obligation to a life of service and learning, and passion for what it means to answer the calling to be a nurse," Karen Zimmerman, chief nursing office/vice president for patient care service at Trinity Health said prior to the inaugural event.
"Minot State University is incredibly grateful for our continued partnership and support from Trinity Health," said Warren. "On behalf of MSU and the Department of Nursing, I wish to express our sincere appreciation to Trinity Health for making the White Coat Ceremony possible by sponsoring each White Coat for our nursing students.
"We are also very appreciative for being selected by AACN with a small grant to facilitate the White Coat Ceremony this academic year. This grant also offers 'Keeping HealthCare Human' pins, which are placed on each white coat. This pin serves as a visual reminder of the student's oath and commitment to providing high-quality and compassionate nursing care."
New students will recite an oath with a commitment to humanistic — compassionate, collaborative, and scientifically excellent — patient care. The students will be cloaked before family and friends in the iconic white coat that signifies their status as healthcare professionals.
The first White Coat Ceremony took place in 1993 at the Columbia University College of Physicians & Surgeons. Today, hundreds of nursing schools, nearly ever medical school in the United State, and many other health profession schools around the globe participate in this tradition. 
Minot State is one of 410 universities total and 50 for the 2021-22 academic year to earn the grant from the Arnold P Gold Foundation and the American Association of Colleges of Nursing. The University joins just two other North Dakota universities, North Dakota State in 2014, and the University of North Dakota in 2015, to receive the honor.
About Minot State University
Minot State University is a public university dedicated to excellence in education, scholarship, and community engagement achieved through rigorous academic experiences, active learning environments, commitment to public service, and a vibrant campus life.
---