Minot State alumnus participates in worldwide art expo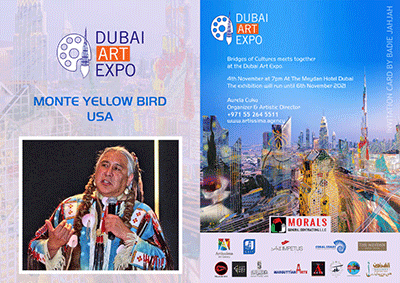 MINOT, N.D. – When Monte Yellow Bird Sr. '04 arrived at the Meydan Hotel Dubai in November, he was the sole artist out of 500 from the United States.
"There were over 170 different countries there and 85% of them spoke English," the Mandan, Arikara, and Hidatsa Nation member said. "It was really different for some of them to see me because I dressed in full regalia. I think they were just awed at the idea of me not being dressed like everybody else, that I was dressed in a traditional way.
"I really try to get across to everybody the idea of being proud of who you are, where you are from, and your relatives, from generations to generations."
The three-day Dubai Art Expo was organized by curator Aurela Cuku, founder of the Artissima Art Agency in Dubai, who's gallery is inspired by the history, culture, traditions, heritage, and art from countries around the world.
In the art community, Yellow Bird is best known as Black Pinto Horse, his spiritual name. His pieces showcase Indigenous culture with vibrant colors, often in the 1800s ledger art style.
As an artist working during tumultuous worldwide events and personal loss, however, he has found those moments influencing his recent work.
"Normally, when I build my own canvases, there's a ceremony that goes along with it, ever since I was a young kid doing art," he said. "What's happened during this particular time, I really started using black gesso as the foundation paint. The idea of the series is bringing life to the darkness.
"The teaching is that during these really trying and challenging, and even horrific times, we need to continue being who we are as human beings — to know our place, that we are loved, and that we can pass that knowledge on as well. We need to bring enlightenment and light to the unknown."
Yellow Bird often references "Our Greatest Fear," a passage written by Marianne Williamson, while teaching. "You're playing small doesn't serve the world," she writes. 
"That's what I really want to get across to my audience," he said. "We actually have a responsibility to the world to inspire other people with our gifts. I think that's a huge part of what I do as an artist, as an educator, and as a speaker."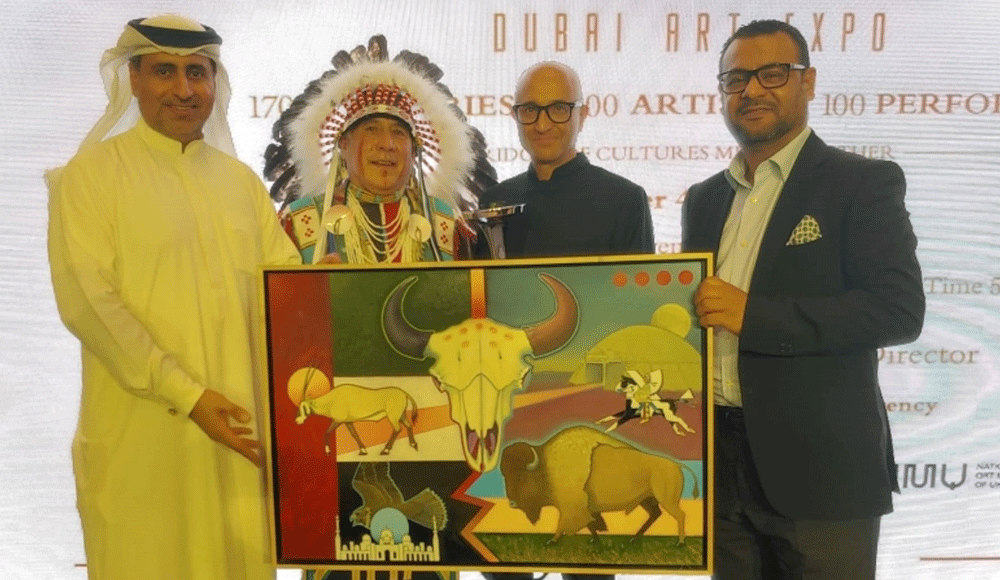 Although a current resident of Rio Rancho, New Mexico, Yellow Bird grew up in White Shield and many of his passions still belong in North Dakota.
After a three-year hiatus, he is again serving on the North Dakota Council of the Arts. This time, his focus is on the artist in residency program and getting more Native American artists involved, creating more Indigenous presence through craft. The 2022 roster includes his own residencies in Minnewaukan and Trenton.
"That's one of the things I always come back to," he said. "Legally, I live here in New Mexico, but my roots are really in North Dakota. I'm proud to say that's where I'm from.
"I really appreciate the instructors and support that I had at Minot State University, they really pushed me in a different direction then I was used to."
About Minot State University
Minot State University is a public university dedicated to excellence in education, scholarship, and community engagement achieved through rigorous academic experiences, active learning environments, commitment to public service, and a vibrant campus life.
---