Under 30: Impact extends beyond business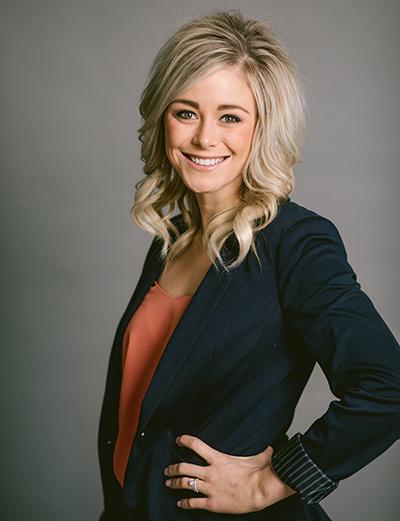 MINOT, N.D. – Downtown Minot has been undergoing a revitalization, and McKenna (Larson) Gudmunson is leading part of that charge.
"Minot can have fun things, too," she said. "When traveling, we prioritize local eateries, fun pubs, walkability to attractions and shops — all the things that Minot has but was missing the synergy to really make it a destination. Being one of the many game changers in downtown Minot is a group I'm proud to be a part of. The energy is contagious."
The 2013 business education graduate founded 701 Realty in 2018 with husband Andrew, and the couple has steadily expanded their business holdings since then. Next on the docket is Whiskey Nine, a full bar and restaurant with an emphasis on golf through simulators and a putting green opening Fall 2021.
Gudmunson's impact also extends well beyond business and downtown.
"The cool thing about starting 701 Realty is that we have the power to make it what we want," she said. "We can grow at our own pace, we can provide opportunity for people who might not realize their abilities, and, most importantly, we have a platform to give back to the community through our charitable giving program. We've been able to give over $25,000 since opening our doors."
Through the giving program, donations have been made to local and national organizations, GoFundMe fundraisers for local individuals and families, and other projects that resonate with their clients.
"Being born and raised in Minot, you develop a sense of pride and ownership over time," she said. "I almost feel a responsibility to be involved and make Minot a better place."
As impressive as her current contributions are to the Magic City, her involvement within the community is not new.
While a student at Minot Public Schools, Gudmunson was heavily involved in activities and extra-curriculars. That drive carried over to her adult life and accelerated when she began working at Ackerman-Estvold.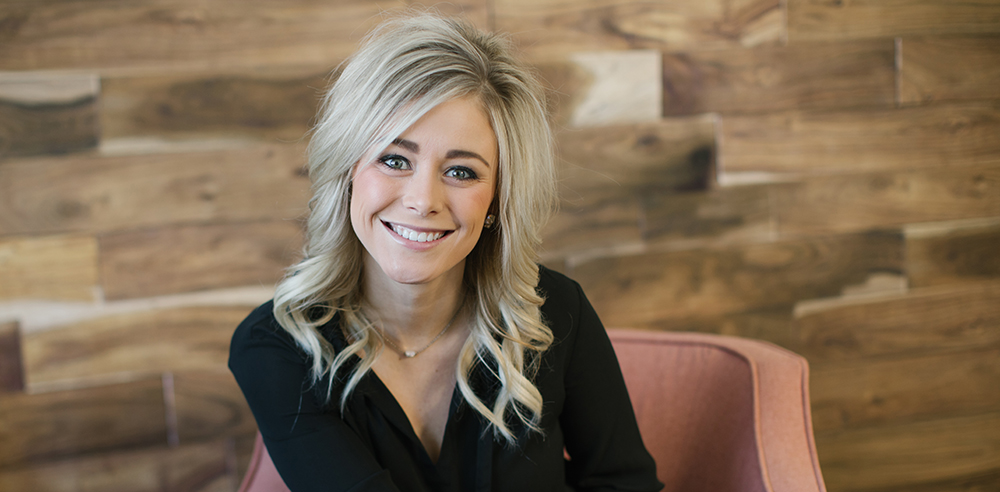 "Jess (Jessica Ackerman) was 'Miss Minot,' as we liked to say, and really made a big impression on me," she said. "Ackerman-Estvold as a whole was extremely supportive of me getting involved in services clubs, YP (Young Professionals), etc., which is really where it all began for me.
"Networking with other business professionals and using each experience and contact as a springboard to grow was key."
Those interactions have also allowed her to create positive growth by serving on the Minot State alumni board.
"It's really cool to see another side of the University. As a student, you see the student life, but as an alumni board member, you get to know the administration that really makes it all happen behind the scenes," she said. "Minot State provided an opportunity for me to stay in my hometown and get a quality education. I enjoyed the balance of being a local kid on campus while meeting new friends from near and far. The majority of my lifelong friends are from my time at MSU.
"There's a great energy at Minot State if you choose to be a part of it."
Connections

INSIDE THIS ISSUE
CONNECTIONS FALL 2021 (Vol. 30 | No. 1)

Under 30: Impact extends beyond business is a story from the Fall Connections 2021 issue. Connections is published two times a year by the Minot State University Alumni Association and Development Foundation.
About Minot State University
Minot State University is a public university dedicated to excellence in education, scholarship, and community engagement achieved through rigorous academic experiences, active learning environments, commitment to public service, and a vibrant campus life.
---