MSU the perfect fit for Gillis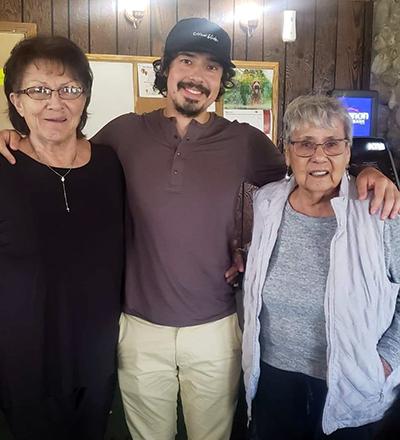 Nevin Gillis (center) with his grandmothers Betty Frederick (left) and Myrtle Gillis (right).
POUGHKEEPSIE, N.Y. – When searching for colleges, Nevin Gillis '16 took in many considerations of what he would get out of his university education.
"I was a competitive golfer, which for some, could be a means to an end," said Gillis. "I wanted to be on a campus where I felt like I could get to know faculty and fulfill my educational interest, and I wanted a smaller campus where I could see similar people often and have the potential to build a life-long friendship."
After choosing to study at Minot State University, Gillis states that he does not regret his decision to attend here.
"In considering these factors and looking back at my time at MSU, it was the perfect fit for me," he said. "If I had to choose two things I enjoyed about Minot State, broadly speaking, it would be faculty and friends. Throughout my years at Minot State, there were times I wasn't sure I'd get to where I needed to go. But with the encouragement from faculty and friends, I was able to make the necessary changes to get to where I needed to be."
While he was at Minot State, Gillis, an enrolled member of the Turtle Mountain Band of Chippewa Indians, studied for a degree in biology because he enjoyed science — a subject that later led to his career.
"At the time, I wasn't thinking long-term, it was just a subject I enjoyed. With time, I realized I needed to choose a career, and so optometry it was," said Gillis. "I decided on this because I had a family member that suffered from a preventable disease. This thinking led me to change into a profession that does just that, disease prevention."
During his time as a student, Gillis states that the two big things that he learned were time management and preparation.

At the time, I was involved in research, volunteering, golfing, and of course school," said Gillis. "Deciding when and how to split up time between each wasn't easy, but with time, I found a way to make it work. So, I decided that it was time to give up golfing competitively. I couldn't give enough time to both golfing and school, and I knew golfing would eventually be nothing more than a hobby."
Gillis finished his undergraduate at Minot State in 2016, before attending UND where he graduated in May 2021 with a Doctor of Medicine degree. He is now attending an obstetrics-gynecology residency in Poughkeepsie, New York.
Through his time as a resident, Gillis can't see himself in any other specialty.
"In residency, you learn to communicate with other members of the team and prioritize," he said. "Studying is a given, as we are life-long learners. Of course, there are challenges, but adversity is not unfamiliar."
As one of his mentors, Annette Mennem, director of the Native American Cultural Center at Minot State, remembers Gillis as an outstanding student.
"If I could have replicated Nevin as a student, it would have been done multiple times," she said. "He did it right, knew what he wanted, found a way to make it happen and made it happen — did all the right things in the right order. I am proud of him and all he has done!"
About Minot State University
Minot State University is a public university dedicated to excellence in education, scholarship, and community engagement achieved through rigorous academic experiences, active learning environments, commitment to public service, and a vibrant campus life.
---