MSU Life brought Thapa Magar to campus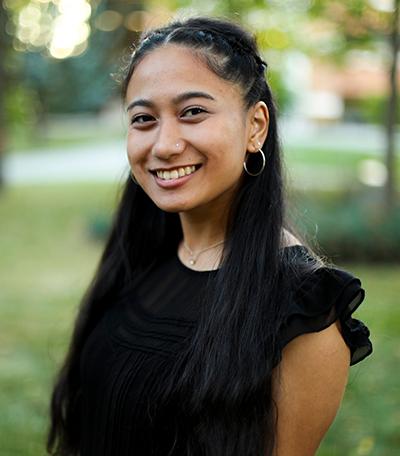 MINOT, N.D. – Being an international student and coming all the way to Minot, ND for school can be intimidating. One way to help ease the homesickness is to find a group that makes you feel welcome.
That's how Upama Thapa Magar felt when she became the social media coordinator for MSU Life.
"Last semester when I came to Minot State, it was a different environment, the campus was not like this," Thapa Magar said. "Being far away from home is difficult, but being involved on campus makes me feel included and it helps me when I'm homesick." 
Although she is the brains behind the social media posts and promotion signs seen on campus, graphic design and social media is more of a hobby than a career.
"I actually started out as a mathematics major and, after that, I started to get into website development and graphics. I was pretty convinced with the field, so I decided to give computer science a try," she said. "I am very interested in graphic design and it's my hobby. I enjoy designing fliers and being creative with them. Even before I was in MSU Life, I spent a lot of time designing and doing those types of things because I enjoy it."
Thapa Magar admits that when she was first picked for the role of social media coordinator, she was anxious, but the people she's met have helped her feel more included.
"At first, being hired as the social media coordinator was challenging because English is technically my second language, but also because when you come from a different place it's hard to feel included right away. But, MSU and the students are awesome," she said. "When you go to talk to someone, they are always welcoming, that's something I like about Minot State. It has made me more outgoing as a person since I am usually slow to open up to others. I always love to see that part of myself come out at events."

Not only are the students she's met helped welcome her, but MSU Life director Aaron Hughes has also been someone she looks up to for guidance and encouragement.
From a text sent to Hughes, Thapa Magar talks about how just seeing MSU Life Instagram account helped her feel better about making the jump to Minot State.
"Thank you for trusting me and letting me do this! I'd never have this much fun at MSU without MSU Life. Trying not to sound cringy, but whenever I used to get scared to come to Minot by myself, I always used to look at MSU Life's Instagram and feel so much better about coming here, so it's pretty personal," Thapa Magar said in her text.
Being able to meet new people and attend the events is what makes this worth her time and effort, as she looks at this as more of a hobby than work. Most importantly, however, she feels connecting with the people she's met, building her own self-confidence, and enhancing her professional skills is paramount.
"I have so much to learn from Aaron, she's a great graphic designer," Thapa Magar said. "(Fellow MSU Life Coordinators) Emmitt (Espino) and Hannah (Schaefer) are awesome to work with. They're all just very supportive, if I don't come up with an idea, there are all these other people who are supporting me."
About Minot State University
Minot State University is a public university dedicated to excellence in education, scholarship, and community engagement achieved through rigorous academic experiences, active learning environments, commitment to public service, and a vibrant campus life.
---