Jerde honored for her work with students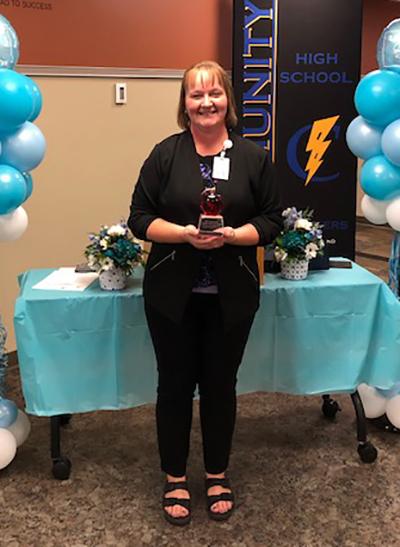 GRAND FORKS, N.D. – Most people go to college for just one degree and one career for the rest of their lives.
For Shari Jerde however, one career and degree was not enough, especially when she realized she had the skills and talent for another career in addition to the one she was already pursuing.
Starting off with office and secretarial work, Jerde took several classes in business education in high school; she still kept on her administrative career path as she made her way through school. After completing her two-year degree at Dakota College of Bottineau, Jerde was working as an administrative assistant in the Minot State University Education Department, when she was introduced to the possibility of teaching.
"While working in the elementary education department, I helped Helen LeMar work on creating a table in Microsoft Word. Dr. LeMar looked at me and said, 'why aren't you teaching this to others?'" said Jerde. "I remember thinking — could I really do that? Could I really teach? Dr. LeMar was my inspiration, if you will, to walk up to the third-floor business education office at the time and ask about enrolling in their program and to find out more information on how I might get my degree in business education."
She obtained her business education degree from Minot State in 1998, a Master's degree in career and technical education 2003, and a Master's degree in special education in 2009.
While studying at Minot State, Jerde stated that she enjoyed the small class sizes, as well as the real-world experience she obtained as a student.
"You are never just a number at Minot State," she said. "Many of the education professors I already knew from working on campus, and that was a relief for me to already have connections in the education system at MSU.
"The small campus atmosphere of Minot State helps a student feel comfortable and at ease so that they can easily work on their studies. We were also required in our education classes to gain practical experience by visiting classrooms in Minot and the surrounding areas. But one of the key takeaways from Minot State is that instructors cared about their students' learning, and that is something I've transferred to my own classroom. Because the saying is true; students do not care what you know until they know that you care."  
Now, after teaching 16-and-up in high school-level business education and family and consumer science classes at Community Alternative High School in Grand Forks, Jerde has been recognized by her school for her nomination for North Dakota Teacher of the Year.
This nomination comes after 18 years of teaching grades, in Grand Forks from 1999 to 2008, 7-12 special education in a resource room in Central Valley High School in Buxton and grades 7-9 special education and grades 9-12 business education in Bottineau High School.
Jerde said that teaching at this level has worked out best for her because she can see the best in the students.
"It is enjoyable to work with students who are soon-to-be in the independent working/life/school environment. In the CTE areas of business and FACS (family and consumer science)," she said. "I feel I connect best with students who are looking for skills to use in their life and working world. Teaching at the high school level provides me with an opportunity to make this connection."
Jerde also said she also enjoys teaching the students life skills that they can use after they graduate.
"In my teaching, those practical application topics include use of credit, applying for loans, how to search for apartments, practicing good digital citizenship, cooking simple meals, budgeting, using Microsoft Office to create various documents, spreadsheets and presentations, along with opportunities to validate industry-level certification skills in Microsoft programs," she said. "It is a huge bonus for me as a teacher to build relationships with students and to work with students to develop their empathy skills, use of mindfulness, and provide opportunities to become better humans by completing various community service projects. It really has been the connections with students and the relationships I've built with them that are most enjoyable."
Receiving the recognition and nomination was overwhelming — and an honor — for the long-time educator.
"I am honored to think that others who are judging my teaching regard my teaching methods, projects, and character as being worthy of this level of recognition," said Jerde. "I truly don't know any teachers who teach for the recognition. We tend to teach because we love students and want to see them learn to become independent, caring humans who contribute to our society in a positive manner. So, this nomination is a true honor."]
Jerde was recognized for her nomination in September by the Department of Public Instruction.
About Minot State University
Minot State University is a public university dedicated to excellence in education, scholarship, and community engagement achieved through rigorous academic experiences, active learning environments, commitment to public service, and a vibrant campus life.
---