Gendron's career passion follows multiple paths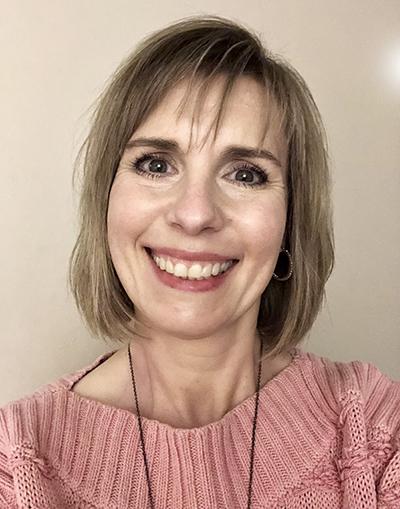 MINOT, N.D. – Some people have their career passion planned out before they attend, however many find theirs while they are in college.
For Dawn Gendron, it was a combination of both that led to study in business administration, graphic design, and marketing.
Gendron graduated from Minot State University in 1996 with a Bachelor of Arts in art and graphic design, a minor in business administration, and a concentration in marketing. She currently works at Aquent Studios in Minneapolis as a senior creative project manager. Her work includes partnering with creative teams at Fortune 500 companies to help them translate their visions into successful deliverables.
"I was referred to Minot State because I said I wanted to go into business," said Gendron. "They said Minot has a great business program. You should go there. So, I went to Minot."
While she still followed through with her plan of pursuing business, Gendron dabbled a little in other classes to find her true fit for a career.
"I was also interested in computers. I went to a computer programming class, and I was only in that class for one day," she said. "I had also enrolled in art classes and when I walked in the computer lab at the art department, I thought, okay, this is more my speed. With graphic design, I can combine my love of art and computers rather than trying to force the path of more business and computer science, which didn't feel like a very good fit once I got there, and I started exploring it."
Along with finding her place among art and business, Gendron also found her place in the Minot community because of its small, close-knit feel.
"Being from a small town, Minot felt very comfortable to me back then. It was a beautiful place, nestled in the valley. I liked the people and community, which was also a good incentive for me," Gendron said. "Plus, we had two little kids at the time, so we were looking for a place to raise our family and felt that Minot would be a good place to do that."
Gendron also felt this close connected community at the University in her classes with other students and professors.

"Even though it's a bigger institution, MSU offers more personalized attention that makes it feel smaller," said Gendron. "I spent a lot of time in the art department, where I just felt at home. The instructors were great as well as my fellow students."
While in school, Gendron interned at a screen-printing shop, the Minot Daily News, and Lowe's Printing. After she graduated, earned a job at Lowe's Printing as a graphic designer. During this time, Gendron met many new surprises from the career that her education at Minot State helped prepare her for.
"I remember I was so excited about that job, but also I remember being really shocked at how different the real work world was from school," she said. "The art classes gave me a really strong foundation for some of the basics like production skills and thinking creatively. It was nice to transition into the career world as I was wrapping up my education because I had an overlap there and support from my instructors too. There were things going on at school that I could play off of at work."
Throughout her career, Gendron has learned that job titles and expectations are often different from what she first learned, and she has had to adapt to these changes with every business she has supported.
"When you're in school and you're like, 'oh, I could be an art director or I could be a graphic designer, or creative director.' You tend to see these things as very distinct roles," said Gendron, "However, every company is a little bit different. Every tool is a little bit different. And then when you grow the number of people in the creative space like you do, when you go from Minot to Minneapolis, there's a lot of gray area between the roles. I just remember, wow, this isn't as black and white, as I thought.
"It's not like, 'oh, I want to be an art director someday,' and there's this path to become an art director. It's really kind of organic and less structured than what I had envisioned. That was the biggest realization for me over the years."
Gendron believes in this day and age that it is okay to go job hunting with the attitude of looking for what fits the employee best, and how they fit into the job.
"Look at potential career choices as a good fit for you rather than the other way around," she said. "You might aspire to be a project manager at a specific company while you're in college. That's the time to start making connections at that company, researching them and discovering what roles are available, if they offer internships, job shadowing, or things like that, which will help give you an idea of what people do at that company.
"Explore the industry, research the company, and make sure to ask some thoughtful questions when you do get that interview."
About Minot State University
Minot State University is a public university dedicated to excellence in education, scholarship, and community engagement achieved through rigorous academic experiences, active learning environments, commitment to public service, and a vibrant campus life.
---