Temanson's writing comes to life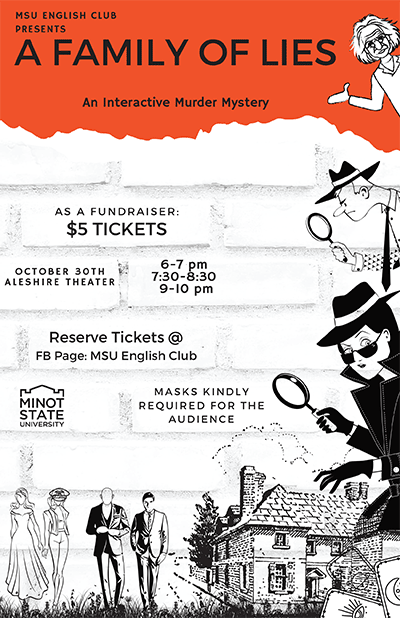 MINOT, N.D. – Mya Temanson is a self-proclaimed nerd.
In her fourth year as an English and world languages double-major, she has had plenty of time at Minot State to work with other students who share her interest in writing, particularly in Minot State's English club.
"I am a nerd, and I want to be around other nerds," she said. "What I love about English club is the fact that we just do whatever we want. It's lots of planning events and things for us to become better friends, have a good time, and really tap into our interest outside of classes."
In the fall of 2019, the club gave Temanson an opportunity to write something she never envisioned herself creating when they hosted their first murder mystery. 
The idea developed when she told another club member about an online murder mystery series she enjoyed.
"I was thinking, oh gosh, a murder mystery would be so much fun for us to do as a club, just get together one night and then find one online to play," said Temanson. "I brought that up to Jackie (Jaqueline Schlecht '20), and she got super excited but took it in a completely different direction. She was thinking I was talking about some kind of event where we would bring in the public and fundraise. So, we just started plotting our own story, and we whipped some crazy thing together in an hour. I wound up putting it in a document, typing out a little script of things to happen, and getting everyone involved. That was how this whole thing was born."
The club will be hosting another interactive murder mystery just in time for Halloween, this one being largely Temanson's idea.
"When I get an artistic vision, I have to just get it all out there and spit it all out or else I'll burst," she said. "Both times, that's what this project has been for me. I know what should happen, so I'm going to put this down. Anyone can tweak it or add to it, but I'm just going to put it out to the world and see if anyone else wants to help me do this crazy thing."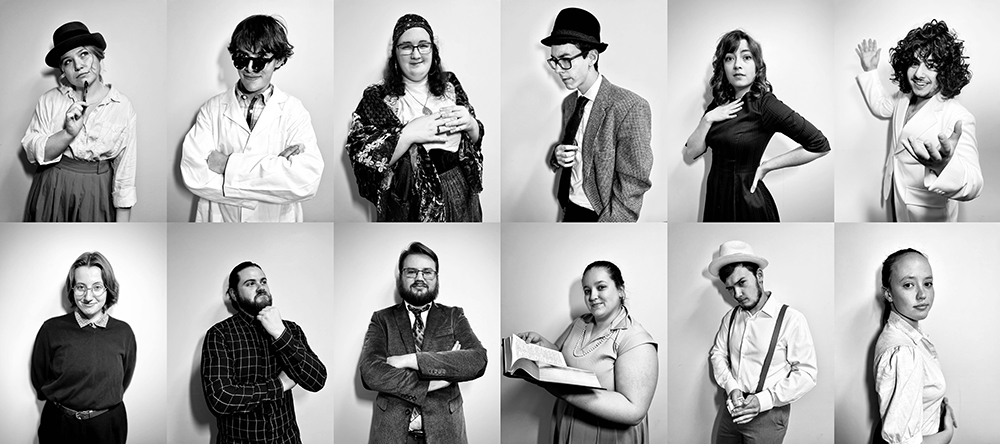 Murder mystery cast
The event will begin in Aleshire Theater on Saturday, Oct. 30 with three showtimes at 6, 7:30, and 9 p.m. It will cost $5, and all proceeds go to the English club. Reserve your tickets on FACEBOOK to ensure your place or simply show up at the theater.
"Come in without any expectations, mostly because we don't know what to expect ourselves," Temanson said. "We have a script, and we have a general outline of what's going to happen. We have a plan of who's getting murdered and whatnot, but as far as what the audience does, we've been playing off of that and the audience will play off of us.
"I've been enjoying every single minute, every point of the process of this project. I have written scripts in the past. In fact, when I was really young, I was really big into making movies, but I didn't expect myself to ever return to that sort of form of creative writing. Writing a murder mystery that's supposed to be interactive is a whole other dimension. It's been a really fun challenge, especially when you get to think about all the ways one can break the fourth wall. That isn't so typical in a regular dramatic piece of writing." 
About Minot State University
Minot State University is a public university dedicated to excellence in education, scholarship, and community engagement achieved through rigorous academic experiences, active learning environments, commitment to public service, and a vibrant campus life.
---