MSU Life welcomes new faces to lead student activities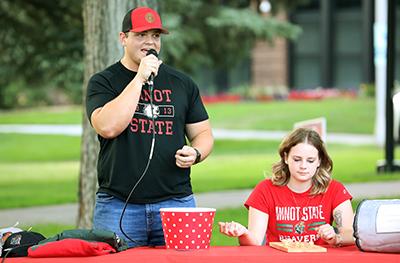 MINOT, N.D. – For the past few school years, students have been used to seeing familiar faces when attending MSU Life events. This fall, there might have been some confusion when students showed up to the first MSU Life event and saw two new leaders ready to call out bingo numbers.
Emmitt Espino, a sophomore, and Hannah Schaefer, a senior, are the new student coordinators for student activities. Schaefer has been a part of the group since her freshman year, while Espino is a rookie for MSU Life.
"I've enjoyed my time as a member of MSU Life so when the position opened up, I applied because I knew I liked to put on events and be a part of that," Schaefer said.
Although Espino didn't have prior MSU Life experience, he was very involved as a high schooler in California, being a part of student government, class office, and student activities.
"I didn't like not being as well rounded as I was in high school and it drove me mentally crazy. I grew stagnant in my leadership capabilities and I saw a flyer and applied. I'm super stoked about being a part of MSU Life," Espino said.
The jump from being a member to being a coordinator was surprising for Schaefer but has enjoyed both of her roles in the group. Schaefer has also been a part of the Nursing Student Association, an orientation leader, and a peer mentor during her time here at Minot State.
"As a coordinator, I get to work with every aspect, like the budget and how much of specific items we need to order, so seeing the rest of the responsibilities was really interesting," she said. "The monetary aspect was shocking. In high school, we had to charge students and fundraise for anything we wanted to do, but here when they say MSU Life gives away free stuff, we do give out a lot of free stuff.
"All our events are funded and we are able to give students the experience without charging them money."
Even though both are unable to participate in the events they host, they aren't too upset about not being able to win prizes. In fact, both said that being able to give prizes away was their favorite part.

"If I can give them a simple smile or laugh, or even a TV, it's going to set them up with happiness and help them better perform in the classroom, or in other aspects of their life. Give them a moment they're going to remember," Espino said.
"When we were doing bingo and someone would win a TV or a speaker, and we're just giving away free stuff, you don't even think about how you want to win something. It's just fun to be able to give our students something cool and see their reaction," Shaeffer said.
One thing that both Schaefer and Espino agree on is that they wouldn't be able to host the events they put on without the rest of the MSU Life team.
"I think we have a pretty big club, and they're all quality members because they all want to be a part of it and participate in any way they can. If we need photos to promote something, they go all out and are all so excited. It's so easy to ask for help, because they all want to help," Schaefer said.
"There's not much that we can give them other than some of the free prizes or a gift at the end of the year. They don't get any credit, and they really go above and beyond for what positions they're in and we really appreciate it," Espino said.
In hopes to be a sports agent, Espino feels that his role in MSU Life will help him improve in multiple aspects to be successful in his future career.
"This position gives me the confidence to handle business, but also the social aspect. I like getting to know people, getting to know their names and what they like," Espino said. "Also, receiving criticism from students and seeing what we can do better is really important for life and a professional aspect of what I want to do."
"You definitely have to be able to take some criticism and not take everything to heart. When something fails, you can't say we're never doing that again, it's so horrible — you have to learn from it, and build yourself back up from it, and say we can do it again but this is what we need to change," Schaefer said.
Schaefer and Espino have high expectations for this upcoming school year and goals they hope to achieve to help make this year of activities great.
"My goal for me would be to be more excited, outgoing, and confident. I want more students to come to events and get away from staying in all the time since that's what we've gotten used to," Schaefer said.
"Personally, I want to be able to connect with students, I want to be friends with everyone on campus, and know people's names, and get to know them. My goal for MSU would be to get enrollment up, although it's not directly tied to MSU Life, the more we do for our students that are here, the quicker word passes to students that aren't here," Espino said.
About Minot State University
Minot State University is a public university dedicated to excellence in education, scholarship, and community engagement achieved through rigorous academic experiences, active learning environments, commitment to public service, and a vibrant campus life.
---