HarriSon composes in Croatia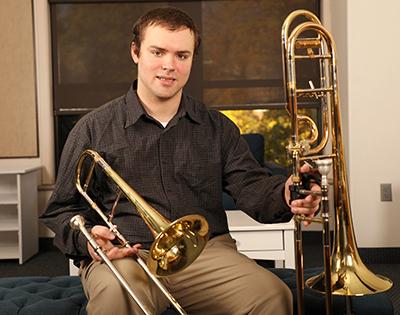 MINOT, N.D. – Senior music education student Michael HarriSon is not new to traveling for music. This summer, however, a trip to Sutivan, Croatia marked the first trip he took to pursue his career in composition.
HarriSon first learned the theory beyond the notes on his sheet music when he was a sophomore at Glenburn High School. Soon after, he started composing on his own. 
It was not until arriving at Minot State that he began taking formal composition lessons from Efrain Amaya, assistant professor of composition and theory, who introduced him to the opportunity in Croatia. 
"Mr. Amaya knows the teacher there. Joel Hoffman, the professor of the class, he sends out emails every year to the people he knows, so that's how I found out about it," HarriSon said. "There was an audition on it where we had to send two different audio recordings of us performing and a composition." 
Of course, he was accepted. He flew to the mainland of Croatia and took a ferry to Brač, the island where the class took place, in late July. There he met fellow young composers from all over the United States and one from Finland. 
"In the mornings, we met at this tiny elementary school with two rooms to talk about what we were working on," he said. "We did improvisation, we showed each other our compositions outside the course, and talked about publishing once we rehearsed our coursework enough to feel comfortable performing. Then we'd have a lunch break where we'd go to the market, get what we needed for lunch, and go up to our house. Most of us stayed in the same place. 
"After lunch, we'd have rehearsals on a rotating schedule since we had six pieces to do. We all wrote pieces for the class, and so it was essentially like a composer-performer course. I wrote a piece for tuba and piano so the tuba and one of the piano players could play it, and I played on three other people's pieces. Mine was not necessarily traditional Western classical music, but it was more of that style. Some other people branched further to more avant-garde music."

The final performance of his composition as well as the other pieces from the class can be found ONLINE. 
Having taken over eight semesters of composition lessons, HarriSon has composed a wide variety of music.  
"For the most part, it's Western classical music. I've dabbled in a little bit of jazz composition. I do mostly chamber music (small groups), but I have a concert band piece, a string orchestra piece, and I think my next project right now is a full orchestra piece, hopefully to be debuted in the spring if I win the Young Composer Competition (from the Minot Symphony Orchestra)," he said. "Besides that, I have trombone solos, some quartets, just a mix of things. My favorite ensemble to write for would probably be a woodwind quintet, but I do like composing for brass a lot, especially low brass." 
Performances of his JAZZ COMPOSITION and low brass TRIO can also be found online. On top of composing, HarriSon also is a decorated trombonist, playing in five different ensembles at Minot State and in the community, currently sitting as principal trombone in the Minot Symphony Orchestra, and often traveling to perform.
"I went to Norway with the MSU choir in 2019, and I did quite a bit of U.S. continental travel when I did Drum Corps International," he said. "We went around half the country, like the East coast, the Midwest, the South. I've been to Chicago and New Orleans a lot." 
After he graduates this spring, HarriSon plans to take his composition career into his own hands and pursue publishing on his own while he teaches.
About Minot State University
Minot State University is a public university dedicated to excellence in education, scholarship, and community engagement achieved through rigorous academic experiences, active learning environments, commitment to public service, and a vibrant campus life.
---