Dancing turned to a dream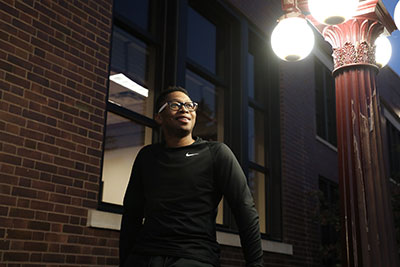 MINOT, N.D. – Growing up, DeAndre Ford loved to play basketball and learn how to play new instruments. Like many people, he came to a point in his life when he had to pick which hobby he wanted to put more energy into. Ford chose basketball. 
Fast forward to today, and sophomore Ford has already experienced much more than the average college student, and none of those experiences have to do with basketball.
"I went to a performing arts college, Young Americans College of Performing Arts, based in Southern California. There, I traveled the world singing, dancing, and acting with kids while performing in a show. I did that for about six years and loved it. After that I took a break from school, worked at Disney as an attractions operator, and met my wife who was in the military. She got transferred to Minot and I decided to go back to school to double major in corporate fitness and business management," Ford said.
Ford entered the Young Americans show as an actor, and throughout the experience, he learned singing, acting, and different types of dance that helped him during the show. By his peers, he was considered a hip hop dancer.
"If you've ever seen the show 'Glee,' we were very similar to that, like show choir. They want to teach you variety so you can help the kids. The first hour we perform for the kids and families, the second hour we are helping the kids and they are putting on the show," he said.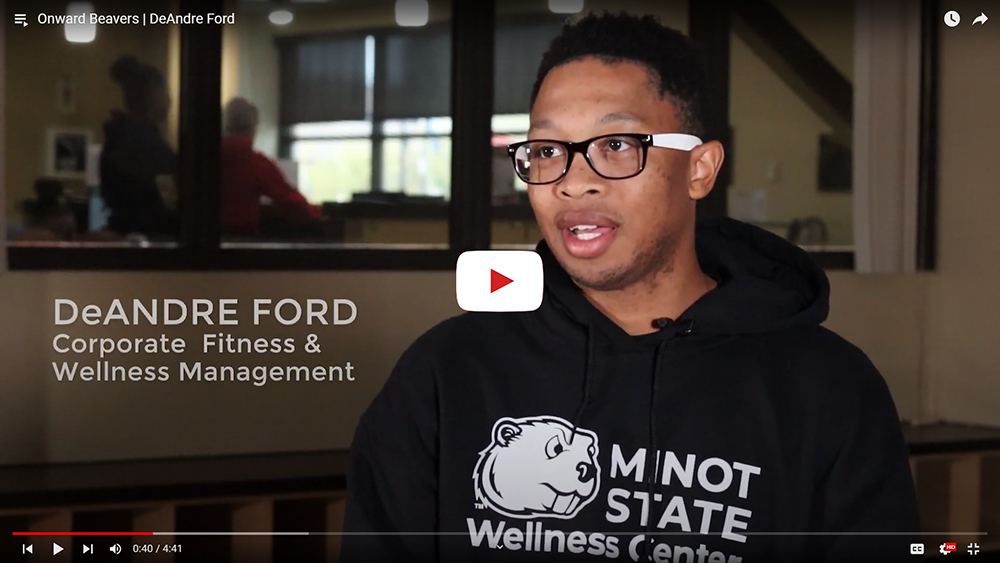 Because of his experiences before Minot State, he was granted new opportunities like being able to finish his degree while also working at the Wellness Center.
"I've worked at the Wellness Center for about four months now. It's a lot of fun, I learn a lot, and there's always something new every day," Ford said. "Interacting with people is my favorite thing about the job, the interactions with the people coming in to work out, or someone I'm working with, because I can at least go talk to anyone about anything throughout my day."
Another opportunity that surfaced is Dancing for Special Stars. This is a fundraiser for Special Olympics North Dakota where area celebrities dance with local instructors to perform a dance to be voted on. Votes can come from donations, audience votes, and judges' scores. Ford will be dancing with Courtenay Brekhus, Wellness Center assistant director.
"We decided to do 100 years of dance. We're starting with the 1920s and going to the present. It'll be a lot of mixing songs and learning the history of dances; it'll be a fun challenge. I'm excited to see what everyone else comes up with and to see all the different styles, which is what I love most about music," Ford said.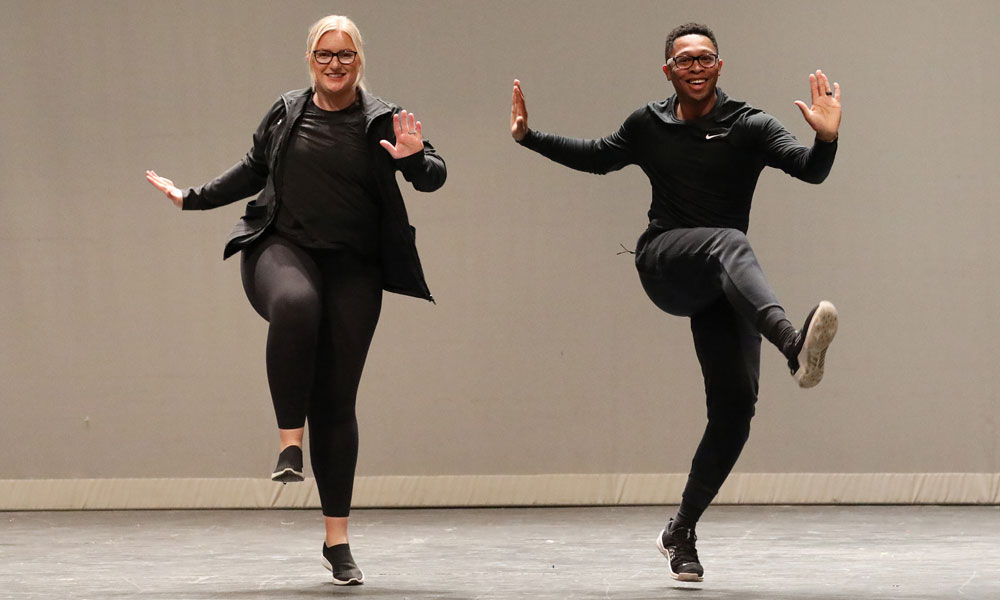 Ford and Brekhus danced, Tuesday, Oct. 19, at Ann Nicole Nelson Hall.
After Ford finishes his degrees, he has two different plans that he wants to pursue, both involving helping others better improve their quality of life.
"Pursuing a job as a wellness specialist, kind of what Courtney and Paul (Paul Brekke, Wellness Center director) do, would be something I'd love, but I am looking to do that in a corporate setting, either back at Disney or even Nike," he said. "My other idea is opening up an after-school program for kids to help expose them to different things. Something that I've noticed, even with myself, is my entire life I played basketball. Had I known music would be the thing that got me out of my hometown and travel the world, I would've loved to put all my energy towards that than to find out later in life.
"I want to give kids an opportunity to try different activities that are out of their comfort zone. I want them to have that chance to figure out what they enjoy and maximize on their potential."
About Minot State University
Minot State University is a public university dedicated to excellence in education, scholarship, and community engagement achieved through rigorous academic experiences, active learning environments, commitment to public service, and a vibrant campus life.
---