Capp continues to make music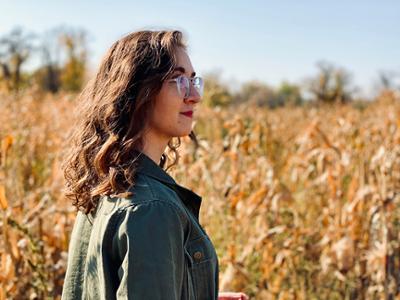 MINOT, N.D. – After enjoying her time as a student at Minot State, Kaylee Capp continues to be a part of the school community as she joined the Minot Symphony Orchestra in their most recent concert.
Being exposed to music at a young age, Capp knew that she wanted to continue her interest and talent in picking up instruments and learning to play through college.
"From middle school and on, I sought after any opportunity I could to further my musical abilities," said Capp. "I knew I wanted to have a career where I got to create and be myself so pursuing a music degree allowed me to make that a reality."
During high school, Capp was involved in events such as Western Plains Children's Choirs, music festivals, theatrical productions, and music competitions at the University. Through these events, she would meet and get to know the professors of the MSU Music Department.
"Even during my adolescence, they were thoughtful about my progress as a musician and as a human being," Capp said. "(Retired professor) Rebecca Petrik was the first of the division's staff I got to make a special connection with. She encouraged me and believed in my ability to excel as a musician and educator. Minot State always felt like home to me growing up. I was on campus at least twice a week during high school for rehearsals and lessons so naturally it was where I wanted to go.
"Minot State has professors who care about their students sincerely and I think that's a quality high schooler students seek out often in a university program."

Having graduated in the Fall of 2020, Capp is now working in the offices at Central Power Electric Cooperative in Minot while teaching private instrumental/vocal lessons to students, creating commissioned art for organizations and individuals, and subbing for music teachers in the area.
Along with her job as a private music teacher, Capp is also playing the banjo for the Minot Symphony Orchestra. She picked up the instrument in high school from her music teacher, who thought would be able to put the instrument to good use.
"My first experience playing the banjo publicly was my senior year of high school performing Rhapsody in Blue by Gershwin with the MSU Concert Band," she said. "This will be my second performance on banjo with the MSO. I'll have a lot of people tell me they have a lot of fun seeing a banjo among the orchestra. It comes as quite the surprise. I like to think it helps make audience members feel more included when listening to a symphony orchestra."
Capp also stated that it has been a great experience to be playing challenging pieces with talented community members and friends who enjoy the simple pleasure of performing music with each other. She believes it is a great way to give back to the community with the gifts she has been given.
The Minot State Symphony Orchestra is hosting "Roll Over Beethoven" on Oct. 16; "Amahl and the Night Visitors" on Dec. 11; "Twist and Shout" on Feb. 5, 2022; "Happy 90th Birthday John Williams" on March 5, 2022; and "The Titan" on April 30, 2022.
About Minot State University
Minot State University is a public university dedicated to excellence in education, scholarship, and community engagement achieved through rigorous academic experiences, active learning environments, commitment to public service, and a vibrant campus life.
---