Building friendships with students helps Dockter earn state award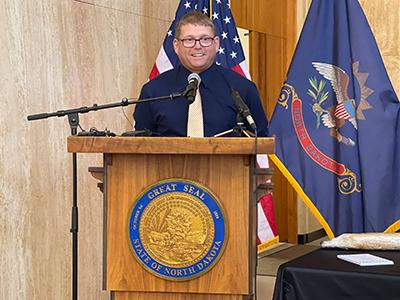 MINOT, N.D. – After serving his community for 23 years as an educator, Bret Dockter has earned the Teacher of the Year Award for teaching sixth grade teaching at B.M. Hanson Elementary School.
For Dockter, receiving this nomination and award is very humbling.
"I am proud of the honor, but I also realize that there are so many great teachers that it is hard to imagine that I am in this position" he said. "I think that North Dakota has some of the best teachers in the nation. I was able to see the passion of our educators when I was fortunate enough to be part of the Teacher Leadership Academy coordinated by the Burgum Foundation. Through this experience, I got a close-up view of teachers from all across the state and the great talents they possess. Some days I left feeling overwhelmed because of the quality and skill that was all around me. It also makes me feel really appreciated, especially from the support I have received from my school and community."
Starting off teaching third grade, Dockter has slowly moved up the grade levels in teaching, and for the past 13 years has mostly been teaching sixth grade, with two years spent teaching fifth grade.
"I love the upper elementary/middle school kids because you can do so much with them and they get very excited about classes and projects you are doing in class," he said. "I have enjoyed the relationships that I have built with the students over the years. Many of those have become lifelong friendships. I also get a kick out of seeing my students create and the excitement they have when they finish a big project or succeed at something they struggled to master.
"Another aspect that I have enjoyed is seeing my classes leave legacies in our community. I have also really enjoyed the collaboration with fellow teachers over the past 23 years. Some of them have been powerful mentors to me that have greatly influenced my own professional career."

It was these relationships with teachers and coaches that got Dockter interested in teaching.
"I saw how much they enjoyed their job and knew that I wanted something like that, "said Dockter. "Once I got into college, I got a job as an assistant coach at Ramstad Middle School (in Minot) and I was hooked. During high school I had various jobs in carpentry, farming, and cement work. Those jobs reinforced my decision, and I knew I was on the right path because most days did not seem like a job when I was in the classroom."
Following his dream to be a teacher, Dockter chose to attend Minot State because he believed that it had an excellent education program.
"One of my former teammates and high school friends attended the education program and I saw first-hand how successful and prepared he was," he said. "I also had a connection in Minot that allowed me to get into coaching while going to school. I think the thing that set it apart for me was the fact that I had a lot of testimonials from friends that were going there. I liked the fact that Minot State gave me lots of experiences in classrooms. Through various practicums and shadow days I got a chance to watch teachers in a wide variety of areas. It gave me hands-on opportunities and helped me build connections that I would be able to use in my professional career."
Dockter also added that he appreciated the fact that professors were always accessible, and their willingness to work with students and make sure they were all successful.
About Minot State University
Minot State University is a public university dedicated to excellence in education, scholarship, and community engagement achieved through rigorous academic experiences, active learning environments, commitment to public service, and a vibrant campus life.
---