All work means all play for Bradley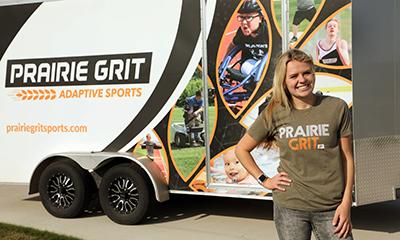 MINOT, N.D. – Most kids at a young age find something they enjoy doing outside of school, whether it be playing with their friends or playing their favorite sports. It isn't difficult to find a team to play with, but for kids that have a mental or physical disability, it's not always that simple.
Prairie Grit Adaptive Sports is a non-profit based in Minot that provides sports opportunities for youth and adults living with physical and mental disabilities to enhance their quality of life.
Averi Bradley, a sophomore at Minot State University, has helped grow their program since 2016. She has a passion for helping kids with mental and/or physical disabilities have the same opportunities to play their favorite sports.
"The founders of Prairie Grit are good family friends of ours, and they approached me to see if I'd want to teach adaptive golf lessons with them, because I also teach golf lessons at Souris Valley Golf Course in the summer, and I said, absolutely, let's do it," Bradley said.
Bradley started out as a volunteer, helping out at different events and helping kids learn new skills, and later became an intern. Now as a programming assistant, she continues to help motivate them to go out and try something new while being alongside someone that may have the same disability as them.
"Seeing the kids smile at the end of the day, you know why you're there and you know where you stand with them," Bradley said. "I love seeing all the reactions of the kids and being there with them in their first experiences."
Coming into Minot State, she knew she wanted to study elementary and special education. An experience from kindergarten was what attracted her to the field.
"Early on in my childhood, there was a kid with cerebral palsy that was non-verbal in my kindergarten class and that moved me a lot. Ever since then, when I see a kid with a disability, I don't really see it, it's just who they are," Bradley said. "They still have everything the same as us, it's just a little different.
"My job is so easy, because the kids know that I have a disability as well, ADHD, and they see that I don't treat them differently. It's a connection that I have with the kids."

One aspect that Bradley brings to the team is her ability to handle tough situations. Founder Chad Thompson had wonderful remarks about how she has helped improve Prairie Grit.
"There is lots happening all the time, and she has really improved her time management skills and ability to handle large workloads. She absolutely crushes everything that is in front of her. Her leadership and attitude are just amazing," he said.
Being able to be around the kids while they get to experience these new activities is a favorite for Bradley, but the connections she makes with families is an added bonus. An event they will start up shortly is something called Sib Shops, which is another aspect of her job that she enjoys.
"Kids with disabilities have their siblings come in to talk to other kids that have siblings with the same disability so they have a place to relieve some stress they may have. It can be really helpful for siblings that struggle coping with their sibling's disability or surgeries their sibling might have to undergo," Bradley said.
Having spent so much time already working at Prairie Grit, Bradley hopes that the organization can continue to expand and she can continue to help them create new opportunities for kids and also put her degree to good use.
"Since we started in 2016 with just sports, we have now added Prairie Grit Therapy. We are also looking into speech pathology, and, hopefully in the future, we can open up an inclusive preschool. That's where I would fit in, and hopefully work there once I graduate," she said.
"I do see myself with them forever, because of the connections I've made; the reassurance of a kid's smile and coming up to hug you every day, this is why I do this," Bradley said.
Thompson has loved having Averi on their team and believes she's found her true calling in life through Prairie Grit.
"Averi is like a daughter to us. She always has a smile on her face and is herself no matter the situation. We will do everything in our power to keep her on the team," Thompson said.
Bradley sees herself staying in Minot after graduation, but only being a sophomore, right now she is looking forward to continuing to make memories at Minot State while spending her free time helping at Prairie Grit.
About Minot State University
Minot State University is a public university dedicated to excellence in education, scholarship, and community engagement achieved through rigorous academic experiences, active learning environments, commitment to public service, and a vibrant campus life.
---