Collins thriving at Lockheed Martin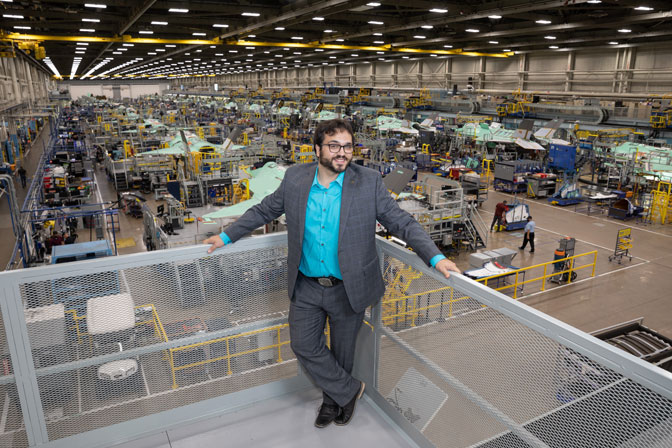 FORT WORTH, TX – Joel Collins graduated from Minot State in the spring of 2016 with degrees in chemistry, physics, and computer science. Soon after graduation, Collins started his career working at different software companies, gaining experience in different areas of his field.
After spending some time jumping between companies, Collins realized his value and wanted to take his experiences to a new opportunity.
"My experience directly out of college was mostly positive, but soon enough I realized that the combination of my education, skills, and dedication were valuable, and that I needed to find a place where they valued me and my skills, not just as an employee," Collins said. "After about a month of applying to every entry level position available at Lockheed Martin to no avail, a careers newsletter for Lockheed informed me that there was going to be a hiring event a couple states over. Out of the 400+ engineering applicants, I was lucky enough to be one of the two who were selected to start their career at Lockheed Martin Aeronautics."
Collins has spent the last four years happily working at Lockheed Martin, starting as a software engineer and now as a research scientist, fulfilling a lifelong dream.
"Working for Lockheed Martin, specifically in advanced development programs, has always been one of my dream jobs. Once I realized this possibility of working with some of the most brilliant and daring minds in the world, I felt that as long as I was seen and heard, I could belong there, too," he said.
Although some of his work is confidential, he was able to share his favorite parts about Lockheed Martin and why he plans to work there for years to come.
"The amount of integrity, humility, and knowledge that each person I work with has is astounding. I could go on and on about how much I love my job and enjoy being an integral part of designing new technology, but honestly, those experiences pale in comparison to knowing that I am a part of a larger team with common goals and that each of those people care more about me as a person than getting the job done," Collins said. "Furthering technology is a huge benefit to society, like hypersonic aircraft, but what keeps me grounded is the realization that the job that we do is tied to the safety and well-being of pilots defending our nation."
Collins enjoys his job and has many passions outside of his work. From building and modifying cars, to being a content creator on YouTube and Twitch, he would also enjoy the opportunity to go back to school.
"It would be a dream of mine to go to a school of medicine, receive an MD/PhD (medical degree/doctorate) in biomedical engineering, design new medical technology for interfacing with the human body, and provide custom 3D-printed prosthetics for those less fortunate around the world," he said.
Collins is thankful for the experiences at Minot State that guided him into the person he is today.
"The teaching staff at Minot State University deserves every praise, and it is because of their hard work and love for teaching that I've been inspired to never stop learning. Attending Minot State prepared me for my future by providing me a basis of knowledge and understanding, the ability to see an obstacle as something to overcome, and that perseverance, integrity, and dedication are integral to a person's overall success in life," Collins said.
"I am very thankful for my experiences at Minot State, and I cherish my memories and education, and without the patience, understanding, and belief in me from those at Minot State, I never would have grown to be the person that I am today."
About Minot State University
Minot State University is a public university dedicated to excellence in education, scholarship, and community engagement achieved through rigorous academic experiences, active learning environments, commitment to public service, and a vibrant campus life.
---