Nolan has great experience through historical museum internship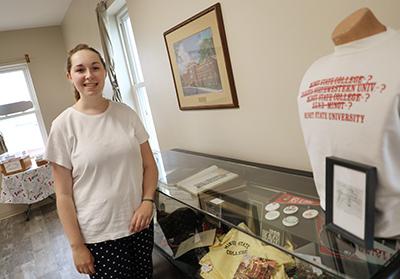 MINOT, N.D. – Elizabeth Nolan spent her summer in Burlington working at the Pioneer Village Museum as an intern.
Nolan, a history major from Hazen, used this opportunity to gain more experience in her future field.
"I found out about the Ward County Historical Society internship through a site supervisor position at the Pioneer Village Museum in Burlington. Three of my history professors emailed me the job description for the site supervisor position, and I realized this is what I am hoping to do in my future," Nolan said. "The idea of working at a site with so much history embedded in it really pulled me in. Once I landed the site supervisor position, I added on an internship experience as well."
Nolan has had an interest in history since high school and knew three years ago coming in as a freshman that she wanted to study history.
"I enjoy learning about the past in order to help create a better future," she said.
Being both an intern and a site supervisor, Nolan has multiple responsibilities and many opportunities to expand her knowledge towards her career.
"Every morning and evening, I open and close all the buildings at the Pioneer Village Museum. When groups stop out to visit, I give them a guided tour and tell them all about what our site has to offer," Nolan said. "Additionally, I am working on an exhibit that will focus on the name changes of Minot State University over the years."
"In terms of people, I love getting to engage with the visitors and hear their stories. Our visitors have taught me a lot about different areas throughout our site. The experience of working at a historical site allows me to see if that would be a possible future career for me," she added.

Nolan's exhibition, "The Name Changes of Minot State University, 1913-2021" begins Thursday, Aug. 5 at the Eureka Township Hall at the Pioneer Village Museum in Burlington. More information on the event can be found HERE.
Nolan has enjoyed her experience at Pioneer Village Museum so far but is mostly excited about how it will help her in her future to end up in a career she loves.
"When I first started the internship, I was not sure what to expect out of the experience. I have learned how to run a historical site, how to work with volunteers, and the role of a historical society," Nolan said. "I have also realized that I really enjoy giving tours to the public. It gives me a great opportunity to teach people about the local history of Burlington and the surrounding towns.
"This internship will help me achieve my future goals by creating new career possibilities and allowing me to explore what I want to do in the future. My internship through the Ward County Historical Society was definitely worth the experience and time, and I am grateful that I was able to do it this summer."
With two years left in her major, Nolan doesn't have a specific job in mind for after graduation but hopes that she can work at a historical site, institute or museum, continuing to help others learn more about the past.
About Minot State University
Minot State University is a public university dedicated to excellence in education, scholarship, and community engagement achieved through rigorous academic experiences, active learning environments, commitment to public service, and a vibrant campus life.
---