Dedication to teaching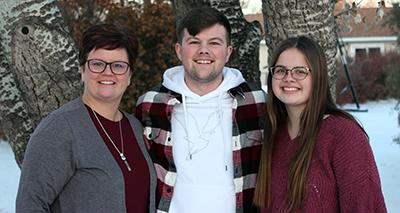 DEVILS LAKE, N.D. – Long before becoming a teacher, Maari Hanson knew that she wanted to help people. She specifically wanted to help children. 
After being a teacher for 22 years in the Devil's Lake Public Schools, Hanson received the Teacher of the Year Award for 2021. 
"I was between choosing social work and teaching when I came to Minot State University," said Hanson. "After taking a few of the introduction classes for teaching, I found that I really enjoyed them, and I was to pursue being a teacher."
Over the years, Hanson has enjoyed many great experiences as a teacher, but the students are what she enjoys the most — specifically watching them learn and meeting their families. The parents of the students at her school have also made her experience great, and Hanson feels as though she has become part of a family in the school and community.
For Hanson, receiving the Teacher of the Year Award is a humbling experience as teachers and former winners of the award both nominated and voted for her.
"It was a big surprise for me, I am grateful and humbled by this award. I feel really honored to have received this nomination and award from fellow teachers at my school, and former winners of the award," Hanson said. "It is an honor to be a part of the Devil's Lake School's family and community."
Reflecting on her years as a student, Hanson remarked on how she felt prepared to teach after graduating from Minot State in 1996, due to the hands-on learning and training that she received.
"I am originally from Crosby and I had heard a lot about how good the school was from my older sister who attended as a music student," she said. "I knew that the school had a good teaching program, and I enjoyed the classes that I took at the school. I also enjoyed the public schools in Minot and getting to train at them. It was a really great learning experience."
Along with sharing her experience as a student at Minot State, Hanson shared some advice that she would give to current students, especially those who planning on teaching.
"You may come in with a plan on what you are going to do, a grade level that you want to teach, and you will end up in a completely different position," she said. "Changing plans is going to happen a lot, especially as a teacher, and you have to be open to whatever grade level or positions that you are given. It will lead you down to paths that you did not expect or consider, and it is helpful in the future."
About Minot State University
Minot State University is a public university dedicated to excellence in education, scholarship, and community engagement achieved through rigorous academic experiences, active learning environments, commitment to public service, and a vibrant campus life.
---