Mother and son graduate together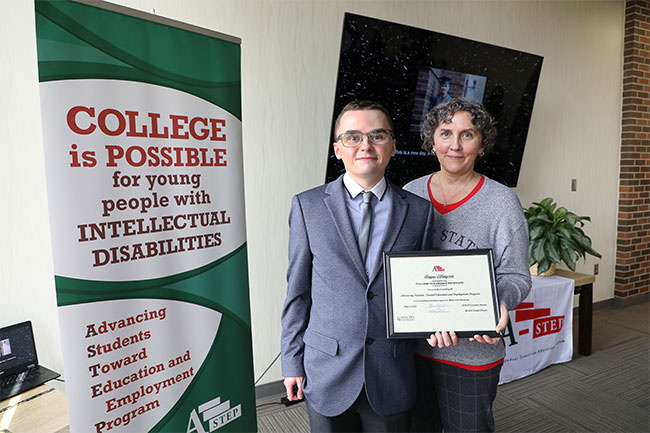 MINOT, N.D. – Mother and son Mary and Angus Ellingson had the opportunity to graduate Spring 2021 while completing their studies in just three years.
Angus was part of the Advancing Students Towards Education and Employment Program (ASTEP) through Minot State and completed his education through Dakota College at Bottineau on the MSU campus. Mary completed her master's degree in speech-language pathology.
"I started in fall of 2018. I have an Associate of Applied Science in Information Technology, an Associate of Applied Science in Technical Studies, a certificate in web design, and a certificate for completing the ASTEP program," Angus said.
Through ASTEP, Angus was able to become more independent, achieve his academic goals, and find employment.
"My family was involved with supporting me through ASTEP by participating in the Person-Centered Planning Meeting where I expressed my strengths, weaknesses, and what goals I wanted to work on. Peer mentors helped support me in class by taking notes and setting up study sessions," Angus said. "I participated in social activities on campus and volunteered in the community. They helped me get work study jobs on campus and a job off campus at JCPenney that I still have today."
As for Mary, Angus inspired her to go back to school for her degree.
"I was ready to go to school with Angus and audit classes, if necessary, to support him in getting a degree and having the college experience; but since we found ASTEP, I was free to pursue my goal of becoming a speech-language pathologist. I wanted to advocate for and support children and families who struggled like we did with communication," Mary said.
"It was amazing getting to see Angus on campus, meet with him for a meal, or study with him. I got to see firsthand how he was doing and be close at hand if there were any issues," she said.
Though finishing their degrees in three years is an incredible achievement, both went through common college struggles but received the support they needed to achieve their accomplishments.
"I struggled with balancing multiple classes at once and having to give up working full time to concentrate on school. I used every support MSU had to offer as far as tutoring for academic support, such as the Writing Center and peer tutoring," Mary said. "The support of a close circle of friends I created in my post-bac year and then in my cohort for grad school helped me stay on track and get through school. Being a non-traditional student brought its own set of academic and social issues that surprised and challenged me."
With the unique experience of attending school together, Mary and Angus have different reactions to the past three years.
"I thought that it was bizarre and unique that my mom and I were both attending school in the same place," Angus said.
"It was reassuring for me to see Angus on campus and in some ways, made it easier to step back and let him discover more independence because I could see he had support when he needed it through the ASTEP program and was thriving. It also inspired me to do well in my own studies," Mary said.

With degrees in hand, Mary and Angus are ready and prepared for their futures and excited to begin their careers.
"I have already applied for a job dealing with computers and I am working with Vocational Rehab for job training and support on the job," Angus said.
"I was hired by a local private practice, Red Door Pediatric Therapy," Mary said. "Working there, I will complete my clinical fellowship to earn my certificate of clinical competence in speech-language pathology so I can become an independent provider of speech-language pathology clinical services."
Angus graduated with honors, and Mary was able to participate in the hooding ceremony for her master's degree.
"I would like to congratulate Angus on his achievements and thank him for inspiring me to always keep working towards my goals no matter how many challenges I have to face along the way," Mary said.
About Minot State University
Minot State University is a public university dedicated to excellence in education, scholarship, and community engagement achieved through rigorous academic experiences, active learning environments, commitment to public service, and a vibrant campus life.
---