Senior Spotlight: Yasmine Mojica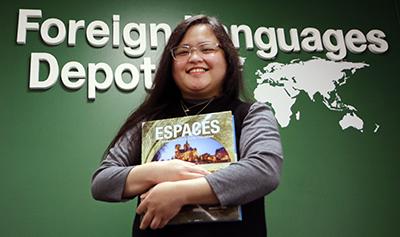 By Emily Schmidt
University Communications Student Assistant
studentpio@minotstateu.edu
MINOT, N.D. – Yasmine Mojica moved to the United States from the Philippines in 2013. While she may have settled into Minot since then, her scope for the future points internationally.
Already bilingual, Mojica studied Spanish at Minot High School. Her senior year teacher was new to the school and being observed by Minot State's Associate Professor of French, German, Latin, and linguistics, Jean-François Mondon. This class established her ties between both the University and other languages, ultimately influencing her choice to pursue a dual language major in Spanish and French from Minot State.
"I took Spanish because it was the easiest language for me to learn. I already knew Tagalog, the Filipino language, so since it has close ties to that, I was able to pick it up," she said. "One day, somebody comes into class, and we were like, okay, so we already like our teacher, but he introduced himself as a professor at Minot State. Then when I took a class of his, I actually thought that he didn't remember me, but he said, 'Oh, you were in Señora's class,' so we already established that rapport."
Today, Mondon has been an influential professor in Mojica's career as a dual language major.
"Extending from the classroom, he's also very personable and very easy to get close with, to get both a working and personal relationship with," Mojica said. "I'm very grateful for that. He's a little eccentric, and that's what makes him so engaging."
Once Mojica learned Spanish, she realized French was not too far of a stretch from the three languages she already knew, so she added it to her field of study.
"Those romance languages are so close together, so I thought, 'Well, why not? It's already there,'" she said. "Also, when I was searching up possible career opportunities, the United Nations listed languages that were considered standard languages for the UN itself, and three of those were English, Spanish, and French. I figured if I work in the international field, be it politics, law, whichever, it would be very beneficial to at least learn a handful of languages that can go across so many borders. Like Spanish is obviously not just in Spain, but also Hispanic communities, and French in France, Canada, and African communities."

Once she started attending classes at Minot State, she realized the University had another valuable resource for her international interests.
"Our international community is very large," she said. "I'm planning to go into international law someday. Within Minot State, there's a lot of international individuals here that I can talk to and get their opinions from their experiences. Even with a smaller curriculum, it's more enhanced with these perspectives outside of the American school system."
In the fall of 2018, Mojica utilized the Office of International Programs to venture on a study abroad semester in South Korea.
"I was basically casting a broader net," she said. "I took all international political science classes: Japanese politics, Korean politics, and some leadership classes as well. I'm hoping to combine all of that. My goal is to work at the State Department, so pulling all of these pieces together hopefully will help me in that field."
Also graduating with concentrations in political science, economics, and Honors, Mojica will take a gap year to apply for graduate and law schools and expand her resume with work in the field. She aims to one day help people from other countries.
"America is currently the greatest power in the world, whether people like it or not," she said. "With all this power, I'm hoping that as we move forward to a perfect world, America can use its resources and its prior experience to help other nations across the world."
About Minot State University
Minot State University is a public university dedicated to excellence in education, scholarship, and community engagement achieved through rigorous academic experiences, active learning environments, commitment to public service, and a vibrant campus life.
---