Senior Spotlight: Sean Kuenzinger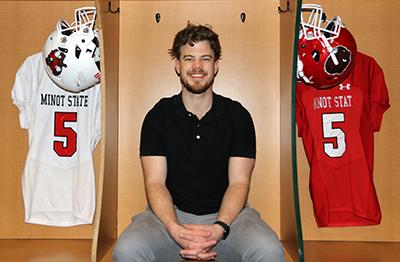 MINOT, N.D. – Sean Kuenzinger is known for going with the flow and, so far, his approach to life has served him well.
"It's actually crazy how I came out here," the Fresno, California native said. "I ended up committing to Minot State University for football, and I signed my letter. Then, a few months later, I decided to de-commit and go to a junior college back home but it didn't work out. It was August — late August — and I just didn't know what to do.
"So my dad called the head coach and he said, yeah, we're willing to have him back, he just can't play this year. And so I flew out on a plane that night to come here. It was like the third day of school, I had applied but I hadn't enrolled or anything. I stayed in Cook Hall, they made a special arrangement so I had a place to sleep. The next day, I had to get my classes and everything. It really was just a spur of the moment decision."
Kuenzinger had to wait until the spring semester before he was able to play ball but he spent the fall engaged with the team by filming practices and completing other duties. It was also a time for him to pick a direction for his studies.
"At first I wanted to be an engineer, but since I took the Division II route, the next thing I was familiar with was business," he said. "I chose that one, and I just went with it."

By the end of his college career, going with it translated to the completion of four majors: management, marketing, entrepreneurship, and international business.
"It's crazy telling people what I'm majoring in. I feel like I'm bragging," he said. "It just kind of happened. When I started out and laid out my eligibility years to my counselor, she said, oh, you could double major. Then when I was granted another year because of red shirt, she said, oh, you could triple major. Then, later on, it was, if you're feeling ambitious, you can pick up these few classes and grab an entrepreneurship major as well."
The College of Business was a good fit for Kuenzinger and a place where he learned a lot about himself.
"My favorite part was probably presentations; it's a love-hate relationship," he said. "I didn't do a ton of presentations in high school, but with business, they make you get up there and prepare. The way I've grown by giving presentations — from how nervous I was to how I've learned how to study and prepare myself and then to feel comfortable in front of a group of people — I think that's a very hard thing to do, and that's something I've gotten better at and can now do. It's something I'm proud of."
As for the future, it should come as no surprise that Kuenzinger is approaching his next step with a laid-back attitude.
"The life Minot State has allowed me to build out here, it's fun," he said. "And wherever the wind blows, that's where I'll go. I feel like I've accomplished a good number of things so why can't I go to Canada or Japan and do it? It's just another place, I'm the same person wherever I go."
About Minot State University
Minot State University is a public university dedicated to excellence in education, scholarship, and community engagement achieved through rigorous academic experiences, active learning environments, commitment to public service, and a vibrant campus life.
---