Senior Spotlight: Maddy Sem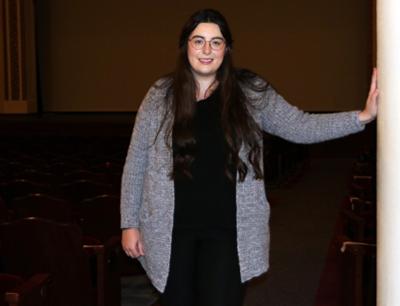 By Emily Schmidt
University Communications Student Assistant
studentpio@minotstateu.edu
MINOT, N.D. – Maddy Sem's college plans haven't always gone as expected, but in the process, new doors opened that eventually offered her even better opportunities.
Sem graduated with a Bachelor of Arts in music and a Bachelor of Science in accounting. The Minot native initially wanted to branch out from home and attend college in a different state, but she realized she could get that ideal college experience even in her hometown.
"I kind of figured out at the end of high school that I wanted to do accounting," she said. "With Minot State being so affordable, and because I knew they had a good program, I thought it was a really good fit. Then, of course, I loved music. I had already known a lot of the professors from high school and being around the community, so I knew I'd like to work with them as well. Everything just seemed to fit."
"When I came as a freshman, I knew that I didn't want to live at home, so I lived in the dorms my first year," she added. "Then I moved into an off-campus apartment right away, and that allowed me to still have more of a college experience as opposed to living in Minot, still living at home. That can feel like a continuation of high school in a way, and I really didn't want that. Moving helped me not have that 'everything's the same' kind of thing."
Similarly, a major in music wasn't part of her plan either, but it eventually just seemed to fit.
"I was kind of toying with the idea of being even a music minor," she said. "The first two years, it's almost the same as being a music major, so Dr. Anderson (Division of Performing Arts Chair Erik Anderson) was like, 'Why don't you just do the major, and maybe you'll love it?' So five years later, I will graduate with my B.A., but I really think that it was a good choice for me, and I absolutely loved it."
Today, Sem has accumulated a massive resume in the Division of Performing Arts. She has played or sung in every ensemble, performed solo roles in Western Plains operas and annual "Messiah" performances, won the state chapter of the National Association of Teachers of Singing competition three times, and participated in the University's National Association for Music Education chapter.

Outside of music, Sem also won the Student Leadership and Engagement Award, has held officer positions in several clubs, and currently works at an internship with Brady Martz & Associates accounting firm.
While she does not see herself focusing on music as a career after graduation, Sem still plans to be active performing.
"I always want to be involved in music in some way, and I think that had I not got the music degree, I might have fallen out of that," she said, "I still love it, so I hope to do community events and ensembles."
Instead, Sem will use her accounting degree to continue with Brady Martz as a full-time associate. Like the other steps in her college career, the opportunity just seemed to fit.
"Even when I was younger, I thought, 'Oh, I'm not going to go to college in Minot,' but then I went to college here," she said. "Then I thought, 'Well when I graduate, I'll move somewhere.' Now there are opportunities for me here, so for now, I'm hoping to stay a while and see what opportunities come for me."
About Minot State University
Minot State University is a public university dedicated to excellence in education, scholarship, and community engagement achieved through rigorous academic experiences, active learning environments, commitment to public service, and a vibrant campus life.
---