Senior Spotlight: Leticia Cossi de Souza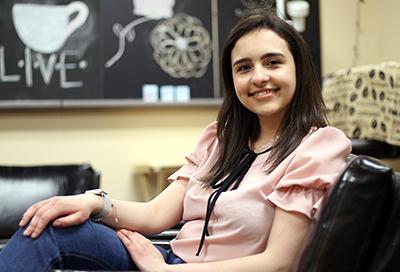 MINOT, N.D. – Leticia Cossi de Souza spent her first night in the United States in a motel in Minot on New Year's Day.
The Brazil native was alone in a foreign country and hadn't even stepped foot on the Minot State campus — she was out of her comfort zone.
That is exactly the way she likes it.
"I'm someone who likes to be out of their comfort zone so I can learn new things," she said. "University was always going to be a part of that. I knew I was going to try something different and that is one of the reasons I came to the U.S. I've been curious of the culture in the U.S., you see it in moves and all that, and I wanted to experience that."
To accomplish her goal of earning a degree in the United State, Cossi decided the university she chose would have to be smaller, to ensure she was able to meet people, learn their names, and join a community. She felt Minot State gave her that advantage.
"I Googled small colleges in the U.S., because I knew there was going to be a culture shock. I wanted to go somewhere smaller and unique," she said. "I fell in love with the campus after seeing pictures. I love nature and there are so many trees on campus."
"I needed to find a place where I could reach out to people if I needed help. That happens here a lot and the staff was so nice and helpful. Right away, I was, 'yep, that's it, that's my university.'"
Being so far away from family has been the toughest part of being an international student. While she has doubted her decision to leave home a few times, she has been unwavering in her choice to move to Minot.
"When I first got here, not because of the University, I've always loved the classes and the people, but because of not being with family, I have been overwhelmed at times. I've questioned my decision to leave home," Cossi said. "There are a lot of problems that come with being an international student, but I've been very happy with my decision."
While choosing a school came down to a Google search, her degree path was many years in the making. Cossi is majoring in psychology with a minor in criminal justice and an honors concentration. After taking a year off, she hopes to continue her education at graduate school, pursuing a master's degree in forensic psychology.
"I want to be a therapist in a prison. I've always wanted something where I can take care of people. I first thought medicine, but then I thought I should work to take care of someone's mind and spirit," she said. "To me, that is most important. You can be physically healthy, but if you are not healthy on the inside, then you are not truly healthy. I have had some experience with family and mental illness, so I know how much people suffer with that."
She worked with her advisor Paul Markel, chair and professor in psychology, to find a minor in criminal justice to help expand her education.
"I knew I wanted to major in psychology, but I wasn't sure if that would be a good fit as a major until I started taking classes. After a couple classes, I fell in love with every step. Especially abnormal psychology," Cossi said. "The teachers have helped me along with every step. I worked with Dr. Markel to find a minor and we felt criminal justice worked best, I will need those classes to help with my master's."
While Cossi began her career not knowing anyone, she will graduate in the fall seemingly knowing everybody. She has made it a point to join as many groups and clubs outside of the classroom, starting with helping with orientation her first year. Since then, she has held jobs with Sodexo dining and at the Wellness Center.
"I think working with orientation that first year was one of the most important things for me, for my social life," she said. "When I first got here, it was lonely, but I was able to make new friends and my social circle grew a lot because of that. I've tried to be very involved with other things outside of class.
"With the Wellness Center and Sodexo, I got to know so many people with so many points of view. That has helped me grow as a person. I've made so many connections here and have grown a lot. I'm not the same girl I was three and a half years ago."
About Minot State University
Minot State University is a public university dedicated to excellence in education, scholarship, and community engagement achieved through rigorous academic experiences, active learning environments, commitment to public service, and a vibrant campus life.
---