Senior Spotlight: Janel Bortoluzzi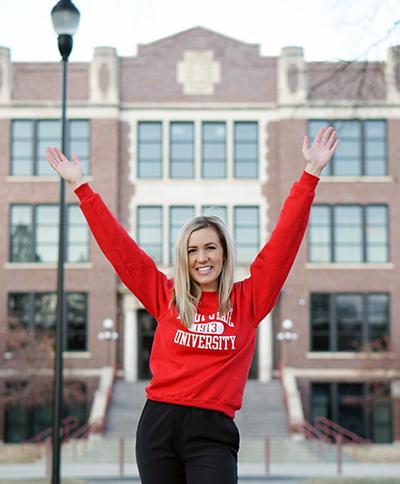 WINNIPEG, Manitoba – Janel Bortoluzzi was looking for connection when she arrived at Minot State.
She quickly became involved on campus during her post-baccalaureate year, continuing the theme as she pursued her Master of Science in Speech-Language Pathology degree.
"It was important to me because it created a sense of belonging," she said. "And being away from home, being in a different country — even though it was only a five-hour drive — I think becoming involved allowed me to make more friends and learn new things, form new connections and a sense of community, and helped Minot State feel like a second home to me."
Her involvement in the community took many forms.
Bortoluzzi spent a year coaching basketball for Special Olympics, was involved in the MSU National Student Speech Language Hearing Association (NSSLHA) chapter, served as a peer mentor for Advancing Students Toward Education and Employment Program (ASTEP), tutored at the POWER Center, was a student ambassador, and worked the front desk for the student activities office. She also served as a graduate research assistant for the special education department during her time in graduate school.
For all her varied forms of involvement, however, the Student Government Association (SGA) may have been her biggest platform in providing a voice for others. She first served as Senator for the College of Education and Health Sciences before being elected president for the 2019-2020 school year.
"I've never had a negative experience," she said. "I was able to just go into different offices as needed and I found people very flexible and accommodating, like, I even met with Dr. Shirley (President Dr. Steven Shirley) a few times over student government related items; he was always very welcoming and eager to help. Everyone, faculty and staff, made me feel like I could use my voice to create positive change on campus and they were always receptive and willing to hear what I had to say about various issues that I felt students were facing, or concerns that I had.
"I feel like students are provided the opportunity to voice their opinion and share their thoughts, and they really promote that, which I think is really important. It helps students feel more connected and appreciated within the Minot State community."

Bortoluzzi has been able to find that same cohesion during her externship in two inner city schools in her hometown of Winnipeg, Manitoba.
"I love working with the kids and I enjoy collaborating with the teachers and the special education resource teachers, the school psychologists, the social workers; I've really enjoyed the collaborative aspect of it," Bortoluzzi said.
She credits the communication sciences and disorders clinicals with preparing her for her externship and future career.
"We were very lucky that we were able to start our clinical experience right when we started grad school. I know some programs start later on, so that's what makes us lucky," she said. "And as you're learning and gaining more knowledge in class, you're also able to learn more by working with your clients. Different things come up and you're not just talking about it in class but you're experiencing it in practice.
"The best part about Minot State is the sense of community it created for me. The core relationships I created with students, faculty, and staff, and the professors in our department were amazing and always so helpful and supportive. I will always appreciate that."
About Minot State University
Minot State University is a public university dedicated to excellence in education, scholarship, and community engagement achieved through rigorous academic experiences, active learning environments, commitment to public service, and a vibrant campus life.
---