Senior Spotlight: David Shindelar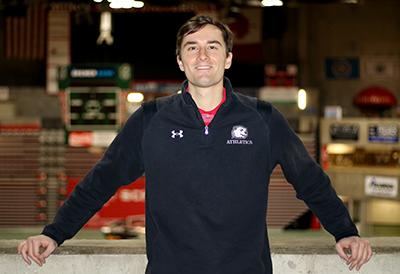 MINOT, N.D. – The typical process for a graduate assistant is to accentuate the lessons learned in the classroom with practical, hands-on experience. To build an individual's skillset gradually during their two years.
For Minot State athletics graduate assistant David Shindelar, there was nothing gradual about his learning curve.
"When I first got here, the SID (sports information director) who hired me, Jared Meister, had taken a job at Nebraska Omaha," Shindelar said. "It was a great move for him and all, but it kind of left us high and dry. That first month here, there was nobody leading the department and we had to jump in and create media guides, make videos, that sort of stuff. It was pretty crazy. After a month, we collectively gave a sigh of relief."
The whirlwind start to his career, however, has both helped Shindelar enhance his skills and helped make lifelong bonds with fellow graduate assistants that started during the same time.
"I was fortunate enough to work with some great people," he said. "Greg Spencer, who has moved on to Cincinnati, and Trey Morton are just tremendously talented. Trey and I lived together so we got to know each other really well. We have the bond. Sometimes we probably even got a little tired of seeing each other, but it was great to get away form work and be able to visit with someone who understands how it goes."
Shindelar also helped MSU through a second search for a communication director and navigating the surreal year of COVID-19.
"Just prior to the quarantine, I had to assume the interim role of SID and I was honestly overwhelmed," he said. "I reached out to Jared, and to you (former MSU assistant AD for communication and media relations Michael Linnell), and others, but I was drowning. It turned out to be not as bad because COVID-19 shut everything down — that is a whole other list of different challenges — but I really had to learn, again, on the fly."

Along with learning traditional sports information story-telling skills, Shindelar has enhanced his digital communication with help from his roommate.
"I think I was most surprised by how much graphic design I had to do. I go back to working with Trey on that and how much he helped me. When I look back at what I did before to what I'm doing now, it has changed so much," he said. "I've really enjoyed writing and while some of the game caps or previews get monotonous, I got to write a couple cool features. The one that sticks out is the Australian pipeline with women's basketball. I got to sit down with the coaches, Mariah Payne, and Lucy Chapman and talking with them was a great way to see their side. Being able to interact with the student-athletes in a different way like that was great."
He has also learned in the classroom as he has progressed through the Master's of Science in Sports Management.
"It is a well-structured program with a good balance between sports-related classes and the management classes," Shindelar said. "I really enjoyed branching out to the management side. One of the classes was taught by former MSU Athletic Director Rick Hedberg and having a class taught by a former athletic director and his perspective of MSU Athletics was extremely valuable."
Shindelar, a native of Eldora, Iowa, completed his undergraduate degree at Luther College and completed somewhere around 30-40 applications before landing the job at MSU Athletics. He believes the stress of that process will serve him well during his current job search.
"I think it is kind of convenient because I'm going thought it again now. But, yeah, it was every day on CoSIDA (College Sports Information Directors of America) and the NCAA marketplace and other job sites. I applied to some that were just grad schools and some grad assistants. I got an interview here with Jared, he offered me right away and I took it."
The process is being repeated currently as he searches for his next step.
"I'm applying to what interests me, but limiting it to just athletic communications," Shindelar said. "I've had a couple interviews that have gone well, but I'm still waiting. That's part of the process, I guess. I've thought about leaving college athletics and trying to get into professional sports, but as a former student-athlete and with my time here, I think the SID role is the ultimate job for me."
About Minot State University
Minot State University is a public university dedicated to excellence in education, scholarship, and community engagement achieved through rigorous academic experiences, active learning environments, commitment to public service, and a vibrant campus life.
---