Senior Spotlight: Alyson Heisler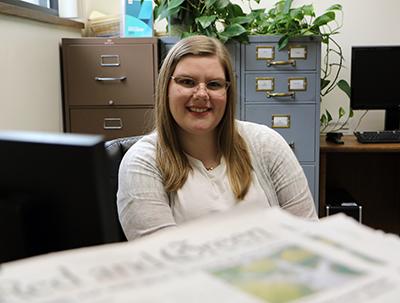 MINOT, N.D. – Two things Alyson Heisler doesn't like is taking life too seriously and the Times New Roman font.
She was able to combine those topics for her final project in audio production.
"I am an avid listener of podcasts and, while there are a few about fonts and type, they are a lot more serious. I wanted to talk casually. My podcast was called 'Let's Talk About Type,' and the tagline of it was, 'Where we don't take type too seriously,'" she said. "The episode I made was about the fact that I hate the font Times New Roman. I just don't like it. It's just a little too square and boxy, and I've just seen too much of it. Why can't we ever use anything else?"
Heisler also dug into the historical research of the font and pulled together a variety of techniques she learned while pursuing her degree at Minot State.
"I really enjoyed bringing the skills together," she said. "The technical skills of learning how to create the podcast, the writing skills for the content, and editing and packaging it up as something you can share with the world, and putting a visual to it. I thought it was really fun, which I wasn't expecting."
The 2017 Velva Public School graduate didn't know what to expect when she enrolled at the University. She chose her major – professional communication – on a whim and the "Gilmore Girls."
"It's funny," Heisler said. "I watched a lot of 'Gilmore Girls' and Rory Gilmore went to journalism school. While I don't want to end up like her in the end, I liked how she was a shy girl and then she decided, 'no, I'm a person.' She grew and was able to become a strong person, and that's what I wanted to explore."



While focusing on journalism and public relations within her degree, she had the opportunity to work for the student newspaper, the Red and Green, first by writing articles in class and then as an assistant editor. Her final semester found her in the editor position.
"It was a lot of leadership," she said. "And that was something I didn't know I had the skills for. It was a super experience because I have never been someone that likes to lead a group of people or have the confidence to say, this is what we're going to do and this is how it's going to get done. If you have the right group of people, it allows you to learn how to be assertive."
In addition to learning how to lead, Heisler was also able to dig into her artistic side at Minot State.
"I wasn't a super creative person before I came here, I didn't have the space to explore that," she said. "Now I've discovered that there is a lot of creative exploration you can find in something like communication. I can reinvent things and present information in a different way.
"I made the decision to attend Minot State based on the feeling of it being comfortable here when I went on a tour. If you can feel comfortable where you are, you can explore a little more and do a few more things and make different choices. I was able to just take classes in a bunch of different departments and branch out and see what there is. I think I could have taken a class in any random thing and it would somehow be applicable to where I will go in life."
About Minot State University
Minot State University is a public university dedicated to excellence in education, scholarship, and community engagement achieved through rigorous academic experiences, active learning environments, commitment to public service, and a vibrant campus life.
---