Burkardt finds her calling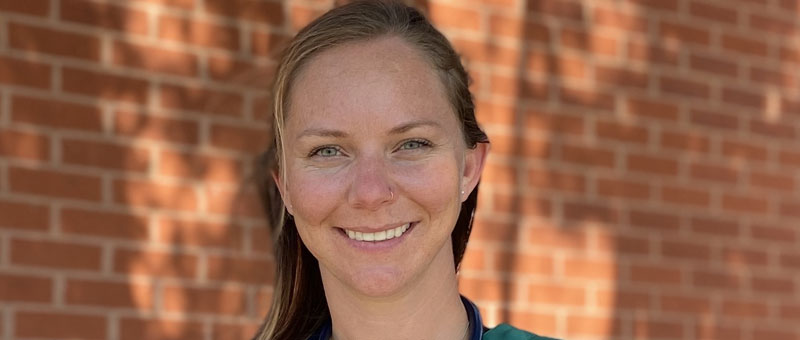 Altus, O.K. – Caitlyn Burkardt '18 took the scenic route both to Minot State and the nursing profession.
"While many people have a pivotal moment that they can point to and say, 'that was the moment I knew I wanted to be a nurse,' I didn't have that," she said. "It took me a little more life experience to figure out what I wanted to do. I like to say I took the scenic route to nursing as a career."
While she knew she wanted to work in a healthcare setting, it wasn't until she had the opportunity to observe surgeries in Montgomery, Alabama that she found her true calling.
"In 2010, I started working for an oral and maxillofacial surgeon. The bread and butter of our practice was taking out wisdom teeth and placing implants; however, we would have these huge reconstructive cases that we would do in the hospital," Burkardt said.  "I told the surgeon that I wanted to be able to do more, and he told me I needed to be a nurse to do it.
"So I applied to Minot State, and the day that the surgeon announced he was retiring was the day I got my acceptance letter."
After attending four different universities in Colorado, Florida, and Maryland, where Burkardt mainly took general courses, she decided on Minot for her nursing degree.
"When I say it took the scenic route, I mean it," she said. "I chose Minot State because it's where my parents and grandparents were. I knew it was a smaller school, which was very appealing. Having attended several colleges previously, I was able to recognize that I liked the smaller campus. At a big college, you're just a number in a quota. When I attended smaller schools, I realized that it ended up being a better investment in my education, because they care about you as a student.

"I found that at MSU. The teachers in the school care if you understand the content and are successful. If you put the effort in, they give back 110% to your education."
Burkardt has brought those qualities into her job as a registered nurse on the medical/surgical floor at Jackson County Memorial Hospital (JCMH) where she was honored with the JCMH Preceptor of the Year Award for exceptional dedication and caring this spring.
"I feel like I'm still a new nurse. I've only been a nurse for two years, so I was very surprised by the award. I had a small break after my own orientation, and then I began orienting other new nurses to the floor," she said. "I can handle my own, but there are quite a few things I still need to look up or ask for help with.  I think when new grads see 'older' nurses asking for help, it becomes a relatable thing. Being a preceptor gives you a little boost of confidence, it shows you how much you really do know. You then begin to learn procedures well enough to teach them to someone else."

Burkardt left North Dakota shortly after graduation. She met her husband, Major Sean Shanahan, during her first semester at Minot State and a change in his role led to the move.
"He was stationed in Minot as a B-52 pilot. On his last deployment, he applied to a new aircraft. He went from the B-52 to a KC-46, which is the Air Forces newest air refueler," she said. "The formal schoolhouse for the KC-46 is here in Oklahoma. The stars just aligned so that he had to report here Dec. 20, which was a couple of weeks after I graduated."
Due to the hospital's proximity to the Altus Air Force Base, the nursing staff often changes, giving Burkardt the opportunity to interact with nurses from a variety of backgrounds.
"I think a lot of my success comes from the Minot State Nursing Program. It is an exceptional program and I really believe it's one of the best nursing programs in the country," she said. "I've had so many new grad nurses ask me, how did you know that? And it is because I had professors and clinical instructors who fought for me to get opportunities and once-in-a-lifetime experiences. Heidi Okeson (assistant professor of nursing) was my instructor for my time in ICU and ER and she would actively seek out these unbelievable situations in the hospital and get us in there, front and center. We had opportunities that other students just do not get."
About Minot State University
Minot State University is a public university dedicated to excellence in education, scholarship, and community engagement achieved through rigorous academic experiences, active learning environments, commitment to public service, and a vibrant campus life.
---