Project Find Safe launches at Minot State University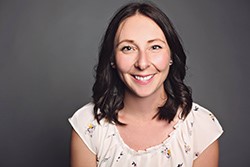 MINOT, N.D. – Vanessa Rovig is passionate about keeping families safe.
With Project Find Safe, a grant funded by the U.S. Department of Justice, Office of Justice Programs Bureau of Justice Assistance to assist with the Reducing Injury and Death of Missing Individuals with Dementia and Developmental Disabilities Program, she is able to do just that.
"This program has the potential to save so many lives here in North Dakota," said Rovig '15, research associate for North Dakota Center for Persons with Disabilities, a Minot State University Center of Excellence.
Rovig is currently serving as project director for the Find Safe program in Minot and completed training with Project Lifesaver staff and North Dakota law enforcement Fall 2020.
"The Find Safe program is important because before we completed our training with outside law enforcement last fall, individuals who were prone to wandering had limited access to this tracking equipment," she said. "When I hear first-hand from families who have reached out to me about our program, you can sense a wave of relief that comes over them, knowing that they cannot prevent their loved one from wandering but that they have a plan if they do wander.
"This program is so much more than just providing equipment. This comes down to what is most important in our life, which is the safety of our loved ones. I am privileged to be the liaison between Project Lifesaver and the families of North Dakota."
The goal of Find Safe is to collaborate with and support law enforcement and public safety agencies in their efforts to reduce and prevent injuries and deaths of missing individuals with dementia or developmental disabilities in North Dakota.
The program works in tandem with Project Lifesaver, where individuals enrolled wear a small transmitter on their wrist or ankle that emits an individualized frequency signal. If the individual goes missing, their caregiver notifies their local emergency responder so the transmitter's frequency can be used to locate their position.
"I've learned how important the collaboration between law enforcement and the disability professionals can be so that law enforcement know how to approach individuals in a way that calms the situation down," Rovig said. "The North Dakota Highway Patrol calls this program a no-brainer. Just one successful search that eliminates the requirements to launch a full search and rescue effort would save so much time, money, and other resources that the project would pay for itself."
To enroll in the program or for questions, please contact Rovig at vanessa.rovig@MinotStateU.edu or by calling 1-800-233-1737. To learn more about Find Safe, view the POSTER or read more at ndcpd.org/findsafe.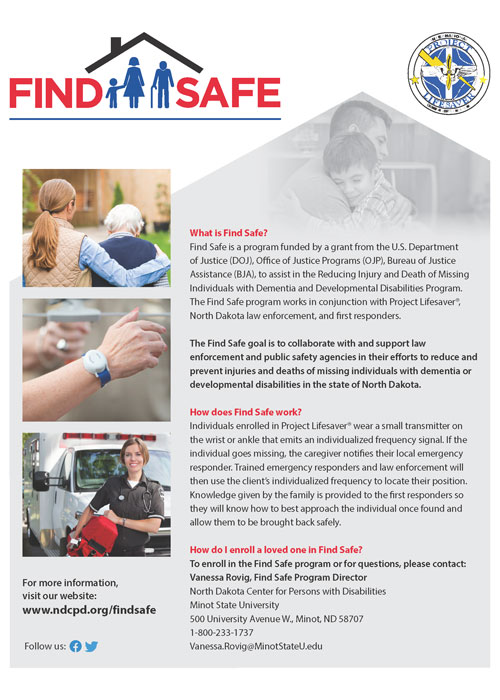 About Minot State University
Minot State University is a public university dedicated to excellence in education, scholarship, and community engagement achieved through rigorous academic experiences, active learning environments, commitment to public service, and a vibrant campus life.
---