Minot Symphony Orchestra grand finale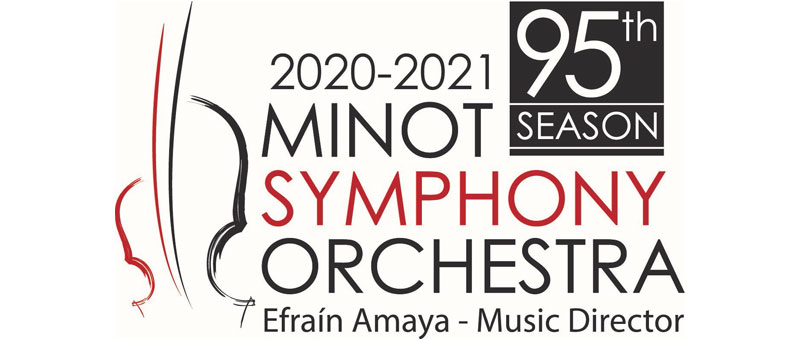 MINOT, N.D. – The Minot Symphony Orchestra will present its 95th season finale live on Saturday, April 24 at 7:30 p.m. in Ann Nicole Nelson Hall.
The Minot Symphony Orchestra will welcome a limited socially distanced live audience to attend the performance. Tickets for the performance must be purchased in advance and are available at http://www.minotsymphony.com/. Following the MSU Beavers Restart guidelines, musicians and patrons will be required to wear a mask at all times. For anyone not comfortable attending the performance in person or are not able or un-willing to wear a mask for the entire performance, a livestream option is available.
"I'm so happy that we have been able to continue making music together throughout the pandemic, one of the few orchestras in the country," said Maestro Efraín Amaya. "Thanks to the support of our sponsors, patrons, MSU clear guidelines, and the willingness of our musicians to continue playing, we've been able to perform. I'm looking forward to the fall when we hopefully will be able to open the hall to its full capacity. 
"I'm very excited to present Mozart's symphony No. 25, also known as the "Little G Minor Symphony" for the season finale. Some patrons might recognize it since the first movement was used in the opening scene in the movie 'Amadeus.' We're also performing two other crowd-pleasers, Grieg's beloved 'Holberg Suite' and the full of fun 'Romanian Folk Dances' by Bartók."
A pre-concert talk providing an engaging overview of the works being performed will be held via Zoom on Tuesday, April 20 at 4:30 p.m. The talk will be shared to the Minot Symphony Orchestra Facebook and YouTube pages. Ticketholders will receive an email with the Zoom link to join in the conversation. This pre-concert talk will be hosted by Tim Baumann, oboist and co-camp director of the International Music Camp.
Tickets for both the live performance and livestream option must be purchased in advance and are available at www.minotsymphony.com or by calling 701-858-4228.
The Minot Symphony Orchestra musicians and board members thank everyone for being flexible and understanding during this time of challenges and uncertainty. 
The Minot Symphony Orchestra is a unique blend of student, community, and professional musicians from the Minot area. The symphony is directed by Amaya, assistant professor of music at Minot State University.
This project is supported in part by grants from Arts Midwest and the North Dakota Council on the Arts, which receives funding from the state legislature and the National Endowment for the Arts.
About Minot State University
Minot State University is a public university dedicated to excellence in education, scholarship, and community engagement achieved through rigorous academic experiences, active learning environments, commitment to public service, and a vibrant campus life.
---