Minot State's Nurse of the Year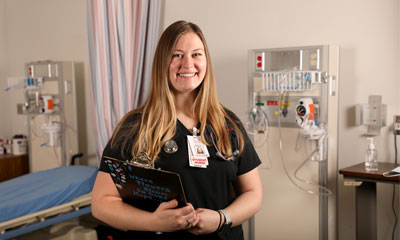 By Amanda Duchsherer
Digital Communication Specialist
amanda.duchsherer@minotstateu.edu 
MINOT, N.D. – Emily Neshem joined the nursing program because of a test result.
"I took a personality test in high school because I didn't know what I wanted to be, and it said nursing," the 2017 Lewis & Clark High School, Berthold graduate said. "I have a lot of family members who are nurses so I started asking them about it, and I realized that nursing is just one name for so many different jobs you do under that scope. It's amazing to see what jobs there are in nursing."
Once her decision was made, Neshem never looked back.
"This was the right decision," she said. "They always say you can change your major, but I never changed my major. I was stuck to this, and it's been a lot of work, but it's been worth it. I believe I made the right decision, and I feel like I'm destined to be a nurse."
Neshem's faculty and peers agree, as she was selected as Minot State's Nurse of the Year. Students were initially nominated by faculty in the nursing department before interviewing with members of the Nursing Student Association (NSA) on campus.
"It was narrowed down to the top three," she said. "The two other nominees were my classmates; we were just all happy that we got nominated. We really didn't care who won or not."
The nomination process — as well as the North Dakota state Nursing Student of the Year interview process — gave Neshem the opportunity to reflect on her time as a nursing student and learn more about herself. 
"I learned a lot. I learned that it's okay to give yourself a pat on the back and say that you did this. You did well, you earned it. It was very hard for me to make it about me, I'm not that type of person," she said. "Nursing school is hard, and it was kinda nice to get that recognition from the staff and the students."
The current NSA vice president will walk at graduation this May, finishing up her internship at Trinity Health this summer.
"I've just really enjoyed my time at Minot State. You get one-on-one time with your teachers, and all of my professors have been fantastic meeting with me, helping with things that I struggle with; they're your cheerleaders. They want you to do well and enjoy the program," she said. "It's crazy that I'm almost at the end of it. I recommend Minot State nursing to anyone.
"It's a really good program and really hands on and individualized. Your teachers want you to succeed, and that's really the best part."
About Minot State University
Minot State University is a public university dedicated to excellence in education, scholarship, and community engagement achieved through rigorous academic experiences, active learning environments, commitment to public service, and a vibrant campus life.
---