Minot State to host Spirituality & Disability virtual conference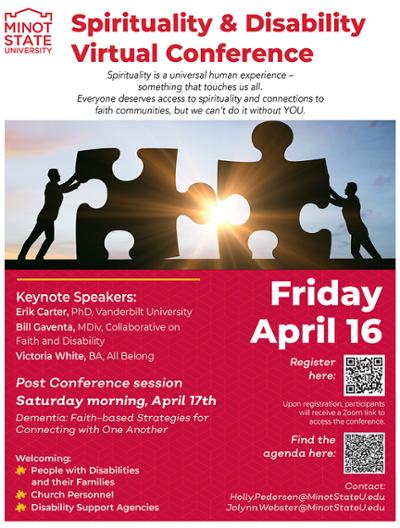 MINOT, N.D. – Minot State University will host a Spirituality & Disability virtual conference on Friday, April 16 and a post-conference session on Saturday, April 17. The events are sponsored by a grant from the North Dakota State Council on Developmental Disabilities.
"This conference brings together families and individuals with disabilities, church and faith community partners, and community agencies that support individuals with disabilities," said Holly Pedersen, Minot State special education chair. "The purpose is to start the conversation in our state about how to ensure people with disabilities have access to participate in faith communities if they wish."
Scheduled keynote speakers include Erik Carter, Ph.D., Vanderbilt University; Bill Gaventa, M.Div., Collaborative on Faith and Disability; and Victoria White, B.A., All Belong.
The post-conference session is titled Dementia: Faith-based Strategies for Connecting with One Another.
"We are excited to host three national expert speakers in the field for this topic. There will be a post-conference session offered to specifically address the topic of dementia and supporting individuals with this challenge to continue to participate in their faith community," added Pedersen.
Individuals with disabilities and their families, church personnel, and disability support agencies are all welcome for both events.
A full schedule of events will be released at a later date. For more information or for questions, contact Minot State's Pedersen by EMAIL or Jolynn Webster by EMAIL.
About Minot State University
Minot State University is a public university dedicated to excellence in education, scholarship, and community engagement achieved through rigorous academic experiences, active learning environments, commitment to public service, and a vibrant campus life.
---