Major switch leads Demme to Marine Corp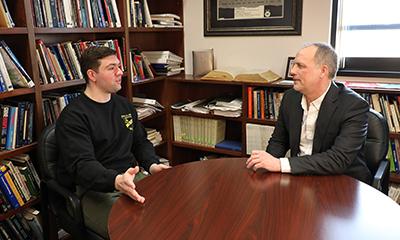 By Calli Delsman
University Communications Student Assistant
studentpio@minotstateu.edu
MINOT, N.D. – Nathan Demme, a senior at Minot State, grew up in Minot after bouncing around from Pennsylvania, Kentucky, and Arizona. As a child who was homeschooled, prior to attending Minot State, Demme had never attended another school.
Demme earned a full scholarship granted by a 31 ACT score and was able to work at his uncle's machine shop before college to save money and accomplish his goal: to attend college without going into debt.
"A combination of good test scores and living in a state with an affordable school blessed me with the ability to do that, while working full time in the summers," Demme said. "I chose MSU because of its proximity and price. That as well as the opportunity to stay around my family are the main reasons."
Originally, Demme planned to study English and pursue a career in fiction writing with a dream of being a published writer. Although he switched his major to criminal justice, his desire to publish his work hasn't diminished at all.
"I have always written stories and probably always will continue to write stories; it's just a project or hobby that may wait until the later years of my life," Demme said.
Demme's decision to switch came after his first semester at MSU.
"I chose criminal justice because I'd had a small interest in being a police officer as a kid and, at the time, my goals in college had really stalled by the end of my first semester. A few friends raved about the CJ program and after meeting with Dr. (Gary) Rabe, the department chair, I decided to switch," he said.
When Demme first began studying criminal justice, he was unsure of what he wanted to pursue. He thought of using his degree to become an officer in the Air Force like his father, but he had a friend who had graduated from MSU join the Marine Corps.
"I visited the closest Marine Corps officer to me in Fargo," he said. "I drove down, did a workout, saw what the Marine Corps was about, and I was hooked. I needed no further convincing and immediately set my sights on becoming an officer in the Corps."

He has his immediate future planned as well.
"Post grad, I plan on commissioning as a second lieutenant in the Marine Corps and will either pursue flight school to become a pilot in the Corps or pursue another job in the Corps," Demme said. "I plan on spending the next five to 10 years in the Marine Corps. After that, who knows. I could do 20 years in the Corps, I could see myself getting out and trying to do a federal law enforcement job like FBI, U.S. Marshals, or some kind of administrative job in private security."
Demme is grateful for all of his experiences and professors that have helped him prepare for his future endeavors.
"Professor Odahlen (Beth Odahlen, director of the Academic Success Center) for sure is one of those people who has most influenced me in college. I'd also have to say Dr. Rabe of the CJ department, Dr. (Hasan) Bukar (former MSU professor who now is a department chair at West Florida), and Jessica Smestad (Honors Program director)," Demme said. "To say that I am thankful is an understatement and to not be thankful for what college has done for me would be displaying an extraordinary lack of self-awareness and perspective.
"I have gained as much, if not more, from what people have done for me and with me in college than what I have done myself."
About Minot State University
Minot State University is a public university dedicated to excellence in education, scholarship, and community engagement achieved through rigorous academic experiences, active learning environments, commitment to public service, and a vibrant campus life.
---