Ostlund finds personal growth through English education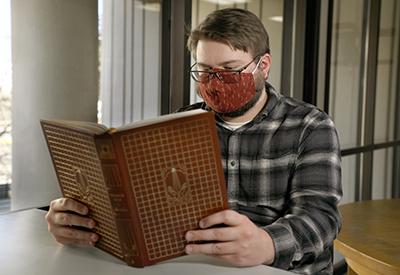 By Emily Schmidt
University Communications Student Assistant
studentpio@minotstateu.edu
MINOT, N.D. – English education major Aaron Ostlund has many interests, but one has persisted in his life both before and during his time at Minot State: ministry.
Ostlund was a youth pastor in Minot for a year after he graduated from Des Lacs High School, and he moved to Colorado Springs, Colorado to continue his involvement in the church. He jumped around ministries there until he realized practical ministry on a more personal level was a better fit for him. Then he moved back home to get a degree from Minot State.
"Besides growing up here, Minot State's an affordable college," he said, "I both had to maintain my mortgage in Colorado and pay for school, so this just made the most sense. I also wanted to go into education, and they do have a good education program."
English was an easy choice for Ostlund, given his passion for knowledge about many different topics.
"I like the pursuit of all knowledge, and I've always felt as though English was the best way for me to do that," he said. "It allows me to read and write in lots of different ways rather than being pigeonholed into my one specialized category."
Last semester, his studies came full circle when Ostlund completed his capstone project on John Milton's "Paradise Lost," a long-form poem retelling the biblical story of Adam and Eve.

"'Paradise Lost' has always been one of my favorite books," he said. "My favorite line is, 'Man was created sufficient to stand, yet free to fall.' I love the language, and I love the retelling of the story.  I worked from that love into taking a more critical eye, like, okay, it's not a perfect work. How do we then understand it?
"I focused on the character of Eve and how Milton paints her as this satanic character, as this reason for the fall, as this driving factor and all that's wrong with the world, and I took issue with that more or less," he said. "It's like, here are these things. Why are they this way? Why does Milton paint her in this light? And with my background, I felt uniquely positioned to understand what Milton is saying about Eve as well as understand how Milton's Eve compares to the Eve of the Bible."
In the process of learning a new perspective on a beloved piece of literature, Ostlund also learned about himself.
"The project took this strange adventure of writing about Eve as a character rather than a historical and scriptural figure," he said. "Then I had to really explore that in terms of my chosen profession now, like, how do I as an English teacher, not as a reverend, approach Eve in this context? So it was more of a personal growth project than it was anything else."
This growth is an aspect of English Ostlund wants to bring into his own classroom, ideally as a college composition or humanities professor back in Colorado Springs.
"I want to teach English because I love giving students a voice and ways to explore ideas, to push what they see as normal and get to something better," he said. "It's about growth. It's about movement and change, which is ultimately why I chose English education."
About Minot State University
Minot State University is a public university dedicated to excellence in education, scholarship, and community engagement achieved through rigorous academic experiences, active learning environments, commitment to public service, and a vibrant campus life.
---