Matsumoto turns love for all animals into business plan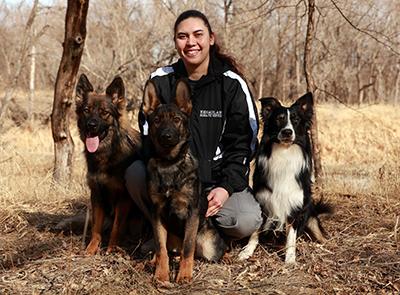 By Calli Delsman
University Communications Student Assistant
studentpio@minotstateu.edu
MINOT, N.D. – Kehualani Matsumoto's upbringing on the Big Island of Hawaii isn't necessarily the most common one you will hear in North Dakota.
Matsumoto was raised in a small town while being homeschooled. She is fluent in American Sign Language since the age of 2 and was surrounded by wildlife — wild boars, chickens, goats, and reptiles — during her childhood.
Animals were always a part of her life, going back to her father bringing in orphaned animals that no one else would take in. Not only cats and dogs, but an abundance of different animals.
That continues today as Matsumoto currently has six dogs. 
"Sometimes it would be dogs or cats, one time it was a baby goat. No matter what it was, I always wanted to be the one to take care of them. I grew up with everything from your common pets to more exotic animals such as parrots, peacocks, and chameleons," Matsumoto said.
Matsumoto wanted to take her passion for animals and turn it into a career; so when she was accepted into Minot State, she decided to go into pre-veterinarian until a job changed her mind.               
"I always knew I wanted to work with animals. I was a pre-vet major my first two years at Minot State. While working at Petco, I fell in love with helping people and their canines," she said. "I was also able to work with several people who wanted their dogs to become therapy dogs and service dogs which grew my attraction to dog training even more."
With what she learned while at Petco and how she reacted with animals and people, Matsumoto decided to switch to a business degree. She then came up with the idea of starting her own business.
During her time at Petco, she worked as a dog trainer and senior dog trainer where she trained new employees, earning training and certifications in dog training. She worked for the company for six years before officially opening up her own business in October 2019.
"I am the owner of Aloha Pet Services, LLC. My business is a combination of boarding dogs for clients when they go out of town and dog training. However, dog training is what the business is known for," Matsumoto said. "I specialize in anxiety and aggression rehab within canines. Yet, I teach everything from basic obedience to behavior modification, as well as off-lead training."

One thing that Matsumoto said helped her dream become reality was the accessibility she had for classes at Minot State. Triple majoring in entrepreneurship, marketing, and business management, she was able to learn multiple lessons while obtaining three degrees in the span of four years.
"Since I majored in entrepreneurship, I was able to learn how to set up a business. My management degree allows me to manage my own business and my marketing degree helps me market my own business. I learned how to make advertisements, business cards, and a website through school. This has saved me money since I am doing it myself and don't have to hire someone for these tasks," Matsumoto said.
Not only did obtaining three majors help, but the preparation Minot State offered greatly prepared her for her future goals, along with the professors that supported her.
"My senior year was the biggest year for me to set up my business. I was able to create a business plan for one of my business capstone classes. During this time, I also created a business website, a business pitch demonstration, and a marketing plan for my marketing and entrepreneurship classes," Matsumoto said. "(Professors) provided me with very useful information which I have applied to my business in one way or another."
Matsumoto is content with her business, as she is currently growing it organically to help save more money. Eventually she hopes to have a full-blown facility dedicated to training dogs and add services that she will be learning in her upcoming opportunities.
"Last year, I was accepted into Highland Canine Training. Come July, I will be attending their school for six months to become certified in service dog training, search and rescue training, and protection training. Once back in Minot, I plan on adding these services to my business," Matsumoto said. "It will allow me to not only train more dogs but also help people in the process. Minot doesn't have a dog trainer that does this kind of training so I think it will open up many doors for me to differentiate myself even more in my line of work."
She has many goals for her future, personally and through her business, but overall she is excited about how she can help the city of Minot as there are many people and families who own dogs.
Another hope is to also see a decline in owners having to rehome their dogs or put them down due to the lack of training knowledge available to them.

"With the right training, every dog can be great. Along with the correct information, every owner can be great," Matsumoto said. "Currently, my services are geared towards people struggling with their dogs. I rehabbed many dogs who were on the verge of either being surrendered to a shelter or euthanized if they didn't receive the necessary help. After gaining the proper training, these dogs are now living their best lives with their families.
"The three options I offer are private lesson training, a one-on-one experience between my clients, their dogs and I; board and train options, where the dogs stay with me for a duration of time in order to complete their training; and group classes for any dog who qualifies to be in a group setting."
Her passion and care for not only dogs, but all animals, is sincere and real. Matsumoto believes that she can help any dog or owner that is in need of help through her services. She loves her work and has many people within the community that support her.
"I wouldn't be where I am today if it weren't for the wonderful people within this community. Just remember, you CAN teach an old dog new tricks. No dog is too far gone," Matsumoto said. "Please, please do your research when trying to find a trainer. An inexperienced trainer will always cause more harm than good. And remember no dream is unattainable. You just need to be dedicated, put in the work, and follow through."
About Minot State University
Minot State University is a public university dedicated to excellence in education, scholarship, and community engagement achieved through rigorous academic experiences, active learning environments, commitment to public service, and a vibrant campus life.
---