Beck diversifies music on campus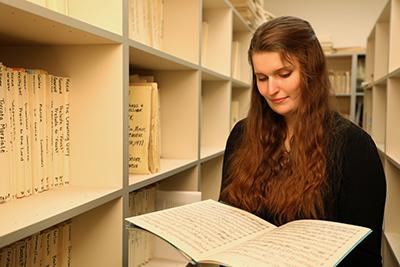 By Emily Schmidt
University Communications Student Assistant
studentpio@minotstateu.edu
MINOT, N.D. – Julia Beck will be graduating next year with a variety of subjects in her Bachelor of Arts degree. A music performance major in piano and violin. A minor in humanities. A concentration in deaf studies. Last semester, all of her interests united when she wrote a grant to provide the Division of Performing Arts with a new music library featuring diverse composers.
"I've always been interested in a lot of different topics, and it's really important to be a well-rounded person" she said. "In any field, you have to be ready to kind of build a career for yourself. You don't get a degree and then get this job. You kind of have to build your own type of job and make yourself the most qualified for it, so that's partly why I chose piano and violin.
"The other part of it is just personal interest. My freshman year, I took a couple of humanities courses and I thought, 'Wow, I really like these,' and so many of my music credits translated. It made sense. The deaf studies is more of a personal choice. I always wanted to learn ASL because I was very hard of hearing growing up. I wore hearing aids up to my sophomore year of college. There is the deaf world, and there's the hearing world, and I was somewhere in the middle of it, but I got surgery, and I got my hearing fixed, so I don't have to wear hearing aids anymore. I always wanted to learn ASL to see what this whole little world was that I missed out on."
On top of the interests she formally studies at Minot State, Beck also enjoys writing. Last summer, she put that skill to use in a research paper called "Two Uncommon Women: Comparison of Two Works by Grażyna Bacewicz and Rebecca Clarke."
"It was something that Dianna (Assistant Professor of Piano Dianna Anderson) encouraged me to think about in the summer," Beck said. "We were thinking about diversity and promoting that in music because within the Western canon, you have the very standard white male tradition of works that students study. You don't really get to see a lot of cultural diversity, and you don't get to see music by women as much. It's just not performed as often."
She eventually submitted her paper to the Music Teachers National Association (MTNA) and earned a feature at their annual convention. An ABRIDGED VERSION of her paper was published on the MTNA website.
"I did a research poster session, so if it had been in person, I would have gone to California and had a poster or presentation where people could have asked me questions, but mainly it was a lot of graduate students and some professors presenting new ideas and research," she said. "There was a lot of on-call type presentations. It was neat that we are able to use it like that and just spread ideas."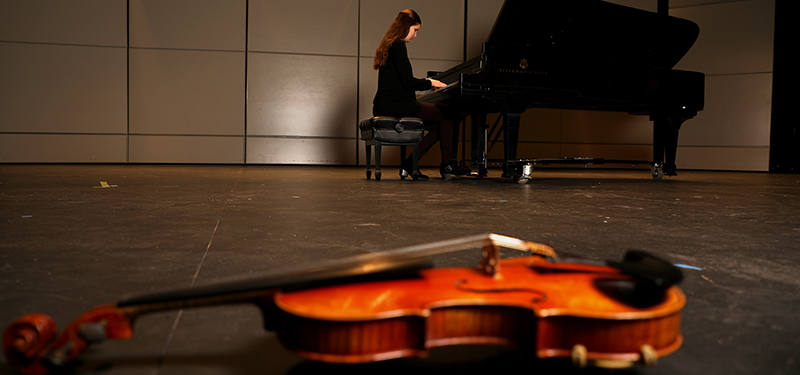 Beck has been a member of the Minot State chapter of MTNA since it began in spring of 2020. Last semester, her piano solo won the chapter's Young Artist Competition and took her to the regional competition. This club also sponsored the idea to write a grant for the diverse music library.
"The idea for the library was Dianna's, and she asked me to write the grant," she said. "We are looking to use the money from the grant to create a space within the music department where we can house a bunch of scores from composers of different time periods, styles, ethnicities, and genders. We're going to be talking to the professors, asking them if there is some music they'd like to see included, but mostly it's up to the students. The plan is to have a concert where students will work with their teachers and other students in the chapter to put on this concert for the public, showcasing this more diverse spread of repertoire."
After she graduates, Beck plans to get a master's degree in collaborative piano. While it is still hard to tell exactly what career she will choose, she hopes to combine all of her interests in music history, research, writing, and deaf studies into a piano studio. If there is one thing that is certain, she knows she needs to be able to communicate.
"Music is a language, and if you don't speak it, it's really hard to explain," she said. "Sometimes I'll be in a conversation with a professor, and we're trying to talk about some musical idea, and we're thinking of the same thing, but we just can't communicate to each other because how do you communicate a sound in words? Then you're also an advocate for yourself. If I were to talk to somebody who's not in music about my paper, I'm not going to ramble about all the analysis. I'm going to talk about the general lives of these two composers, and I'm going to give them a little sample with their music. They should be able to read my article and understand, even though they don't have that extensive background."
About Minot State University
Minot State University is a public university dedicated to excellence in education, scholarship, and community engagement achieved through rigorous academic experiences, active learning environments, commitment to public service, and a vibrant campus life.
---