Bonebrake excels in the lab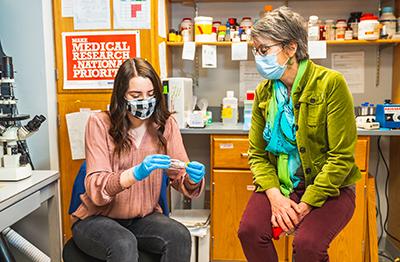 By Emily Schmidt
University Communications Student Assistant
studentpio@minotstateu.edu
MINOT, N.D. – Being a student director of MSU Life, Thea Bonebrake is a popular face on campus. When she is not calling bingo numbers and handing out art supplies on Pinterest nights, she grows cells and conducts research in biology professor Heidi Super's lab.
The Minot native initially decided to move away from home to study biology at Montana State University in Bozeman, but after her freshman year, she transferred back home to Minot State.
"The classes were massive at that school, and I love the small classrooms, being able to work hands-on with the professors," she said. "It's been a lot more beneficial for me."
Now in her senior year of college, Bonebrake works one-on-one with Super, Minot State's medical laboratory science program coordinator, doing molecular biology research with Super's daughter at the University of Colorado.
"I've known Thea for a long time as a citizen of Minot, and I knew she was a great student," said Super. "I actually became interested in helping out with my daughter's master's project when they inquired about me doing some of these experiments to confirm what they're seeing. They do experiments with fruit flies, but they don't do any cell culture work, and that's what I do.  It's very similar to what I'm doing in my studies of leukemia."
The pair are focusing on the Caper gene. Abnormalities of this gene cause neurological problems. Researchers are currently looking for links to diseases like ALS, also known as Lou Gehrig's disease, Parkinson's disease, and seizure disorders.  
"Right now, I have a bunch of mouse brain cells, and I've been growing them," Bonebrake said. "I have them in these flasks, and I essentially grow them so there's lots of them, and then I have to cut them down so there's not so many in the flask and just keep growing them so we can complete experiments on them."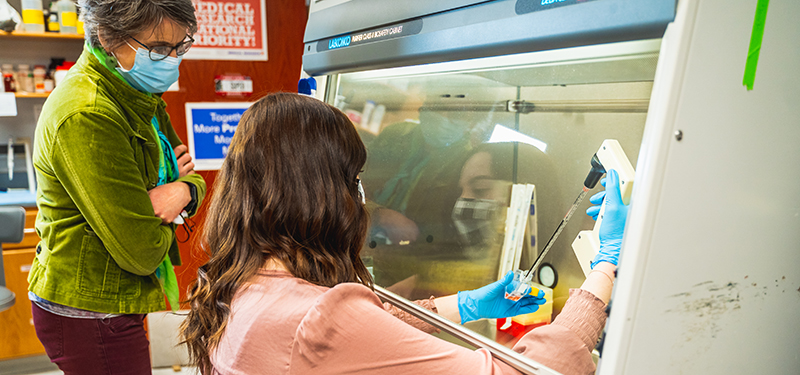 Both Bonebrake and Super have enjoyed working with the Colorado lab.
"It's a really big lab, and it's just Dr. Super and I compared to this entire team of students," Bonebrake said. "It's been interesting to go on Zoom and talk to them and compare what we're doing to add on to their project."
"It has really increased my enthusiasm," added Super. "Interacting with others and having collaborators has been really fun."
Since they started the project in September, Bonebrake and Super have been pleased with their results.
"It's going really well, kind of scary well. I don't have a ton of experience in this particular type of technology that we're using, so we're learning together which I find really fun."
"Learning about the new techniques has been my favorite part," Bonebrake said. "I came into this research not really knowing anything about cell culture and the other techniques that we use in the lab. Dr. Super has helped me to take my previous knowledge from various classes and tie it into this project."
Conducting these research and experiments has provided Bonebrake with applicable experience for her future in medical school, hopefully dermatology.
"It opens me up to different medical school interviews questions," she said. "They always ask, 'What have you been doing that pertain to any of this?' For me, it's being in the lab and tying in all of the things that I've learned in my classes into a new area of study. I'm pulling all of that knowledge from all those classes and putting it into one bucket."
About Minot State University
Minot State University is a public university dedicated to excellence in education, scholarship, and community engagement achieved through rigorous academic experiences, active learning environments, commitment to public service, and a vibrant campus life.
---