Encouraging audiences to Go WILD!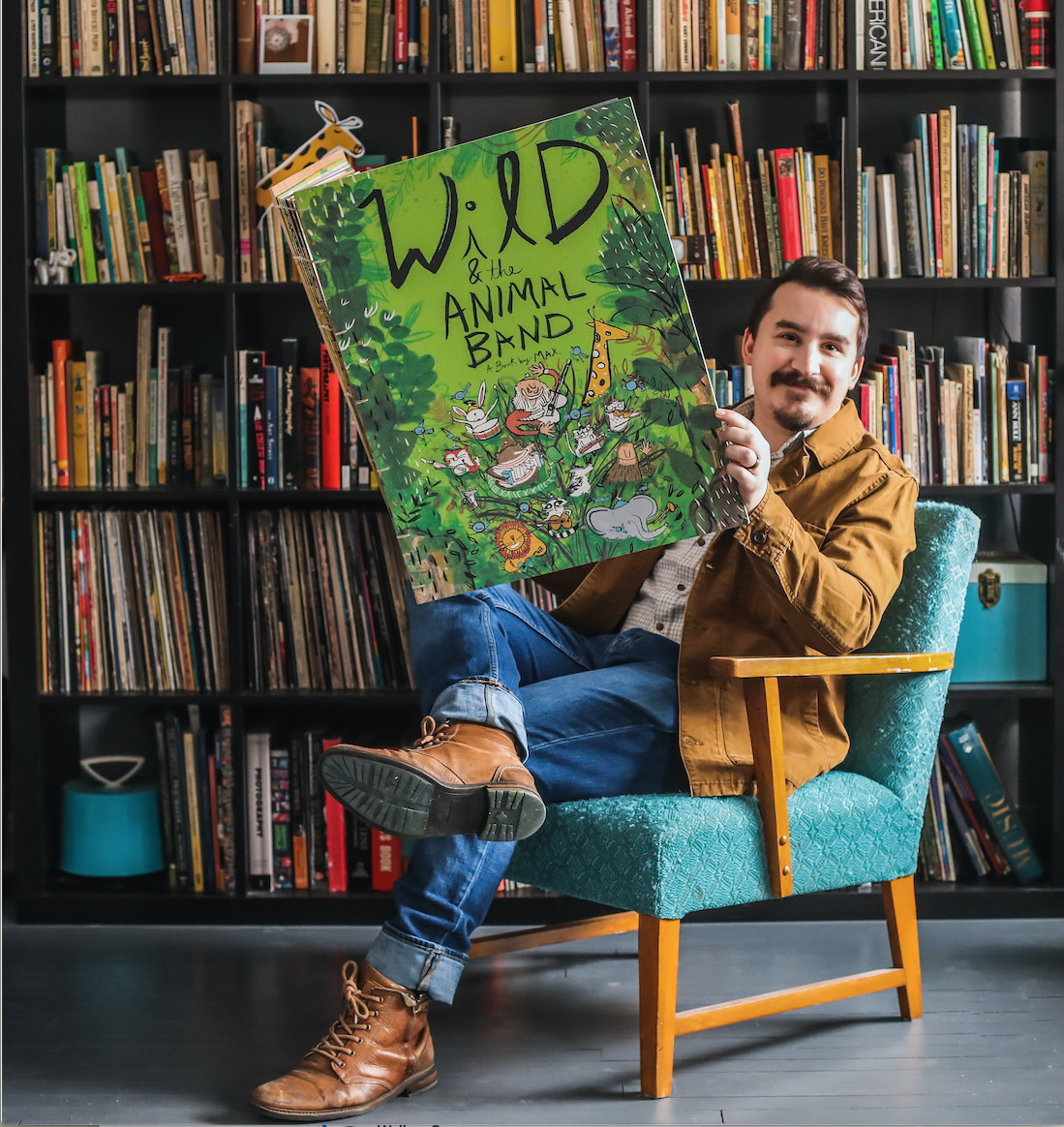 Minot, N.D. – What happens when a ragtag group of musicians — a bear with an accordion, a hare with a snare, and Bigfoot — all come together to make a whole lotta noise? 
Local artist, writer, and musician Max Patzner, also known as MAX, has readers tapping their toes, howling at the moon, and engrossed in the detail-filled pages of his new book, "Wild & The Animal Band." The whimsical picture book was written and illustrated by North Dakotan dreamer and schemer Patzner and includes five original songs recorded and performed by the North Dakota folk rock band Wild Hands. From the vibrant illustrations to the catchy tunes, the adventurous tale delights audiences of all ages.
Patzner was raised in Minot, graduated from Magic City Campus, and attended Minot State University. Graduating from MSU in 2013, Max earned a degree in art, with concentrations in creative writing, printmaking, and drawing. As a student and as an alumnus, Patzner has contributed to many Minot State affiliated events throughout the years. Whether performing his music at Minot State's premier arts event NOTSTOCK, assisting with the production of art professor Micah Bloom's film "Codex," collaborating on Walter Piehl's "Northern Plains Heritage Suite," or printing and designing the 2013 "MSU Centennial Print Suite" with art professor Ryan Stander, Pratzner's artistic and musical talent has been a staple at Minot State.
Though publishing books is something new for Patzner, he has been performing his music in the greater Minot community for over 10 years, both as a solo artist and in bands such as Wild Hands. His music career has taken him across the country, but North Dakota has remained his home-base. 
Patzner's recent book and music publishing project has brought things full circle for Bloom.
"When I first moved to Minot in 2011, Max was a tremendous help in creating my multimedia artwork, 'Codex.' From the project's inception, Max was right there assisting: filming, designing, adding his music, and getting the whole project rolling," Bloom said.
Since that project, the tables turned in 2020, and Patzner invited Bloom to produce the recording of the five songs that accompany "Wild and The Animal Band." Working in the studio with the musicians and adding some music himself, Bloom was able to return the favor. 
"Max is a gifted songwriter and is delivering a high-quality product. It's been a delight to collaborate with a talented alum, and I can't wait to see what comes next," he said.
Unfortunately, the official launch for "Wild & The Animal Band" book and music experience was going to take place Friday, March 20, 2020, but COVID–19 crashed the party. Hoping for the pandemic to pass over in a couple months, the release was postponed. Acquiescing to the reality that a large social gathering may not be possible for some time, Patzner has now released the book (and music) at Main Street Books. All are encouraged to stop by to see how Max has transformed the space, pick up the book, and enjoy the original songs.
For a signed copy of "Wild & The Animal Band," including a CD with all five original songs, visit www.littlewhynot.org.
"Wild & The Animal Band" is the first project put forward by The Little Why Not? Publishing House. The goal of The Little Why Not? Publishing House is to inspire kids to embrace their creativity and imagination and to inspire them to dream big. In the future, Patzner and the Little Why Not? team will host workshops where kids write and illustrate their own stories. Each child will be provided with a published copy of their own work. The Little Why Not? Publishing House is located at Main Street Books, downtown Minot. Schools, community event planners, and libraries are encouraged to book Little Book Maker Workshops, readings, and musical performances through the Little Why Not? website.  For questions about "Wild & The Animal Band" or The Little Why Not? Publishing House, please visit www.littlewhynot.org.
About Minot State University
Minot State University is a public university dedicated to excellence in education, scholarship, and community engagement achieved through rigorous academic experiences, active learning environments, commitment to public service, and a vibrant campus life.
---