Northwest Arts Center welcomes Guillermo Guardia to Minot State campus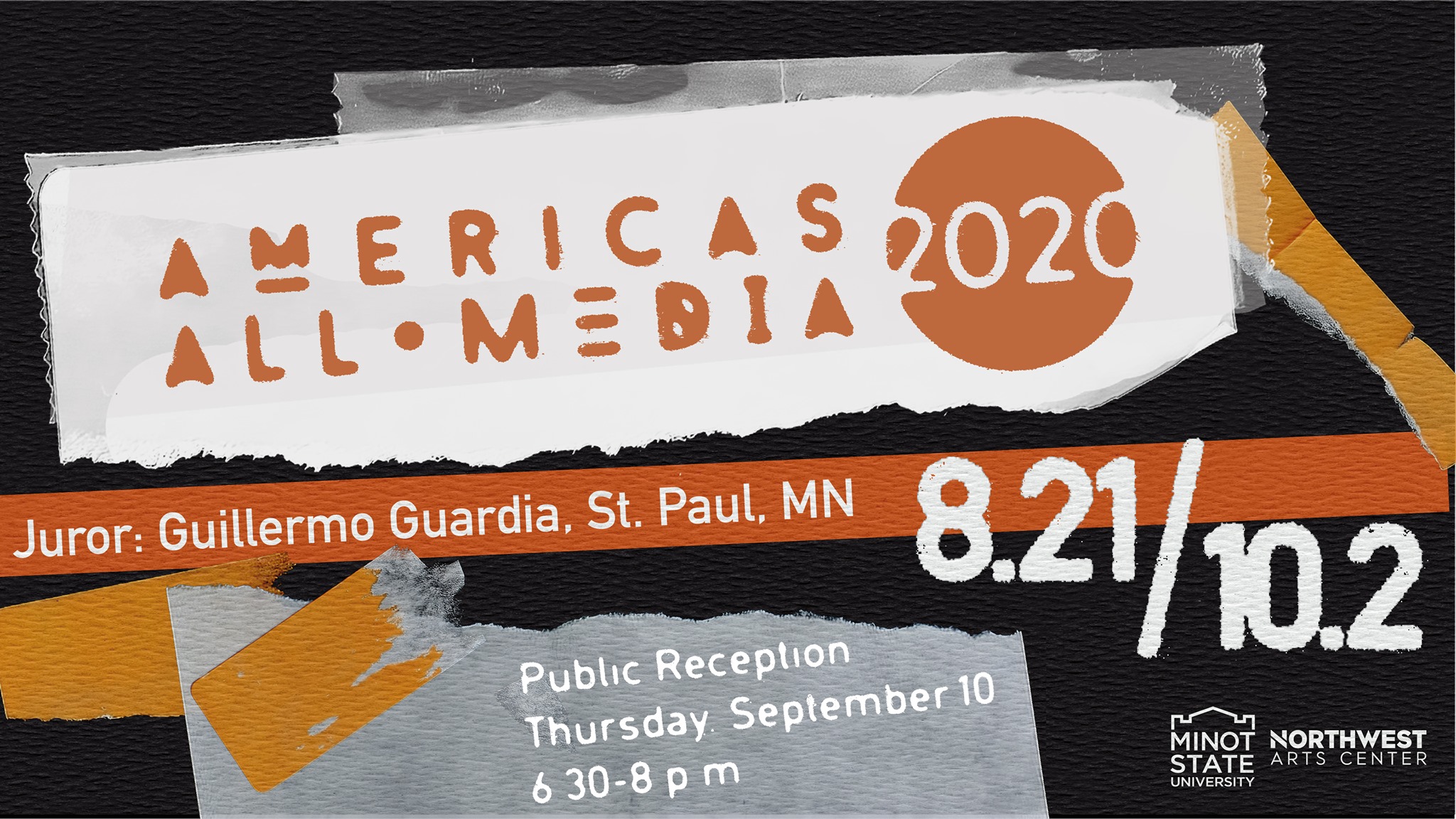 MINOT, N.D. – Ceramic artist Guillermo Guardia will be on the Minot State campus the week of Sept. 7, leading an art seminar and serving as juror for the Northwest Arts Center Americas 2020: All Media exhibition.
Americas 2020: All Media is an annual juried exhibition featuring diverse artwork in all mediums from artists across the United States. A public reception for the exhibition will be held on Thursday, Sept. 10 from 6:30-8 p.m. Both exhibition and reception are free and open to the public; masks and social distancing are required.
A virtual juror's talk and question and answer session will be posted to the Northwest Arts Center website and social media handles. The Northwest Arts Center can be found on Facebook @NorwestArtsCenter, Twitter @arts_northwest, and Instagram @northwestartscenter. Portions of the reception will also be livestreamed from the Northwest Arts Center's Facebook page.

"There were 267 entries from 93 artists, and it was extremely difficult to select 42 for the show," said Guardia. "2020 is a year that we all are going to remember deeply for the rest of our lives. In the last months, we have lived and continue to live in a pandemic, and we have witnessed social protest for racial justice in almost every state.
"The exhibition this year features artwork that has captured stunning aesthetics, personal content, and stories through painting, photography, printmaking, mixed media, and sculpture. Some of the subjects depicted deal with identity, gender, immigration, and religion. It is remarkable when artists create to deal with these subjects from personal experiences, not just as outsiders looking in. I hope artwork like these can be a starting point to meaningful conversation and true personal change."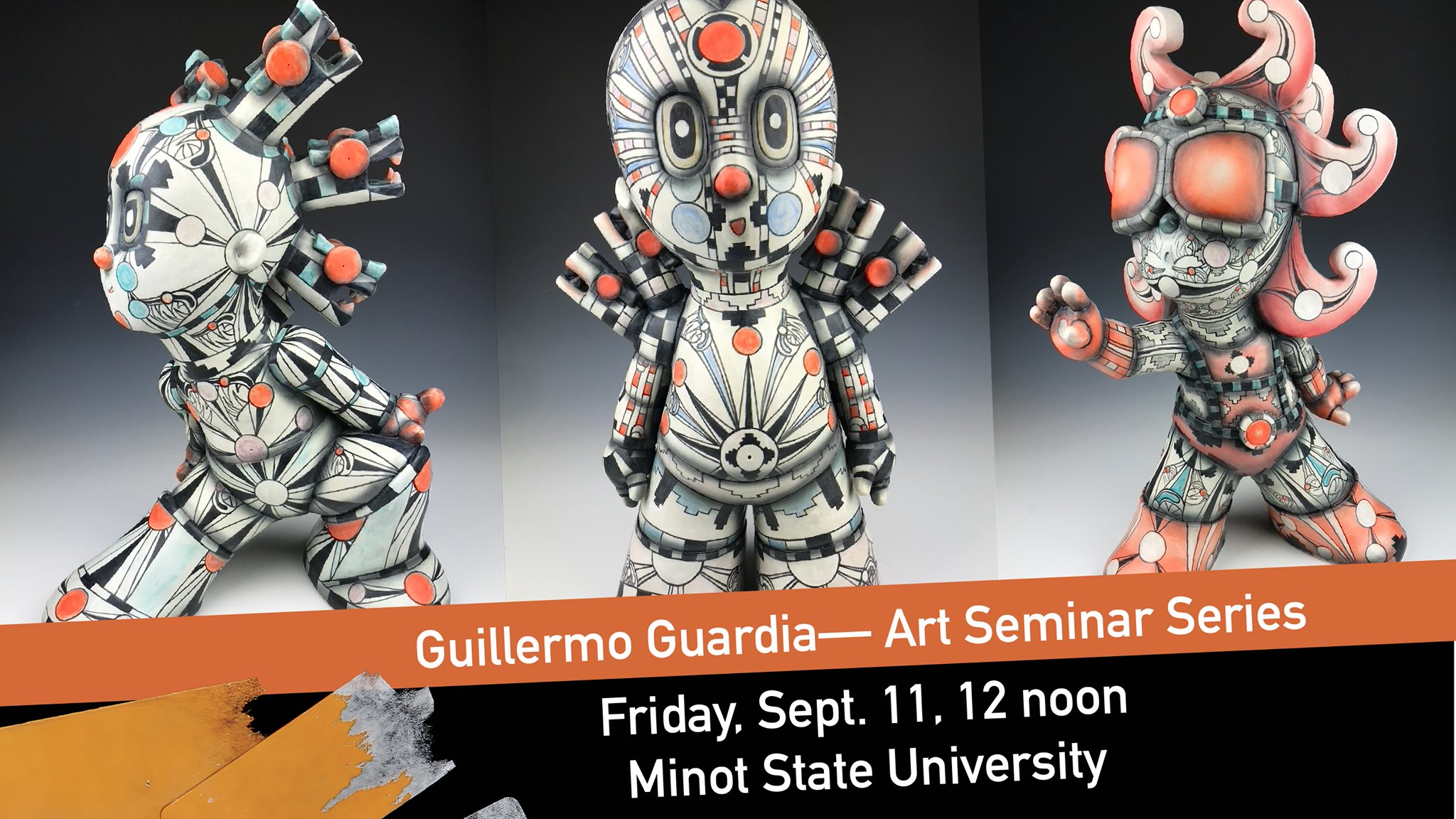 On Friday, Sept. 11, Guardia will present in the Art Seminar series at noon in the Aleshire Theater, located in Hartnett Hall. The event is free and open to the public with masks and social distancing required. The seminar presentation will also be livestreamed from the Northwest Arts Center Facebook page, facebook.com/NorthwestArtsCenter/live.
Living and working in St. Paul, Minnesota, Guardia creates figurative sculptures and pottery, integrating pattern and form, which are influenced by art history, his upbringing in Peru, Catholicism, his transition to living the in the United States, and political events.
The Americas 2020: All Media exhibition is on view through Friday, Oct. 2 in the Walter Piehl Gallery, located in the Northwest Arts Center. The Northwest Arts Center is open on adjusted hours this fall, Tuesday through Saturday from 1-5 p.m. and by special arrangement. At-risk visitors and groups can call and make reservations to visit the arts center during morning and alternate hours.
"It has certainly been a different start to our fall schedule. We have new guidelines in place for handing the receipt of shipped artwork, installation of shows due to physical distancing and mask requirements, disinfection and cleaning protocols, and reduced standard public hours," said Greg Vettel, Northwest Arts Center director. "However, we are releasing more content online and on social media to allow those who many not be able to or willing to come to the galleries the opportunity to experience the exhibitions. In additional to bringing long-running events online, such as the Arts Seminar series, we are also planning for more digital engagement through artist talks, gallery walkthroughs, and content from current exhibitions and the Minot State University collections."
About Minot State University
Minot State University is a public university dedicated to excellence in education, scholarship, and community engagement achieved through rigorous academic experiences, active learning environments, commitment to public service, and a vibrant campus life.
---